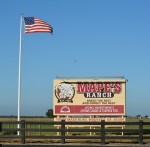 Legend has it that Ed Mape used to herd cattle from behind the wheel of his Cadillac car. Maybe he spelled Cadillac with two "Ts."
Today, the Mapes Ranch is more famous for its billboard sign reading "Breed the Best and Forget the Rest" than for its former owner, but it's still a major feature in the unique character of the land along Highway 132.
In fact, in the fifteen mile run from Highway 5 to Modesto, Highway 132 offers a textbook lesson in the history of one of the most bountiful regions in the world, especially in terms of the wide variety of foods produced. Over the years, everything from alfalfa and almonds to strawberries and watermelons has been grown along one side or the other of the highway.
Today, Highway 132 is also known for its proximity to the San Joaquin River National Wildlife Refuge, where the recovery of the formerly endangered Aleutian Canada Goose is an ongoing wildlife success story.
Just east of the San Joaquin River, the Mapes, Faith, and Dos Rios Ranches have become case studies in the integration of agriculture and wildlife management. In the winter months, overflights of ducks, geese, and cranes offer one of the west's great wildlife spectacles. In the spring and summer, the fields along 132 are filled with herons, egrets and shorebirds.
Given its unique place in our region's history, it's disheartening to hear that plans for expansion of Highway 132 are focused on turning it into an "expressway." If anything, Stanislaus County residents should be considering ways to make the drive along 132 a more informative and scenic introduction to the features that give our region a special sense of place.
It's too easy to forget that Highway 120 is the only truly necessary expressway to Modesto and points south. And, as Bruce Frohman has pointed out, turning Highway 132 into another expressway is very likely to have adverse effects both on adjacent farmland and on historic Wood Colony.
Up until very recently, plans for the expansion of Highway 132 have had little public presence. Those who wish to preserve and promote the unique aspects of our region need to make sure the expansion doesn't obliterate its natural history and turn Modesto into yet another Valley town surrounded by asphalt. Instead, we should strive to preserve the unique character of the city and its surroundings. That can be done with careful planning.
In the very near future, family farming along Highway 132 and in Wood Colony will be less and less viable unless citizens help mitigate the negative effects of an expressway. Even from a commercial aspect, it makes much more sense to make Highway 132 a scenic and historic attraction than it does to turn the countryside into a featureless blur for eighteen wheelers en route to big box stores.
Highway 120 has already altered the character of the land around it beyond recovery. Valley citizens should help ensure that Highway 132 expands without destroying its historic and scenic values.