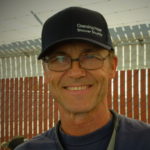 Frank Ploof, who coordinates services at the Modesto Outdoor Emergency Shelter (MOES), probably wasn't thinking about fate or destiny as he was pushing Alan Davis uphill last Wednesday, but he could have been. Ploof was pushing Davis toward a rendezvous  with his own brainchild.
At least that's the story according to Dean Dodd, the high-energy force behind the Cleansing Hope Shower Shuttle, a rolling marvel of a brilliantly-executed but simple idea.
"A few years back," said Dodd last Wednesday, "Frank was saying we should get a little motor home with a bathroom and drive it around so that homeless people could use it to rest and clean up. I brought the idea to some of our government leaders for support, but there wasn't any interest, so I decided to take on the job myself."
Pursuing what he now calls,  "Not a good idea but a God idea," Dodd began thinking about delivering a truly cleansing experience to people for whom a shower had become a near impossibility.
"I went to all the early meetings about homelessness, "Focus on Prevention," and the other meetings," said Dodd. "I knew nothing was going to happen very soon. I've been homeless myself, and I know what it's like to feel the shame of being dirty."
Dean already had experience bringing hope and sustenance to homeless people with his Church in the Park ministry, which aims to, "feed the bodies and souls of those in need." In addition to Sunday church services at local parks in Modesto's airport district, Church in the Park provides meals, clothing, hygiene kits, and multiple other services to homeless and poor people.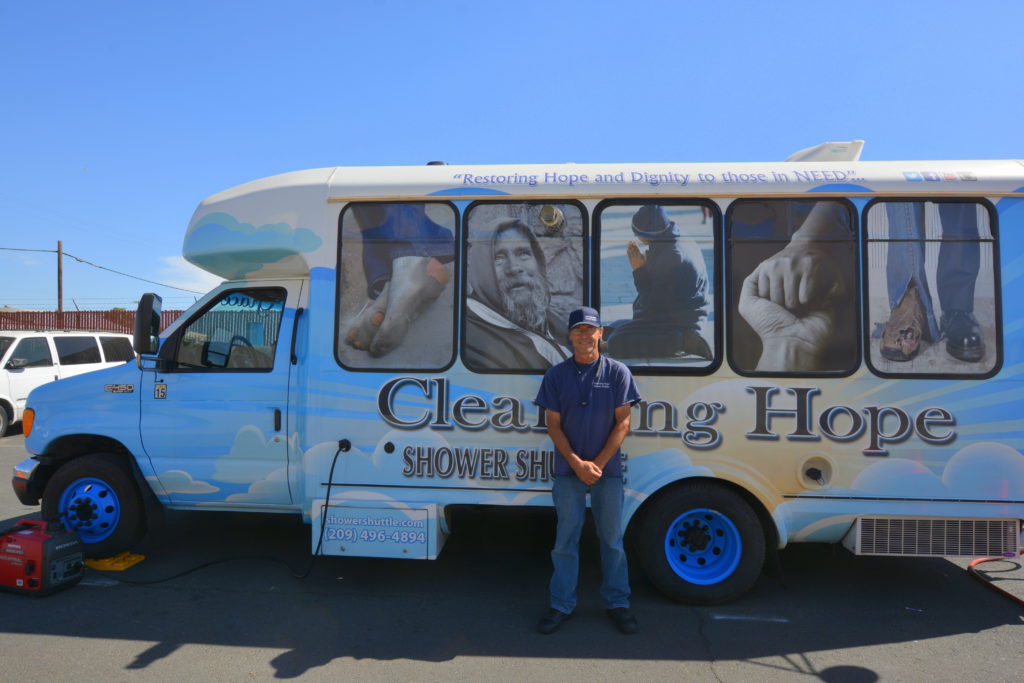 As Dodd continued conceptualizing a way to deliver cleanliness to, "those in need," the vision of a mobile shower began to take shape. When he talked about the idea, he was told all it did was provide a, "Band-Aid."
"People said I was treating a symptom, not the root cause. But having been homeless myself, I knew people need help now and it wasn't going to come anytime soon. It doesn't make sense to try to figure out what caused the hemorrhage when people are hemorrhaging, so I just kept trying to figure out how to help stop the bleeding."
Dodd was able to bring his concept to reality with the help of multiple donors and Brad and Doran Ott, talented brothers with expertise in auto mechanics, art, and audio. "We say Dean comes up with the ideas, then we get the Ibuprofen and figure out how to deal with the headaches," says Dodd, laughing.
The fruitful result of Dodd's idea and the Ott brothers' genius for design and execution is a mini-bus designed to provide homeless people a hot shower with all the privacy and amenities of home. The shower shuttle is so well thought out it even includes a neon sign and numbering system so that people waiting for a shower are served in numerical order. It includes fold-down shaving stations with mirrors, and, most crucially for the needs of people like Alan Davis, a wheelchair lift and handicapped appropriate shower room.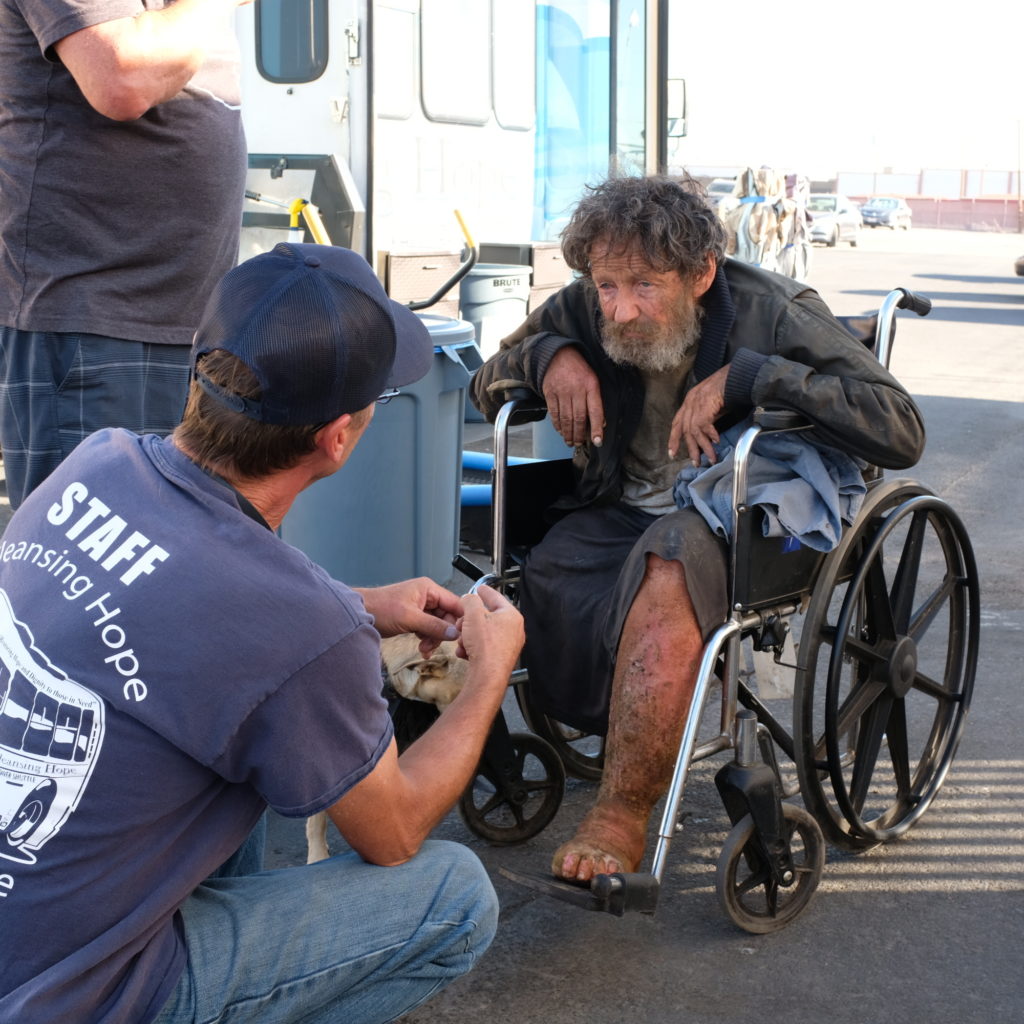 Relying on donations and volunteer help, Dodd has delivered over 25,000 free showers to homeless people at a cost to his charity of around $10 per shower.
"We keep everything clean using bleach," said Dodd. "We also provide clean socks and underwear." For especially needy cases, Dodd has an emergency supply of slippers, pants, shirts and sweatshirts.
After years of working with homeless people, Frank Ploof knew that almost no one wants to provide a shower for a disabled person who's been on the streets in the same soiled clothing for months—no one except Dean Dodd. And Alan Davis's case was especially difficult because his right leg had been amputated at the hip and his left leg was scabbed and bleeding.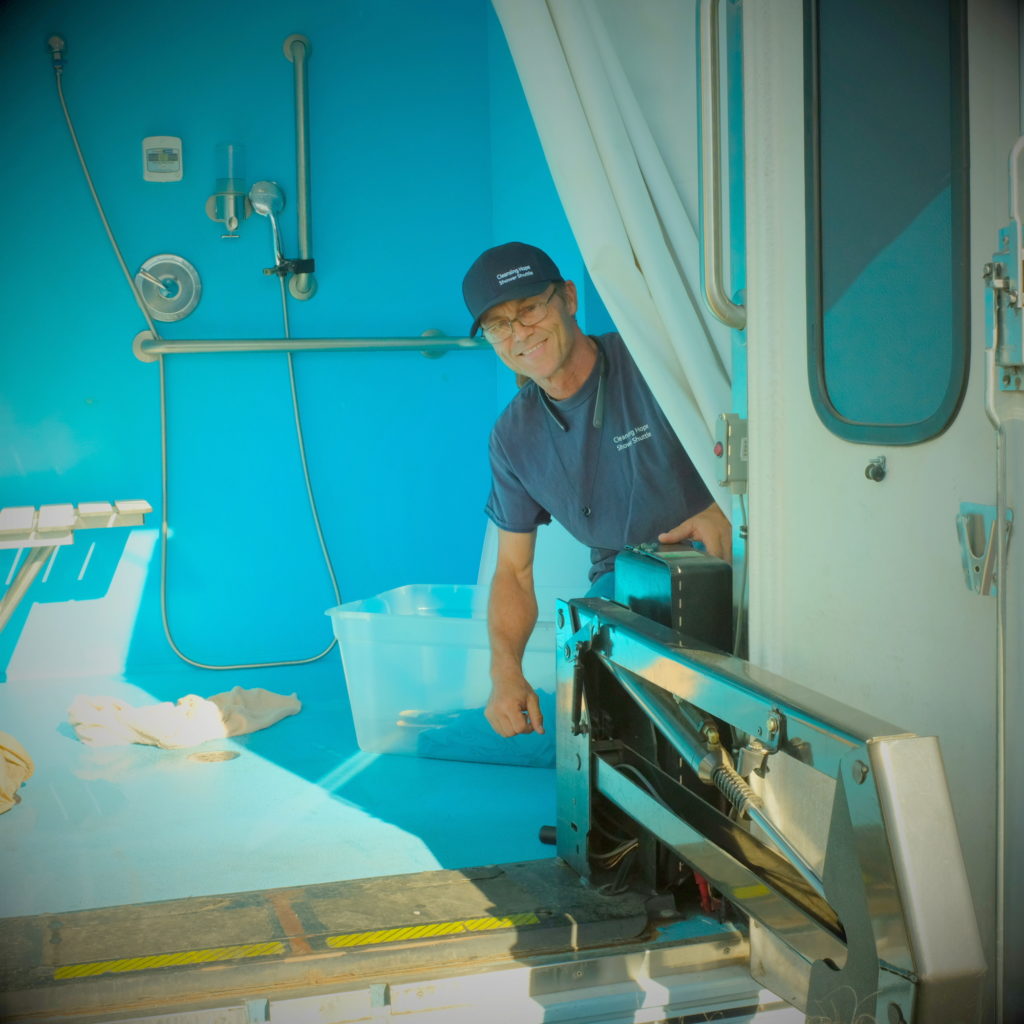 But Dodd had already thought out answers for people with problems like those of Alan Davis, and on Wednesdays he parks the shower shuttle at the Salvation Army Berberian shelter, about half a mile from MOES. The wheelchair lift and sit-down shower room enabled Davis to shower on his own, and Dodd's long practice enabled a quick and antiseptic cleanup. After his shower,  Davis received clean underwear, socks, sweat pants, and a sweatshirt to go over a clean t-shirt.
Ploof and a team of outreach workers are still trying to piece together Davis's story. Davis says he woke up in the hospital after having his leg amputated and was released to the streets, "two months ago." Some observers say Davis has been on the streets well over a year.
Thus far, ongoing research shows Davis was in an assisted living home somewhere in Modesto, but no one knows exactly where and Davis can't remember.
For Dean Dodd, Alan Davis's plight is emblematic of a situation too few people understand.
"When you're dirty and have no money, you're not going to work your way out of homelessness, even if someone hires you, and most people won't. Just trying to pay rent is too much even for a lot of people with jobs."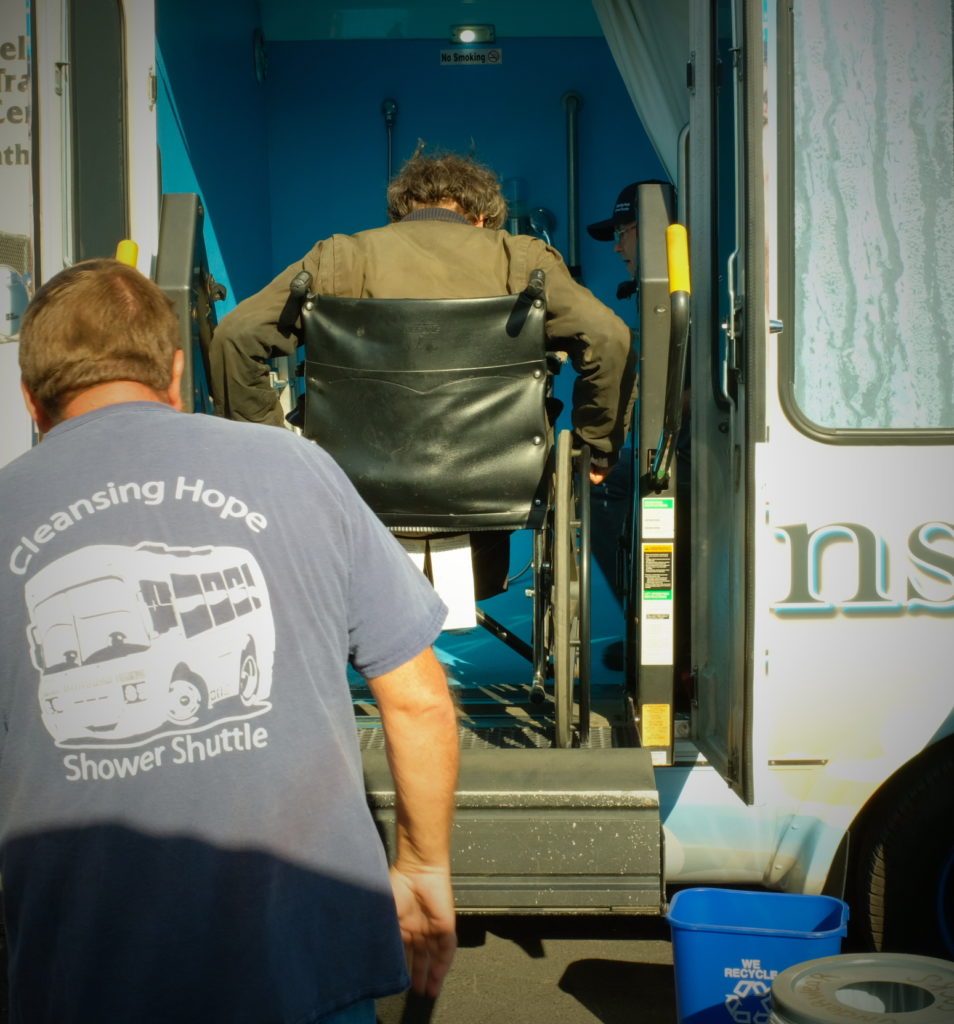 "When people tell me I'm enabling people, I tell them I hope so. I hope I'm enabling people to have some hope and self-respect. I hope I'm enabling them to feel better about themselves so maybe they can progress to a better life."
Even though Dodd has brought a second shuttle on line, he says there's far more demand than he can fill.
"We're getting calls from Turlock, Patterson, Ceres, Riverbank—everyone needs this service."
Authorities keep saying new housing and shelter are on the way, but Dean Dodd has been thinking far ahead of most everyone who's trying to solve the critical problems of homelessness.
"There's not going to be enough housing anytime soon," he says. "Even with the new units in Modesto, the numbers don't work out; there's still more people than housing. And in some cases they're going to require people to leave their dogs outside. People have to realize that homeless people are still human beings. They're not going to want to leave their pets outside while they go in. They're not any different from anyone else that way."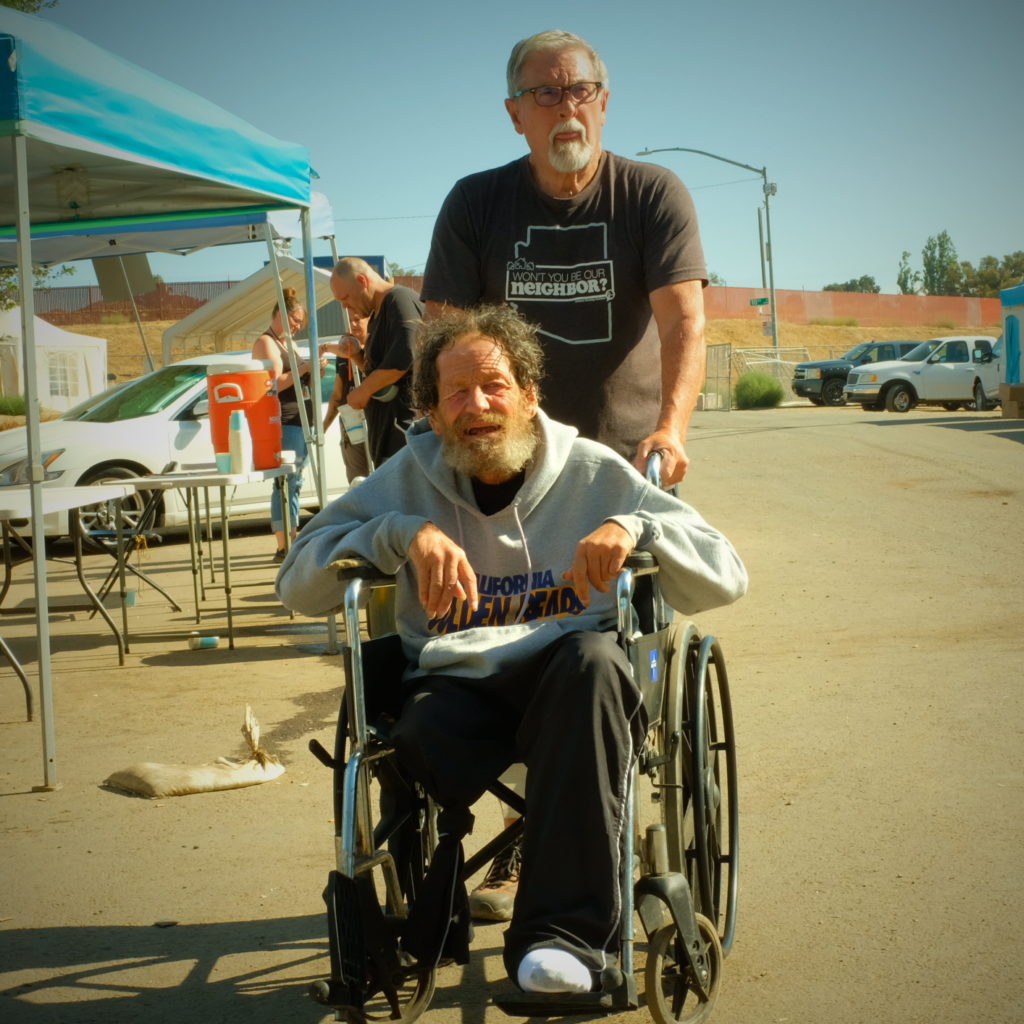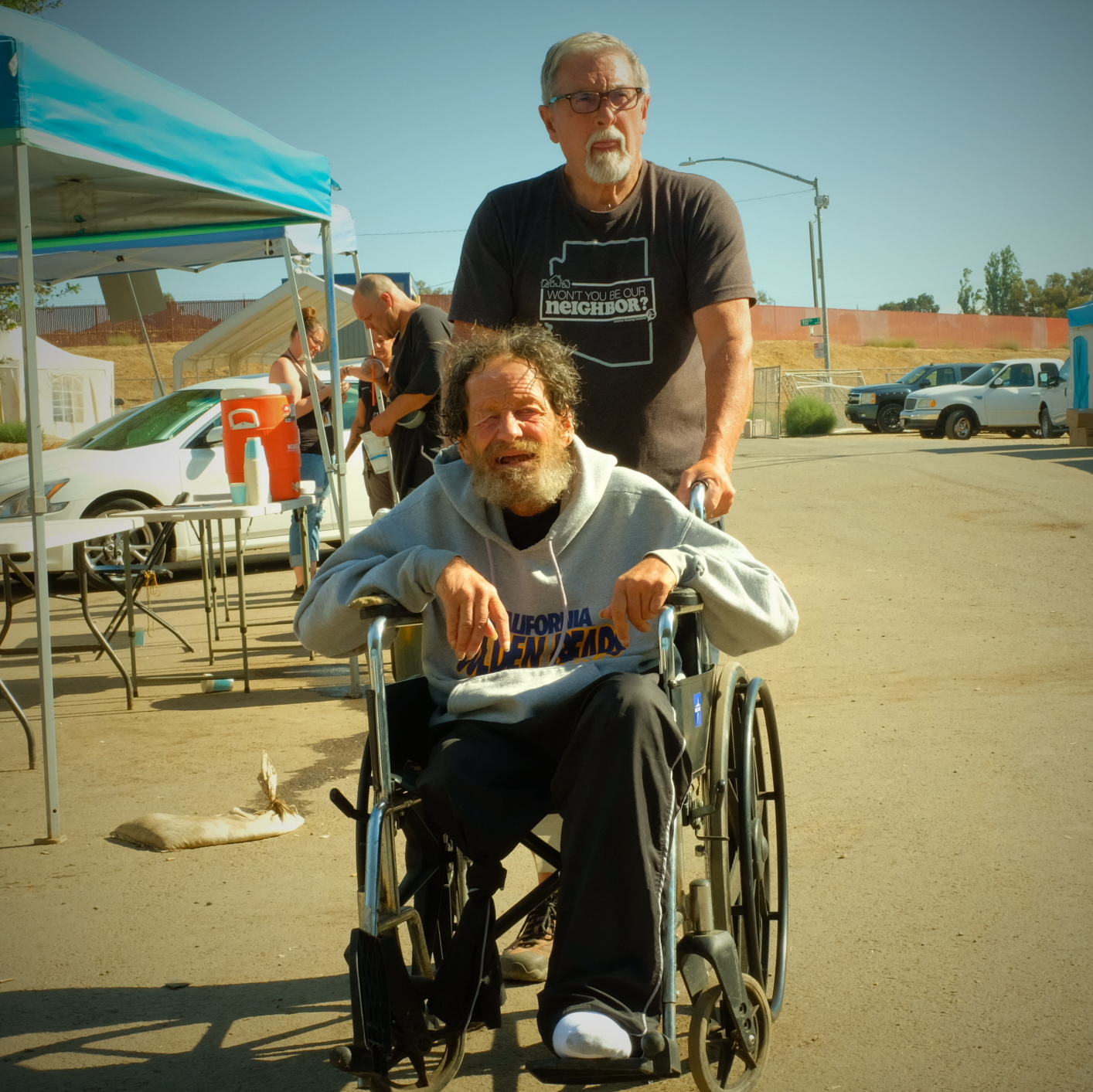 Dodd is so certain of the ongoing need for homeless services that he and his partners have conceived a new project—a laundry shuttle. He expects it to come online soon.
"Wait until you see it, " he says. "We'll have a mobile, full service laundry and we'll be able to bring it where people need it."
For Frank Ploof, who has been "enabling" homeless people for years, trundling Alan Davis up and downhill from MOES to the Berberian Shelter for a hot shower was just the beginning of another long day spent addressing homelessness on the ground level.
"I needed to get my morning walk in anyway," said Ploof. "This was a good way to do it."