Two or three times a week — sometimes more often — Lynelle Solomon jumps into her 2008 Ford Expedition and leaves the serenity and comfort of her home in one of Modesto's more secure neighborhoods. Her destination is just minutes away — the badlands of Modesto's Airport District, where the governing authorities are just as likely to be youthful gangsters as uniformed cops.
Solomon has frequented Modesto's mean streets since Christmas of 2019. After a heavy rainstorm, she and a friend decided to bring food and comfort to drenched and miserable people with nowhere to go. At the time, she was appalled at what she saw. She's never really gotten over it.
Today, after years on the street, she ministers to dozens of homeless people and slum residents, many of whom she knows by name. A great many are elderly; even more are sick or disabled.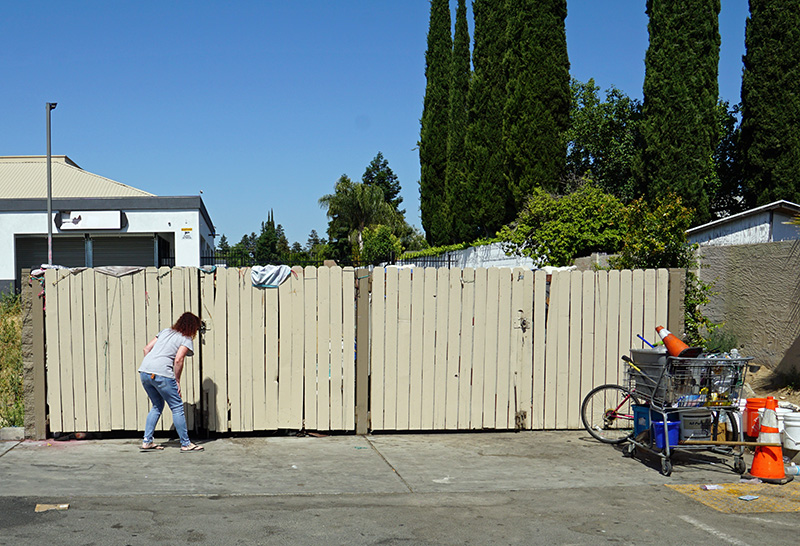 "When I saw that homeless people in our parks and other public places were being fed and offered clothing," she said recently, "I decided to go where no one else was looking. I looked for the people who were in hiding or who just seemed to be abandoned and alone. There are five deaf mutes on the streets that I know of. There's no excuse for this."
Lynelle finds those she now calls, "my people," anywhere from curbsides to the fenced enclosures surrounding dumpsters. She brings food, including her special vegetable soup — "all fresh, nothing from cans" — homemade potato salad and other hearty meals. She brings clothing and hygiene products. Most of all, she brings love and compassion to people like her friends Jerry and Christy.
Seventy-nine years old and confined to a wheelchair, Jerry stayed at the Modesto Gospel Mission until staff found marijuana in his pocket, whereupon he was banned. His limited income prohibited him from finding a rental of any kind.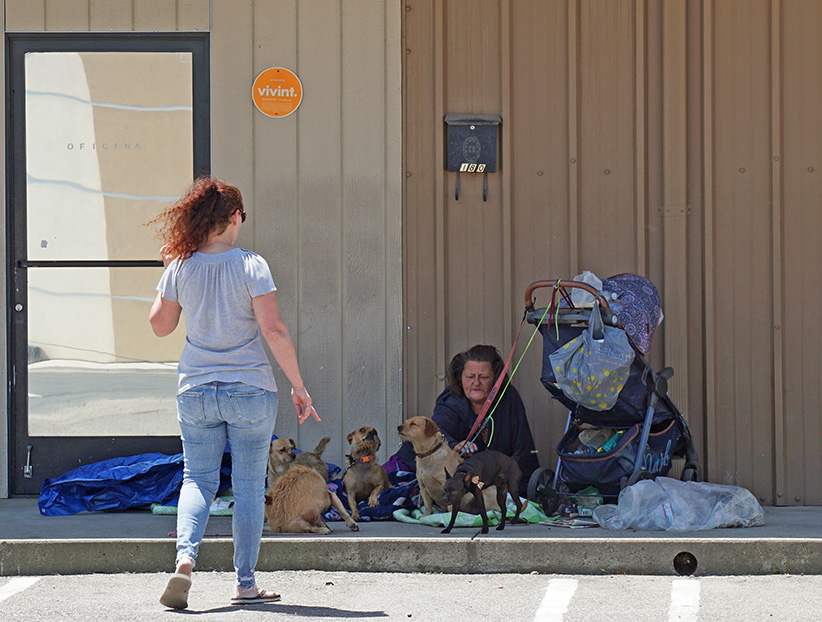 After he was expelled from the mission, Jerry spent his days and nights in the empty lot next door to the Mission. Suffering from COPD, liver and kidney problems, and several other ailments, Jerry needed almost constant attention.
"I tried many times to find him housing," said Lynelle, "but since he needed care, I was unable to. Winter before last, I was frightened I would lose him to the cold weather, as I had already lost another. I checked on him daily to make sure he was warm and had food."
Last spring, Jerry's medical problems got worse. He was taken to local hospitals several times. He was admitted only intermittently.  On most occasions, he was treated and wheeled out to the front of the hospital, where he was left to his own resources.
"He called me several times to pick him up and take him back to the empty lot," said Lynelle.
Summer of 2022, Jerry's COPD caused him to become more and more debilitated. One day Lynelle and a friend were driving by the empty lot on Yosemite Avenue where Jerry spent his days and nights and Lynelle saw him lying on the ground next to his wheelchair.
"I yelled at my friend," said Lynelle, "and she flipped the fastest U-turn in the world. I jumped out of the car, grabbed him, and started yelling at someone to move his chair so I could lay him down flat."
After calling 911, "EMT showed up," said Lynelle. "They told me they were very familiar with Jerry. They were rude, and, in my opinion, abusive to him. I told Jerry I loved him and off they took him."
At the hospital, Jerry received some breathing treatments, then he was back on the streets. He was prescribed medication, but had no way to get to the pharmacy. Lynelle visited him once or twice a day until she left for an overseas trip that lasted two months. When she got back, Jerry was nowhere to be found.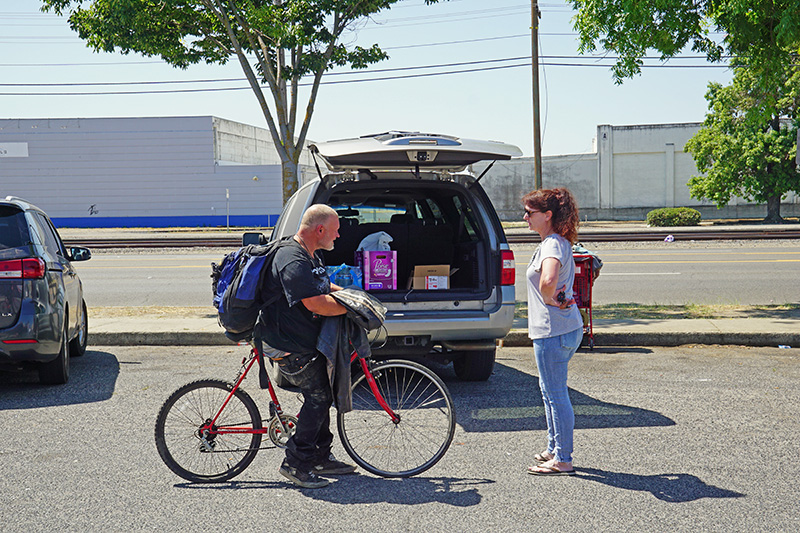 "I was told he was taken to the hospital," said Lynelle. "It breaks my heart to think if he has passed that there wasn't anybody there to let him know he was loved."
Sick as he was, Jerry served as a protector for his and Lynelle's friend Christy. Deaf and mute, Christy spent most of her time in the vacant lot with Jerry. He bought her a bike for her 50th birthday.
"Christy has problems with her legs and can barely walk," said Lynelle, "with the bike she was mobile. Ever since Jerry has been gone, Christy has been wandering the streets. She can't seem to find a place where she feels comfortable and safe. She does sleep in the Mission, but she doesn't qualify for their programs."
Lynelle and Christy communicate by writing on a tablet. After Jerry disappeared, Lynelle started learning sign language so they could communicate more readily.
"I think about what her world is like," said Lynelle. "She can't hear if someone comes up from behind her or if a car is honking at her. She can't hear if someone is yelling at her to be careful. She also can't yell if she needs help. She has to be very lonely. Christy and I have become very close. I have learned her sizes, favorite color, taste in clothing and what she likes to eat."
Last winter, Christy's hands got so dry they developed deep and painful cracks. Lynelle treated them as best she could, using Neosporin and various creams. Christy is only one of five deaf mutes Lynelle knows who are suffering from life on the streets.
Most everywhere Lynelle Solomon goes when on her missions of mercy, she sees people nodding off from the powerful effects of fentanyl.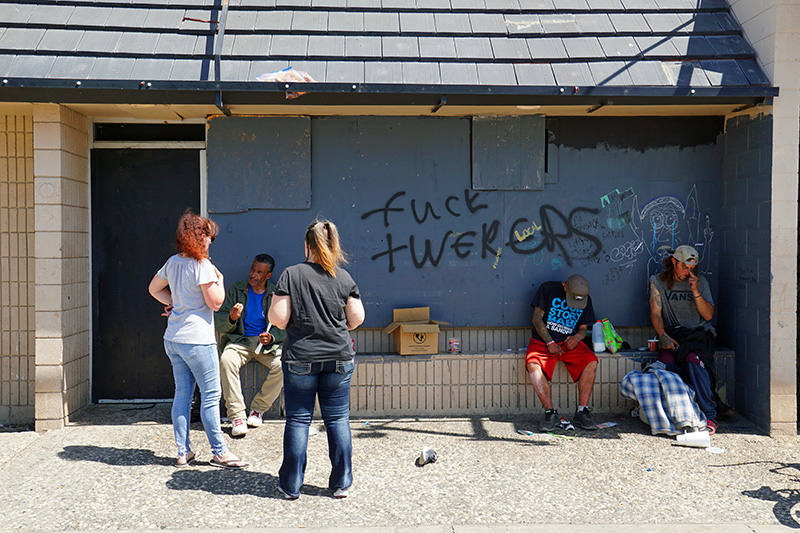 "It's everywhere," she says. "I carry Narcan [Naloxone] wherever I go. I never know when I may have to try to treat someone for an overdose or when I might be exposed to the powder myself."
Sometimes Lynelle finds homeless people who are in remarkably good shape. Usually, these are people living in motor homes or vehicles. Her friend Ralph has a large motor home and just enough income to keep it running and provide food enough for him, his partner Moni, and their small dog.
"Ralph is amazing," said Lynelle. "When people were parked and camped on Daly Avenue just outside the city, Ralph helped everyone. He's a former nurse and very capable. All Ralph needs is a place to park his vehicle — it would be so easy for the city and county to provide safe parking for people like Ralph, but they can't seem to do it."
In fact, officials from the City of Modesto have been working on a safe parking program for almost two years and still haven't been able to make it work. Instead of safe parking and safe sleeping sites, both Stanislaus County and the City of Modesto continue to resort to sweeps and rousts as their primary strategies for dealing with rising numbers of homeless people. The Daly Avenue sweep left people like Ralph and Moni with nowhere to go, so they moved first onto a nearby street in the county, then into a spot within city limits. Most of the people without vehicles carried what few belongings they could into the city.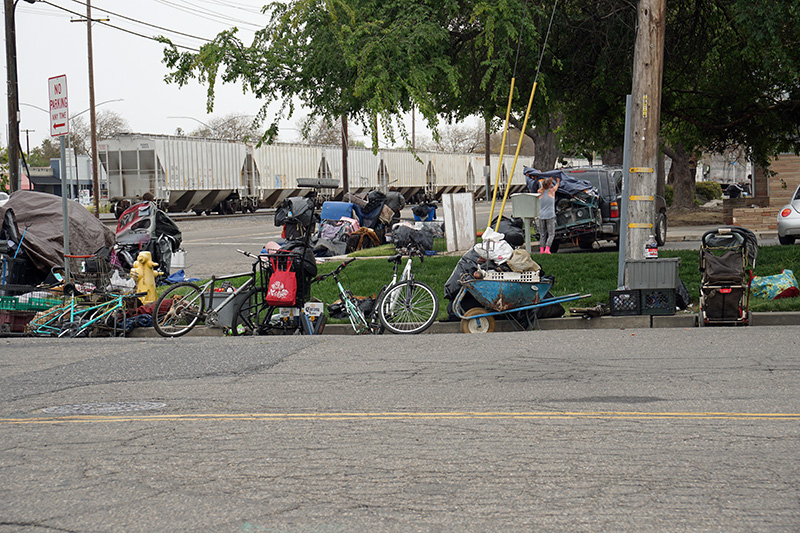 "It would be a lot easier to take care of homeless people if they had somewhere to go," says Lynelle Solomon, "Every time they get swept, I have to relocate them. When I do, they're devastated. Imagine losing the only place you have to sleep and the only place where you have friends."
Over the years she's been on the streets, Lynelle has developed a following among friends and fellow volunteers. People donate to her missions of mercy, follow her Facebook page, and oftentimes accompany her on her trips into some of Modesto's and Stanislaus County's most distressed neighborhoods. She's also become a member of the Stanislaus Homeless Advocacy and Resource Enterprise (SHARE), a non-profit that works closely with government and law enforcement to provide assistance for homeless people in dire need.
Despite all the support, Lynelle often feels frustrated by growing numbers of people in distress.
"There's a breakdown in our systems of care," she says, "especially health care. I feel like I've failed to show people that we're in a crisis."
While local authorities continue to claim they're making "great progress" on homelessness, Lynelle Solomon disagrees: "It's worse now than it ever was," she says. "Much worse."