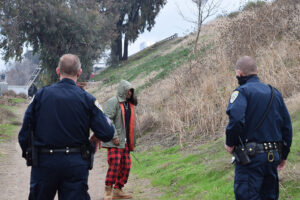 It took a couple dozen specialists in hazardous waste removal, several Caltrans officials and workers, and three or four Highway Patrol Officers to remove a homeless camp along Highway 99 on Monday, January 4. That's in addition to the 18-wheel trucking rig that was needed to haul off the tents, lean-tos, and accumulated trash.
Most of the campers along the strip had moved across south Seventh Street in Modesto from a camp that had been cleared a few weeks earlier. Everyone involved in the cleanup, from the highest Caltrans official present to the last homeless person to exit knew the cleanup was an exercise in futility.
Veterans of homelessness, some of them with decades of experience on the streets, moved to nearby locations they'd been using for years. After a short wait, they'll infiltrate their old haunts, one or two at a time. Within a few months, the encampment will be reestablished.
The newer homeless, a growing cohort, wandered the streets. Some will bed down behind buildings, in the doorways of local businesses, and on the sidewalk. They'll spend their days on the streets or in local parks, until new camps are established. Then they'll migrate to the new camps.
Especially since the closure of Modesto's Outdoor Emergency Shelter (MOES) in late December of 2019, Modesto's streets and parks have filled with growing numbers of people with nowhere to go. The 182-bed shelter in the Salvation Army's Berberian building on 9th Street never had enough capacity for the 450 residents of MOES, and many of those who got into the new "low barrier" facility in 2020 left within a few months, even before Covid-19 restrictions posed stricter rules and entry requirements.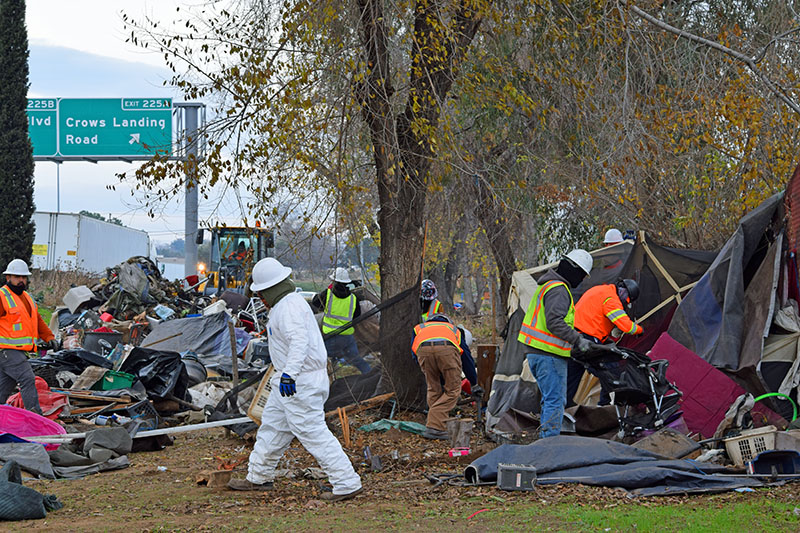 Critics of MOES cited drug use, trash, and "lack of progress toward improvement" as reasons to close the tent city down. They never explained how drug use and trash would diminish once people were spread around town, nor did they explain how people would be improved when scattered to the streets, parks, and isolated encampments.
When MOES closed, City of Modesto spokesperson Thomas Reeves said,
"We've seen a direct correlation between allowing for our homeless individuals to go into one location and the calls for service and the quality of life crimes that we would otherwise experience in other parts of the city go down."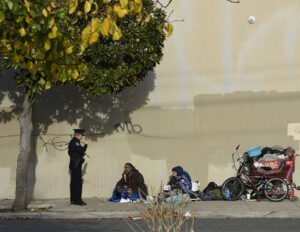 Nonetheless, Reeves and other city officials said they were prepared to crack down on, "the negative impacts of vagrancy-related issues in town" once MOES was shut down and people returned to the streets. For the most part, the crackdown has consisted of ticketing people and forcing them to move on. Some receive jail time at a taxpayer expense of over $100 per day per person. For comparison, the cost of MOES per person per day was estimated at $13.
Reeves said that MOES hadn't done anything to address long-term homelessness, and that the city was working on alternatives to the outdoor shelter. Since that time, homelessness has burgeoned and the disconnection between local officials and reality has grown even faster than the homeless population. Some observers have hopes that newly elected leaders will bring a change of direction. The homeless themselves aren't optimistic. Long resigned to the status quo, they've learned to endure. Whether along the freeway, under a bridge, or on a cold, hard sidewalk, the homeless abide.