Every city and town had them. They were the old men on small pensions nodding on park benches or leaning up against buildings with their hands clutching small bottles of Night Train, Thunderbird, or rotgut whiskey wrapped in brown paper sacks.
The boarding houses and cheap hotels they inhabited were called "flophouses" or "rat traps." The elevators and stairwells smelled of urine and Lysol.
Some, like Louis X (not his real name), were disabled; they got around on crutches or in wheelchairs. They didn't need much in the way of transportation because they seldom went anywhere.
Those who could afford to drank in dive bars near their rooms. They wobbled home in the late afternoon or early evening. They went to bed early.
Like Louis X, many were veterans. They may have suffered from "battle fatigue" or "shell shock," but never from "Post Traumatic Stress Syndrome" (PTSD), but only because PTSD hadn't been researched and named yet.
Generally soused and sometimes soiled by their own waste, they benefitted from the company of men like themselves and from the security of a place to lay their heads. If they got sick or injured themselves in a fall — not an uncommon occurrence as they aged — they got to the hospital and back home because people in better circumstances watched out for them.
Oftentimes argumentative, profane, and almost impossible to live with, many were  loners who had trouble following rules. The bond they had with others was fortified by booze and shared circumstances.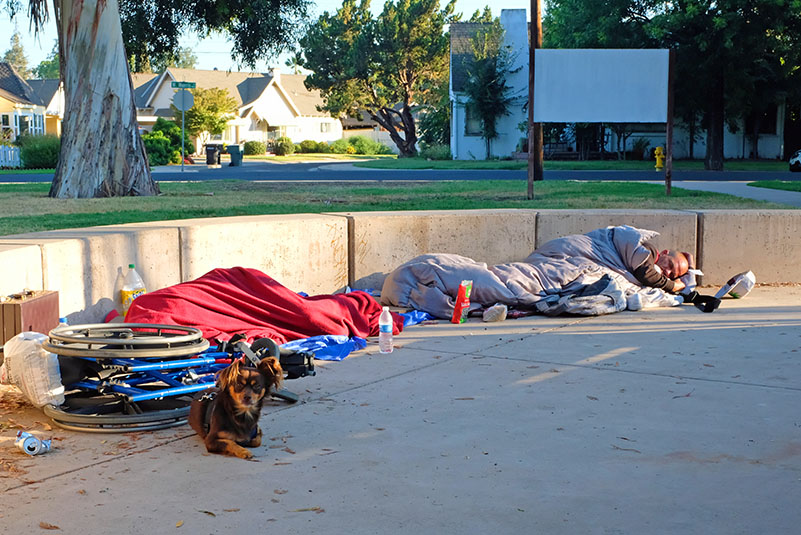 Today, the boarding houses and cheap hotels where men like Louis X once rented rooms are gone. Especially on the west coast, but also in many cities across the nation, gentrification has done away with them. Even dive bars have disappeared or gone upscale. Instead of cheap wine and rotgut whiskey, today's popular bars serve rare vintages and exclusive bottlings with stratospheric price tags.
Men like Louis X didn't disappear amidst these changes. Instead, they stayed on the streets. One day, when night fell, there was nowhere else to go.
Confined to a wheelchair and unwilling to live in a for-profit board and care home where he might have to share a room with two or three other querulous and crabby old men, Louis X has spent the last few months in a park in Modesto, where another thousand or so homeless people are scattered throughout the city.
Given a choice between giving up his bottle so he can occupy a barracks-like shelter full of coughing and snoring occupants, Louis X will keep the bottle every time. He also worries about the welfare of his dog, a constant companion. Fortunately for Louis, Modesto's new Homeless Engagement and Response Team (HEART) has been keeping watch over people like him.
When team members learned Louis X had been diagnosed with cellulitis after a recent hospital visit, they became even more committed to getting him help.
Naturally suspicious of authority and wary of confinement, people like Louis refuse help by reflex. It takes time and experienced people to build trust and rapport.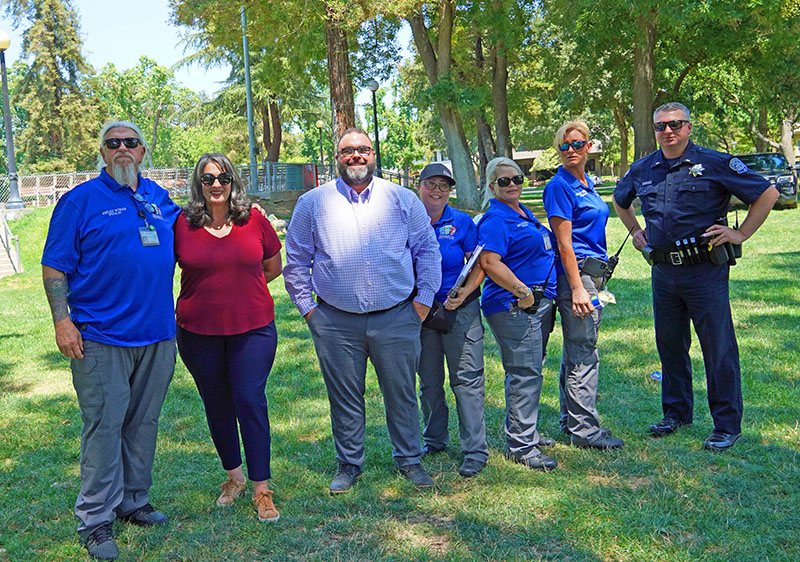 Modesto Police Sargent and HEART Team Leader Mike Hammond has had years of one-on-one encounters with homeless people, many of whom know and trust him. Last week, he was able to get Louis X to consent to a trip to the hospital for evaluation.
"I told him I had family members in the military and that I appreciated his service to the country," said Hammond, after Louis had been taken away by ambulance. "I told him no matter how long it took, I wasn't going to leave him behind. That's when he started to listen."
Initially classifying Louis X as "gravely disabled," Hammond and his fellow team members hope Louis will get the help he needs.'
"We checked all the boxes," said Hammond, "but that's not always enough."
Over the years, close observers have learned that the needs of homeless people, even those of disabled veterans, aren't always met by our overwhelmed systems of care. Structural upheavals in housing have reverberated along all our social safety systems, from hospitals to care homes to mental institutions. Covid has made things worse.
Many who are familiar with the predictable routines of homeless people in need of help expect to see Louis X back in his favored park any day now. If he does show up, at least Sargent Hammond and his team will be watching. And some day, maybe, Louis X will have a place to rest his head.