No one with experience with local systems of care is ever surprised when a homeless person ends up back on the street after an emergency visit to a hospital or mental health facility. The widespread belief that "services" are available for poor people in need belies a harsh reality: For the neediest people, there is too often no realistic help — the few available options are inadequate or useless.
Want evidence? Look to the streets.
Some of the most vulnerable homeless people, like the late Alan Davis, the double-amputee who haunted downtown Modesto for years, are dead. Others, like Jimmy Young, are prone on sidewalks. Still others, like Louis X, are wheelchair-bound in a Modesto park after a few days in the hospital. And many, like Little Sherry Lopez, are dirt-bound in filthy camps along the freeway.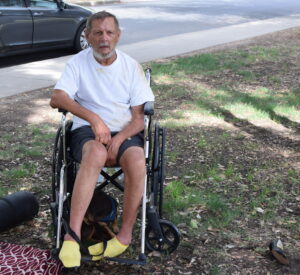 As we reported earlier this month, Modesto's Homeless Engagement and Response Team (HEART) put Louis X in an ambulance earlier this month, shortly after he'd been diagnosed with cellulitis. After a week in the hospital, Louis, whom HEART had evaluated as, "gravely disabled," was back in the park where he'd been found. He had a new wheelchair and a pair of hospital booties.
When HEART sent Louis X to the hospital, the hope was that classifying him as "gravely disabled" would initiate a process that would place him in a system of care. At the time, Louis was badly soiled with his own waste and clearly unable to care for himself.
Ordinarily, hospitals release patients once they've been treated for a physical ailment. In cases when patients at a hospital or mental health facility have been referred for mental illness or disability, the patient is often evaluated in terms of "danger to oneself or others."
The evaluation seldom includes any acknowledgement of the patient's history on the streets. It may include questions like, "Do you have a place to go when released" and "Do you have frequent thoughts of suicide."
Most homeless people — even the mentally ill and disabled — know that their options for care after release are limited to congregate living in a shelter, a for-profit board and care home, or a lockdown facility. The alternative is back to the streets among friends.
Not many people in any condition want to spend their remaining days sharing a room with three or four other people in a facility where the culinary highlight of the week is a boiled wiener from the odd lots section of the Dollar Store, with sides of soggy fries and wilted lettuce. Nor do they relish the idea of congregate living when it means arbitrary rules about coming and going, constant reminders of how lucky they are to be receiving charity despite their clear unworthiness, and bedding down amidst a cacophony of coughs, snores, and farts.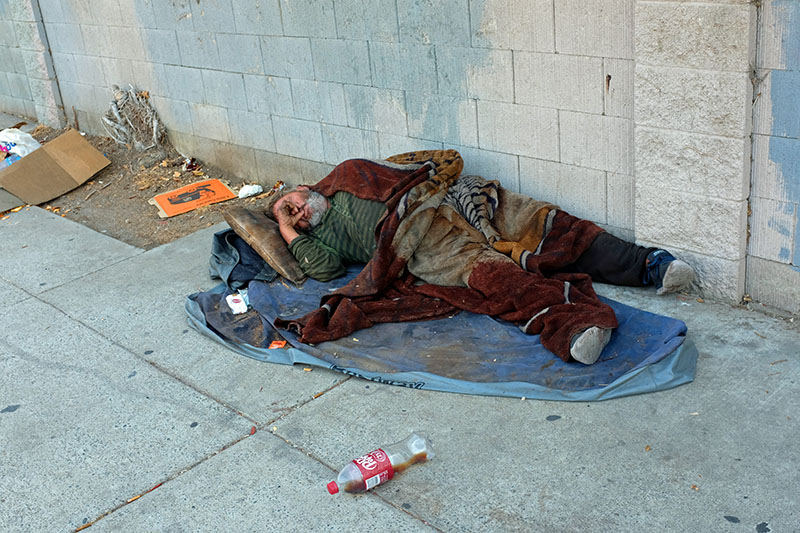 These unattractive options are the chief reasons many homeless people, "don't want help." But in the case of the mentally ill and developmentally disabled, we too often allow them to be judges of their own self-sufficiency, despite abundant evidence they can't care for themselves. All they have to do to prove their fitness is answer a few simple questions. We value their ability to self-diagnose even while we discount their preferences for living with at least a small degree of dignity and autonomy.
These aren't people "falling through the cracks." They're casualties trapped in an ever-spiraling black hole of "help" that inevitably tosses them back to the streets with the centrifugal force of a cosmic whirligig. The message is always loud and clear:
If you're poor, disabled, or sick and need help, you are sorely out of luck — unless you decide to accept what amounts to self-imposed incarceration.
By far the most efficient and cost-effective way of getting homeless people off the streets — including the ill and disabled — is permitted camping. People who persist in returning to the streets from shelters and board and care homes will gladly stay in a tent, especially when it's in a camp of peers.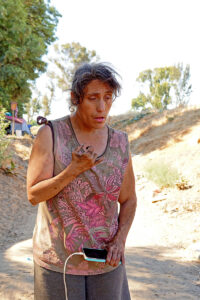 That was the case with almost 500 homeless people who occupied the Modesto Outdoor Emergency Shelter (MOES) before it was shut down late in 2019. Alan Davis, Sherry Lopez and hundreds of other homeless people found comfort among friends and were served by a constant stream of volunteers and professionals who found it much easier to provide help when people in need were all in one place.
Despite evidence that MOES proved to be a cost-effective and humane way to reduce quality-of-life crimes resulting from homelessness, Stanislaus County and City of Modesto officials closed it down after opening a 180-bed low-barrier shelter in a building also occupied by the Salvation Army's homeless shelter. Today, cities around the state — including San Francisco and Sacramento — have designated "Safe Ground" locations for homeless camps and are even permitting tiered housing options such as Pallet Shelters, Tuff Sheds, and Conestoga Huts as proven methods of reducing the harms of homelessness.
After establishing one of the first successful homeless camps in the state, Modesto and Stanislaus County gave up on a strategy that has since proven to be the best practice for dealing with homelessness. The result is that more and more people, including the elderly, ill and disabled, are waking up in parks and on sidewalks — people like Louis X, a disabled veteran caught up in a system that no longer serves its purpose.