Little Sherry Lopez can't go to the park. Everyone calls her "Little Sherry" because she's the smallest Sherry they know. Little Sherry is well short of five feet tall. She's closer to four feet tall. She's a few years past forty years old.
Little Sherry is developmentally and physically disabled. She walks haltingly and often has difficulty with simple concepts. Other than "little," the most common word people use to describe Sherry is "sweet."
In 2018, after it was opened for camping, Little Sherry moved into Beard Brook Park. Before she went to the park, she was often seen nearby, usually on or near south 9th Street and River Road in Modesto. Sherry told people who asked that before coming to Beard Brook Park she lived "under the bridge" or "at the trailer park" with her grandmother. She wasn't sure where her grandmother was.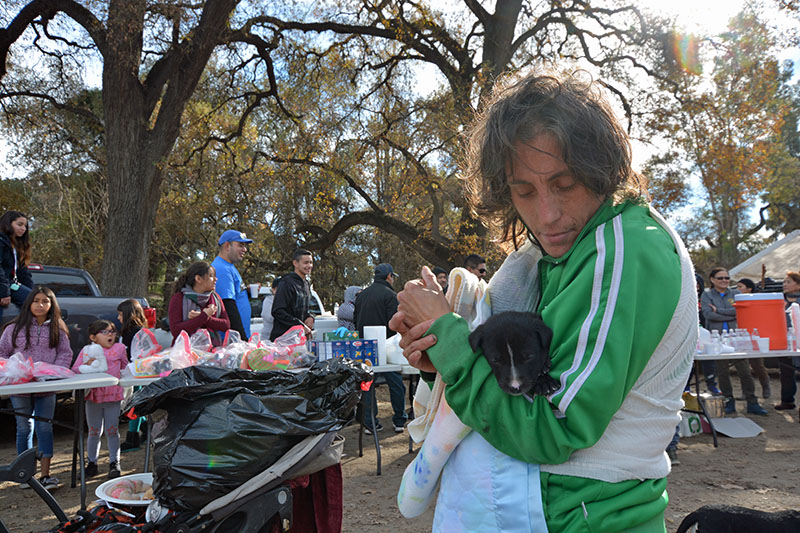 Once permitted to camp, Little Sherry was often seen at Beard Brook with a cat or kitten. Sometimes she held and petted a puppy, but she preferred cats. Most of the time she leashed the cats with a piece of string. The results were what most anyone, save perhaps Little Sherry, would expect.
In March of 2019, when Beard Brook Park campers were moved to a location under the 9th Street Bridge, Little Sherry went along. Like everyone else, she was given a 10' x 10' tent and a place for it in the new encampment, which was called the Modesto Outdoor Emergency Shelter (MOES).
100 square feet may have been the largest space Little Sherry had ever had to call her own. She began acquiring cats. At one time, she had four.
People sometimes feared for Little Sherry's safety and well-being.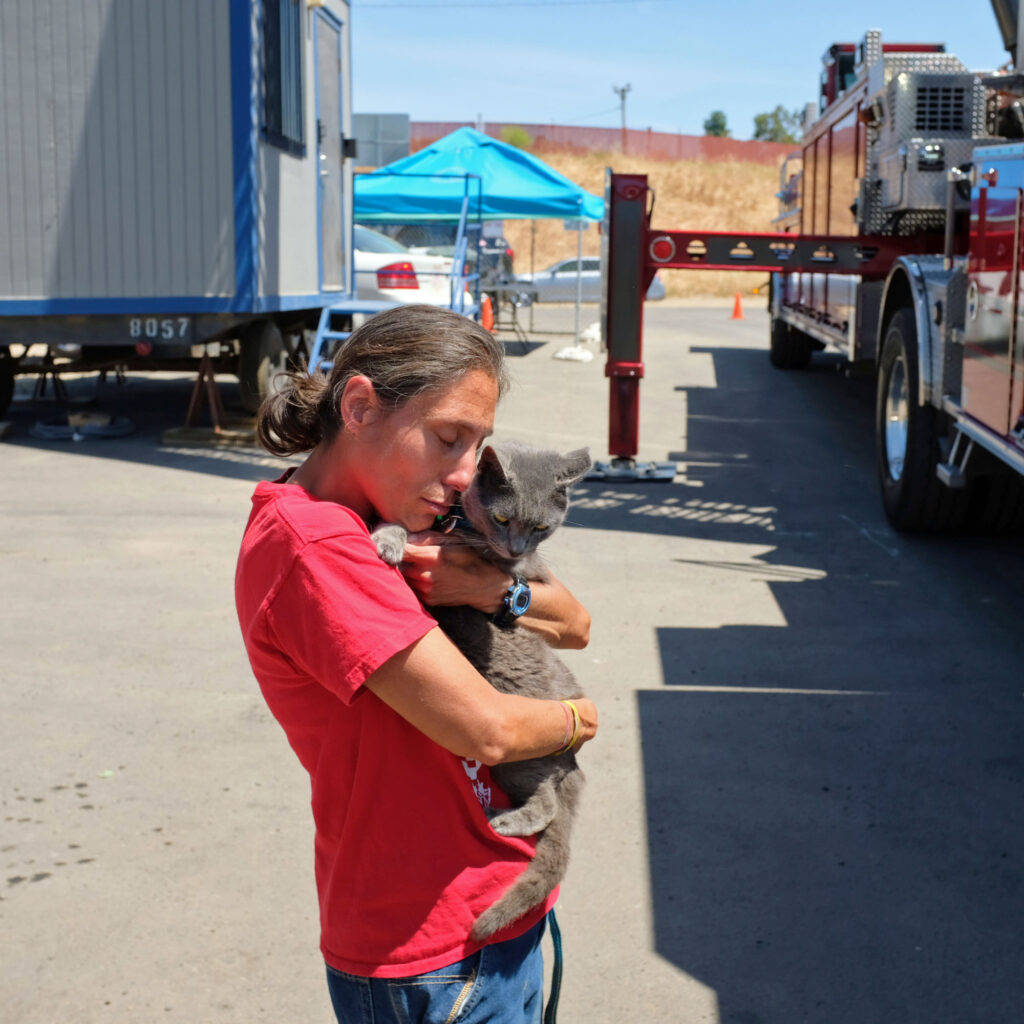 "She's got the mind of a fourth grader," said a concerned observer who visited her frequently. "Some of these people will give her drugs."
Many such fears were allayed once Little Sherry was in a tent at MOES.
With more security and better tents than the Beard Brook campsite, MOES became a community.
"We've got each other's backs," was a common comment when MOES' residents were asked what they most liked about being permitted to camp.
While Little Sherry never showed signs of fear, others often feared for her safety, in part because she seemed oblivious to dangers posed by people who prey on the weak. Once she was established in a tent near the staff headquarters, people looked out for her, including nearby homeless residents. Like most people everywhere, the vast majority of homeless people detest bullies and anyone who preys on the weak and vulnerable.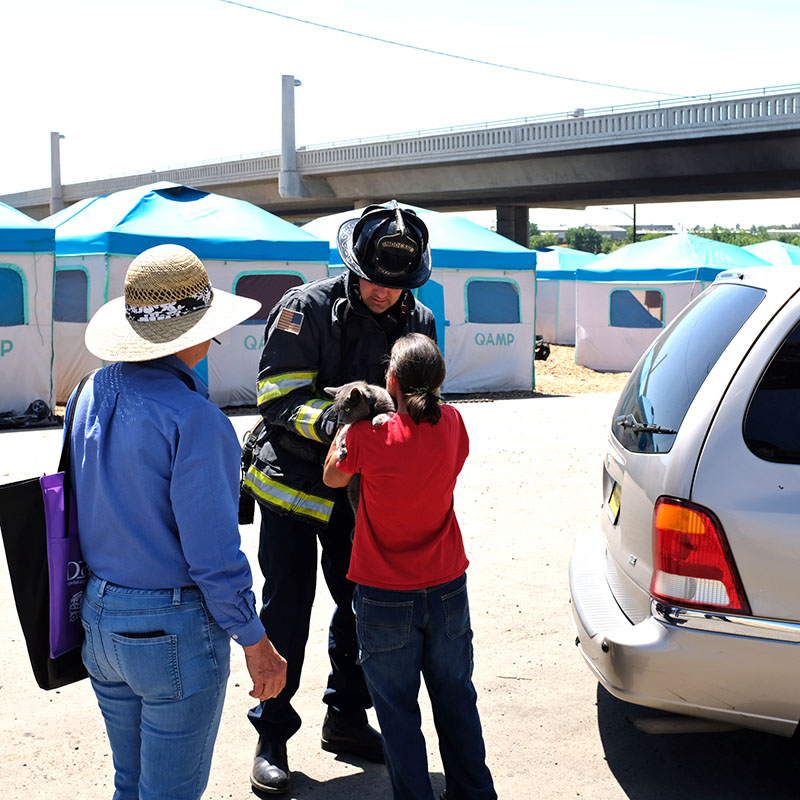 At MOES, people intervened when the food piled up and rotted in her tent. She always carried away too much when volunteers showed up with sandwiches and other food offerings. Friends and staff members helped her clean up. They reminded her about the need for personal hygiene, and helped her access shower facilities.
Little Sherry's cats became a constant joy for her, and were the one ongoing subject of every conversation. "Her cats are everything to Sherry," said people who knew her.
When one of the cats was chased by a dog and scampered up a nearby oak, Little Sherry was distraught. Then a very vocal volunteer began pressuring the on duty police officer to rescue the cat. After incessant nagging, he called the fire department.
The ensuing rescue featuring the Modesto Fire Department's large hook and ladder truck was a touching reminder of what can happen when a community cares. In this case, the community was a homeless encampment, but a community nonetheless. Little Sherry got her cat back.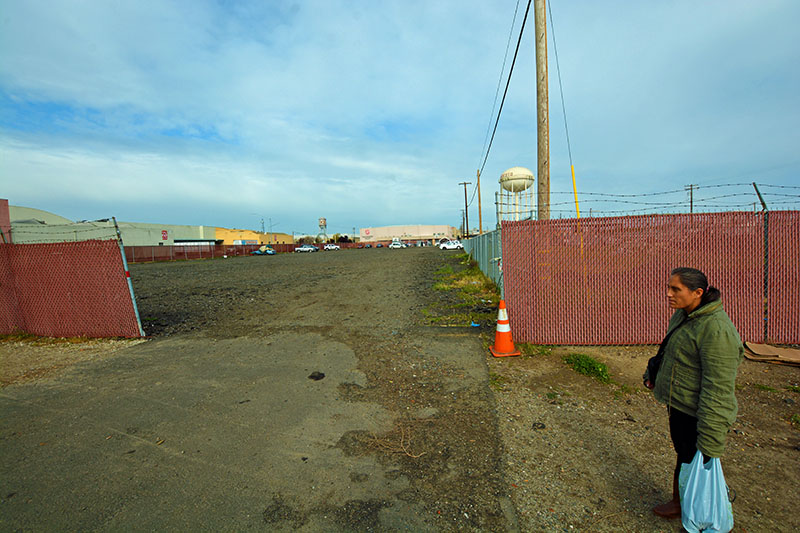 When MOES closed down in December, 2019, Little Sherry was moved to the Stanislaus County Low Barrier Shelter in the Berberian Building  at 9th and D Streets in Modesto, just a couple of blocks from MOES. At some point, likely the result of work by county staff, Little Sherry began receiving an income through a payee. Payees are assigned to people who have difficulty managing money. Ordinarily, payees make sure their clients' rent and other fixed expenses are paid before disbursing any remaining funds.
Little Sherry was also assigned a case manager. From that point on, like many homeless people who are directed to congregate living, Little Sherry began to wander away from the low barrier shelter. No one knows exactly when she left. She's been on the streets near the shelter at least since the winter of 2020. People who know her fear someone may be taking advantage of her because of her income.
Earlier this year, Little Sherry was seen on south 9th Street after Caltrans cleared a campsite along Highway 99. Caltrans, City of Modesto Police and the Stanislaus County Sheriff's Department have been operating under a new homeless policy since the beginning of this year.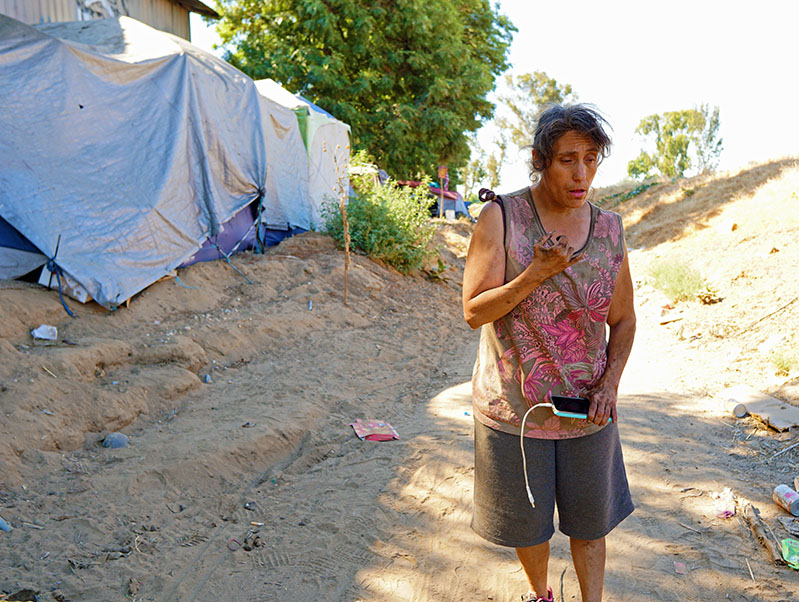 The new policy includes "accountability" for homeless people. So far, the most obvious enforcement of accountability is the practice of breaking up homeless camps larger than ten people. Deprived of the sense of community that comes from group living, homeless people have found it harder to "have each other's backs."
In 2020, after MOES closed and many of its residents returned to city parks, there was much talk of "taking back the parks." Though the homeless are routinely chased away, most parks in Modesto have as many or more homeless people than ever. Beard Brook Park is a lone exception.
Beard Brook Park, which never had much public use at any time, is closed. Like the former location for MOES, it is desolate, sere, and empty. No one is permitted in the park which once offered safe harbor to over three-hundred homeless people, including Little Sherry Lopez.  Even the parking lot is empty, its entrances barricaded by large cement blocks.
It should be very reassuring that the park is safe now. Little Sherry can't go to the park. No one can.