"It's sad," said the cop while he watched a John Deere bulldozer scoop up the trash and discarded belongings at a homeless camp just south of Modesto.
Nearby, a Caltrans worker remarked that someone had bagged up, "A lot of trash. There's a lot of trash bagged up at this camp. Some of the homeless people clean up and some don't. They're not all the same."
"There was a guy here who tried to make people clean up," said an onlooker. "He was always bagging stuff up."
"Yeah, a shot caller," said the man with Caltrans.  "A lot of these camps have one. He's the guy that keeps people in line."
"When you learn about their lives, it's amazing they're not worse," said another worker.
"Yeah, a lot had awful childhoods," said the onlooker.
"Watch out for needles," said the cop. "They've been burying needles in the dirt."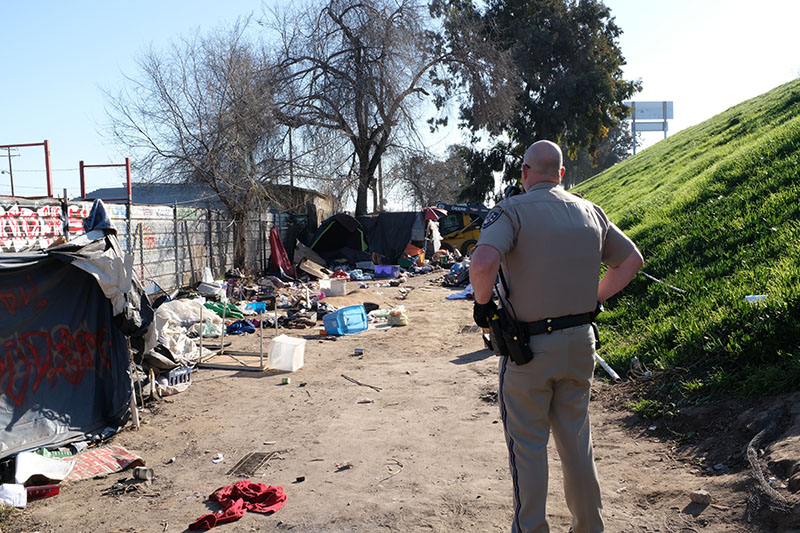 "Needles in the dirt," said the onlooker, "pointed up?"
"Yeah, said the cop. "Watch your step. When I get stuck with a needle I'm out three weeks and lose thirty pounds."
"Geez," said the onlooker, lifting both feet alternately and looking down.
Outside the fence on the rocks along the tracks, people were sorting through what they had lugged out of the camp ahead of the dozers. They could only keep what they could carry. Some people were having trouble sorting things out. They stared at their stuff for a long time before packing things into backpacks and plastic bags.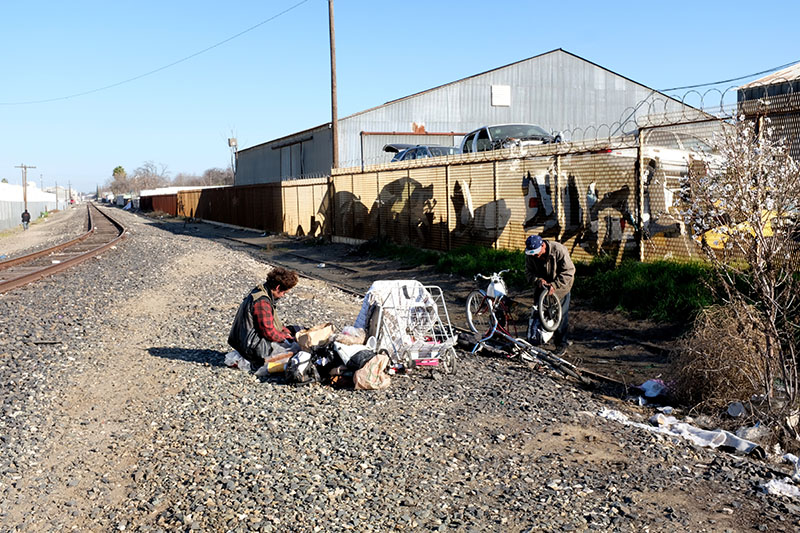 At another camp across the street, twenty-year old Viola was sitting with a friend on a narrow car seat, likely scavenged from one of the nearby wrecking yards.
"I was homeless since I was fifteen," she said. "I didn't get along with my mom."
Fidgety and animated, she showed little concern when more cops showed up and told everyone to get their things and go.
"I stayed at the Budget [motel] for a while…got tired of being beat by my kid's father. He beat on me like almost every day, so I came out here. When we're together like this, it's like a family, we got each other's back. But a couple nights ago he still tried to set my tent on fire. It was better at MOES [Modesto Outdoor Emergency Shelter]. They should open that up again. Whenever he came into MOES he was put into check."
"They had guys there who took care of things," said her friend. "Most of the time they didn't even need the cops."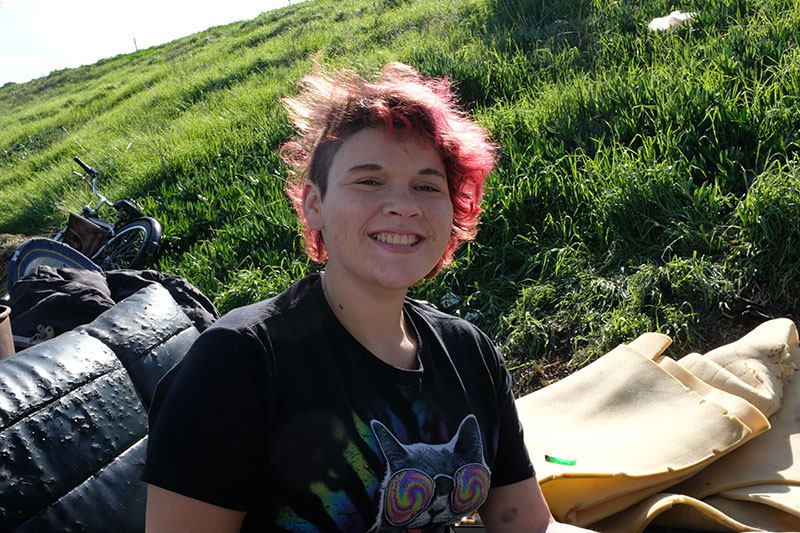 "Yeah," said Viola. "That's where I felt really safe. Everyone liked me 'cause I was always laughing and making jokes."
Back across the street, the cop was telling the onlooker that he had seen enough of homeless people.
"I've been doing this thirteen years," he said, "and it's always the same ones. There's help if they want it."
"Not that much help for the mentally ill," said the onlooker. "There's a young woman out here who's got at least four different personalities. Anyone can tell she's schizophrenic. The cops, the sheriff, the outreach people…no one's ever done anything for her. She's been out here for years; she'll get put on a three-day hold, then they bounce her out here again. Anyway, most of these people will be back here in two months."
"Two months," said the cop, "they'll be back in two days. Some of them have their tents out in the parking lot. They're just waiting."
"They're all different," said the worker from Caltrans. "When you do this a long time, you see all kinds of different people."
"There was a tent one time where the guy's wife was dead two weeks," said the other worker. "Two weeks," he said, shaking his head. "She was dead for two weeks."