It's almost impossible to discuss homelessness without a chorus of loud and insistent voices shouting, "It's the drugs!" While drug use is indeed common among homeless people, reliable data confirm it's rarely the cause of homelessness.
If drug use were the cause of homelessness, you would expect to see a correlation among states with high numbers of drug usage and high numbers of homelessness. There is no such correlation.
Hawaii ranks second in the United States in homeless numbers per capita; it's also near the bottom of charts registering drug use per capita. The driving force of homelessness in Hawaii isn't drug use, it's the high cost of living — most especially the rent factor.
The three leading states in homeless numbers per capita are New York, Hawaii, and California, in that order. None of the three is even in the top twenty in drug use per capita.
"According to the most recent annual survey by the U.S. Conference of Mayors, major cities across the country report that top causes of homelessness among families were: (1) lack of affordable housing, (2) unemployment, (3) poverty, and (4) low wages, in that order. The same report found that the top causes of homelessness among unaccompanied individuals were (1) lack of affordable housing, (2) unemployment, (3) poverty, (4) mental illness and the lack of needed services, and (5) substance abuse and the lack of needed services."
Note that substance abuse, coupled with "the lack of needed services" ranks number five on the overall list of top causes for homelessness among, "unaccompanied individuals."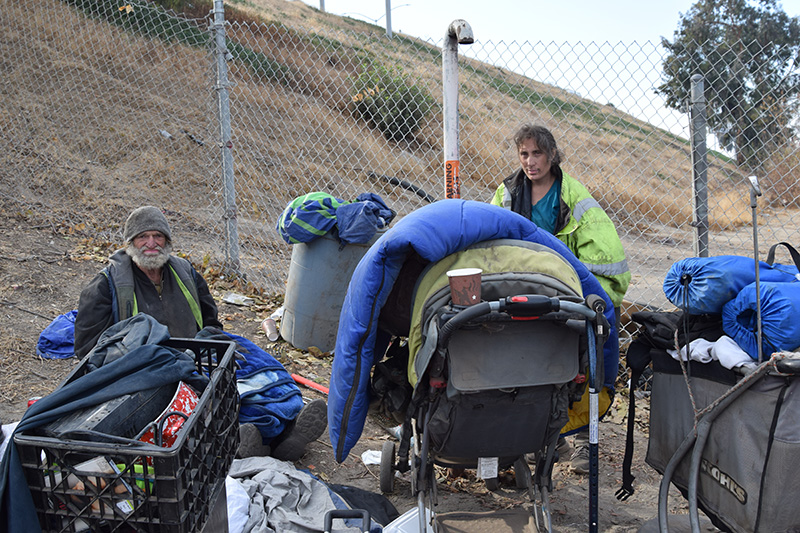 A great many homeless people are disabled or elderly and on fixed incomes at or around $1,000 a month. In states like California, New York, and Hawaii, those incomes, with very few exceptions, are too low to afford housing of any kind, not even a room in a boarding house. States with high homeless numbers invariably have high housing costs, usually accompanied by widespread low wages.
In California's San Joaquin Valley, Stanislaus County offers a good example of a region where housing costs are prohibitive for local workers. According to a recent study,
"To qualify as good, a job must pay at least a target annual wage to allow individuals to meet expense and savings needs without "safety net" benefits, provide health insurance or a proxy for similar benefits and afford stable options for future career development. In Stanislaus County, only 13% of jobs currently fulfill all these criteria. Promising jobs, which make up 22% of county employment, do not meet all the good job criteria but provide opportunities for career advancement to help workers land a good job within the next 10 years. The remaining 65% of jobs fall short of these criteria.."
Given the facts about wages, housing costs and shortages, reducing homelessness would be more successful if we devoted as much passion and energy to transitional housing options, living wages and affordable home construction as we do to demonizing drug users. The inconvenient truth is that if every homeless person in America stopped using drugs tomorrow, there would be little to no reduction in homelessness.