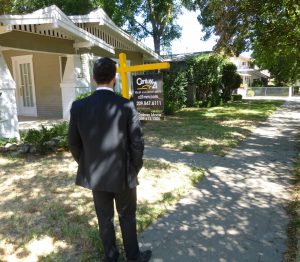 Jordan Herr is one of those people who had a plan right out of high school. He wanted to serve his country and build a foundation for the future, so he joined the United States Army and began saving most of his salary.
"The army fed us, clothed us, and sheltered us," said Herr recently. "There weren't that many reasons to spend money."
Herr will never forget the special bond he formed with fellow soldiers who saw action together.
"In the Middle East," he said, "they wear flowing clothes. Anything could be under those clothes—a gun, a bomb, anything. When you're locked and loaded and being approached by a suspicious-looking civilian, you have to count on your teammates to always do the right thing. It forms special relationships."
Herr was born in Oakdale in 1992 and went to high school in Turlock. Though he joined the service, he had always planned to return to family and friends in the Valley. After he met and married the girl of his dreams in Nuremberg, Germany, he couldn't wait to get started on a new home for both of them.
Herr figured he had enough money for a down payment on a new starter home, something around $200,000. He soon learned a hard lesson.
"Everything we looked at for $200,000 needed a lot of work," he says now. "A lot of those houses were in run-down neighborhoods. I wanted my wife to feel safe, and some of those neighborhoods didn't feel safe."
Thinking they could use expert help, Herr and his wife started applying for housing through property managers. When they found something they liked, they applied and found there was an application fee. After spending several hundred dollars on application fees, they began wondering whether they were being misled.
Even with his honorable record in the United States Army, Herr was told he didn't have enough work experience to have a solid credit rating. He didn't want to commit savings to a down payment on a house that could turn into a money pit, so he and his wife stayed with family members while they looked for rentals.
Again, they wanted to rent a house, but those few suitable houses for rent in good neighborhoods were almost always out of their price range, and those within their price range were taken before they had a chance to get in line.
 "The house or apartment we wanted was always taken," he says. "The property manager would tell us they had something available in Turlock, or in another neighborhood, but it was never what we had applied for."
Finally, a friendly expert in the field told Herr that if he could find something livable in a good neighborhood, he should grab it immediately, regardless of price, because very few such places were ever available. So when a one-bedroom apartment in a good neighborhood popped up, Herr and his wife took it.
At well over a thousand dollars a month, Herr was stunned by the price. He was even more stunned when he had to include a deposit of twelve-hundred dollars before moving in. But since he'd landed a job in a family member's business, and was able to borrow temporary transportation, he felt he at least had a foundation on which to build toward his dream of home ownership. The dream moved closer to reality when his wife also found a job.
Herr knows how lucky he is. He was able to live with family members while looking for shelter using borrowed transportation. In a tough job market, both he and his wife were able to find work. He often wonders what would have happened if he hadn't saved most of his army salary.
When Herr was asked what house-hunting must be like for people without savings or family support, he had a quick answer. "They don't have a chance," he said. "They don't have a chance."