Kristin knows the drill. After 12 years living outside, she should. There's a little confusion this time because she wasn't around when Caltrans posted. Some people think the dozers will show up on the sixth, others think it won't be until the seventh or eighth. Kristin is thinking it will be the eighth, but she isn't sure. Posted notices get torn down quickly and word of mouth is seldom reliable.
"When I first came out we got swept ten times in a year," she said on July 5, "but lately it's about twice a year."
There's little she really needs. She'd like to keep the large globe she found among other discards.
"Those are the maps before longitude and latitude," she says. "I like that kind of stuff. I like astrology too."
Still, she knows she often has to move fast, taking only what she can carry. A lot gets left behind.
"I'm good at staying out of the way," she says.
Despite her years of experience, she was still asleep when the Caltrans cleanup crew and Highway Patrol showed up early on the sixth.  Most everyone at the camp was caught by surprise.
With uniformed cops pushing them to vacate, Kristin and her fellow campers had to scramble to get their most needed belongings out of the way of an oncoming bulldozer big enough to clear a housing project.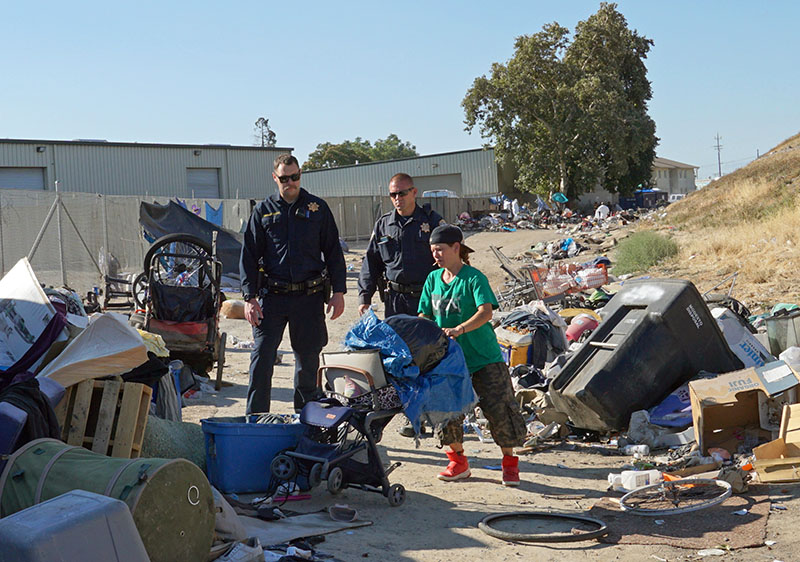 Barely five feet tall and thin, Kristin somehow managed to heave a heavy chair over a six foot fence and then struggled to pull a small stroller piled with belongings through  sandy soil while morning traffic roared along Highway 99 above the campsite, just north and west of downtown Modesto.
With the jaunty gait, baggy shorts, and backward cap of someone half her age, Kristin merges easily into most any urban setting. It's only up close that her face shows a few lines of age, and even then, she looks much younger than her thirty-six years. She mostly avoids the drugs that prematurely age people, preferring marijuana to methamphetamine and opioids.
Like a great many who live outside, Kristin was diagnosed with mental illness many years ago. She tries to keep up with her medication, but seldom sees her case managers. Both of them are with organizations working under county contracts.
Clearly bright, with an agile mind that has enabled her to survive the stress and perils of homelessness, Kristin never finished eighth grade. She has a criminal record and outstanding warrants, none of which seems to bother her.
"I don't like authorities and they hate me," she says matter-of-factly.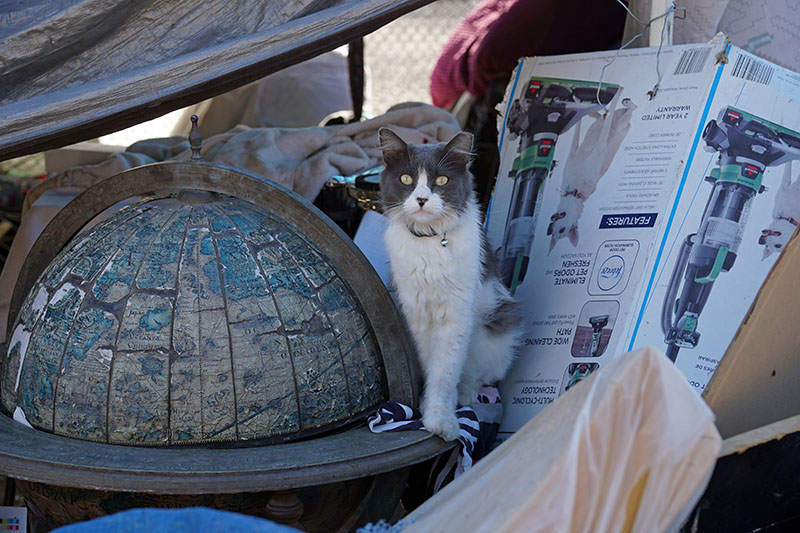 Before homelessness, she worked a few jobs, most of them in fast food. The best were those that paid under the table. Many employers and homeless people prefer off the books work; it usually pays better than minimum wage, sometimes significantly better.
Like the gray and white cat she feeds, Kristin survives on quick wits and near-feral instincts, enduring what she must and hiding when she has to.
With familiar campsites within a mile, Kristin will relocate quickly. When the new site gets swept, she will move again, maybe even back here. The cat, which scurried away at the roar of the dozers, will be waiting.