Early last year, Stanislaus County officials added accountability to their list of tactics for managing rising numbers of people with nowhere to go.
Puzzled by the new standard, volunteer and homeless advocate Frank Ploof asked county management and staff members repeatedly, "Accountable for what?" None ever offered an answer that made sense to people with no means to be accountable.
Despite repetitious memes about people "choosing" homelessness and the widespread chorus of, "It's the drugs," facts and statistics show that economic factors are the most significant forces in driving homeless numbers upward. Other causes include mental illness and physical and mental disabilities.
For example, 15,485 low-income residents of Stanislaus County do not have access to affordable homes. Another 76% pay more than half their incomes for rent. Statistics like these may be among the reasons that Stanislaus County ranks number 1 in homelessness per capita for the entire San Joaquin Valley.
According to Salvation Army Major Harold Laubach, forty percent of the residents of Stanislaus County's low barrier homeless shelter are mentally ill. Because the shelter is ill equipped to administer to these residents, some are routinely evicted for rules violations or other reasons. One such person, Willie "Turtle" Green, has been back on the streets for months, after spending over two years in the shelter waiting for housing.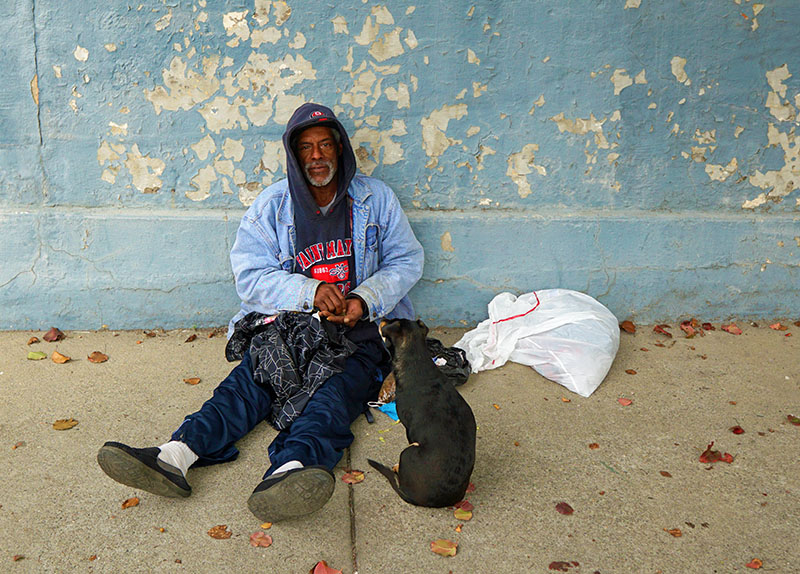 Green's case is not atypical. A recent study by the Fresno County Grand Jury concluded that,
"Homelessness is a dynamic and complicated issue that requires a comprehensive, coordinated approach to create long-term sustainable solutions. Unfortunately, a 'crib sheet' is required to keep track of all the governmental and nonprofit entities working to resolve this challenge locally."
Like Fresno County's, Stanislaus County's systems of care are a maze of disconnected public, non-profit, and volunteer entities — overburdened, understaffed, and nearly impossible to navigate. Again, conclusions by the Fresno County Grand Jury are equally applicable to Stanislaus County:
"…. duplicative and sometimes overlapping roles, fuzzy lines of authority, and a myriad of often-competing initiatives make it difficult to measure the effectiveness of the actions initiated to address homelessness in Fresno County. As a result, the City of Fresno and County of Fresno's current efforts lack coordination and threaten the very objective to be achieved: eliminating, or greatly reducing, homelessness."
The numbers show Stanislaus County's strategies for addressing homelessness are far less effective even than Fresno's. With a population of 1,013, 400 people, Fresno's 2020 Point in Time homeless count was 3,641. With just a little over half as many county residents, Stanislaus County's 2021 homeless count was 2927.
Homelessness isn't the only measure showing poor management and supervision in Stanislaus County, where Covid deaths per capita are the worst in the entire San Joaquin Valley.
Shuffling responsibility onto the shoulders of the poor and afflicted isn't just ineffective, it's also cruel. Stanislaus County officials would better serve their constituents by taking an honest look at the manifold deficiencies in their systems of care.