Not long after the public launch of Stanislaus County's "Focus on Prevention" program in October of 2015, Joseph Dean Dodd knew he had to do something positive for homeless people and do it soon. Dodd's own experience as a homeless person and his position as President and Pastor of Church in the Park give him an on-the-ground perspective about poverty and homelessness that most people lack, even the best intentioned.
"I knew people needed help now, not in the future," said Dodd recently. "One of the most pressing needs was cleanliness."
Thus was born the Shower Shuttle, an ingenious way to bring, "hot showers, underwear, socks and hygiene kits with 2 buses 4 days a week to the underserved, homeless and working poor."
Dodd was told early and often that the Shower Shuttle was, "just a Band-Aid," but he never bought into the analogy.
"People said we were treating the symptom, not the disease," said Dodd. "But when the patient is bleeding, you don't argue about what caused the bleeding. The first thing you do is stop the bleeding."

"When you're homeless, you're in survival mode," said Dodd. "Just the basic necessities become a struggle, just food and clothing. If you have only ten or fifteen dollars a day, you're stuck in a broken cycle. The stress can cause you to spend money on drugs to self-medicate."
Dodd views his ministry as an act of engagement with poor and homeless people. "We're a community," he said. "Some people come to the shuttle just to talk. There's a lot of paranoia and schizophrenia out there. You need to build trust and rapport."
Launched in July of 2016, the Shower Shuttle will have given 30,000 showers by sometime next month.
"We might be a Band-Aid," says Dodd with a chuckle, "But we're a Band-Aid that sticks."
Based on experience and principles of Christian charity many of us have forgotten or repressed, Dean Dodd realized very early on that homelessness is a crisis and the needs are immediate.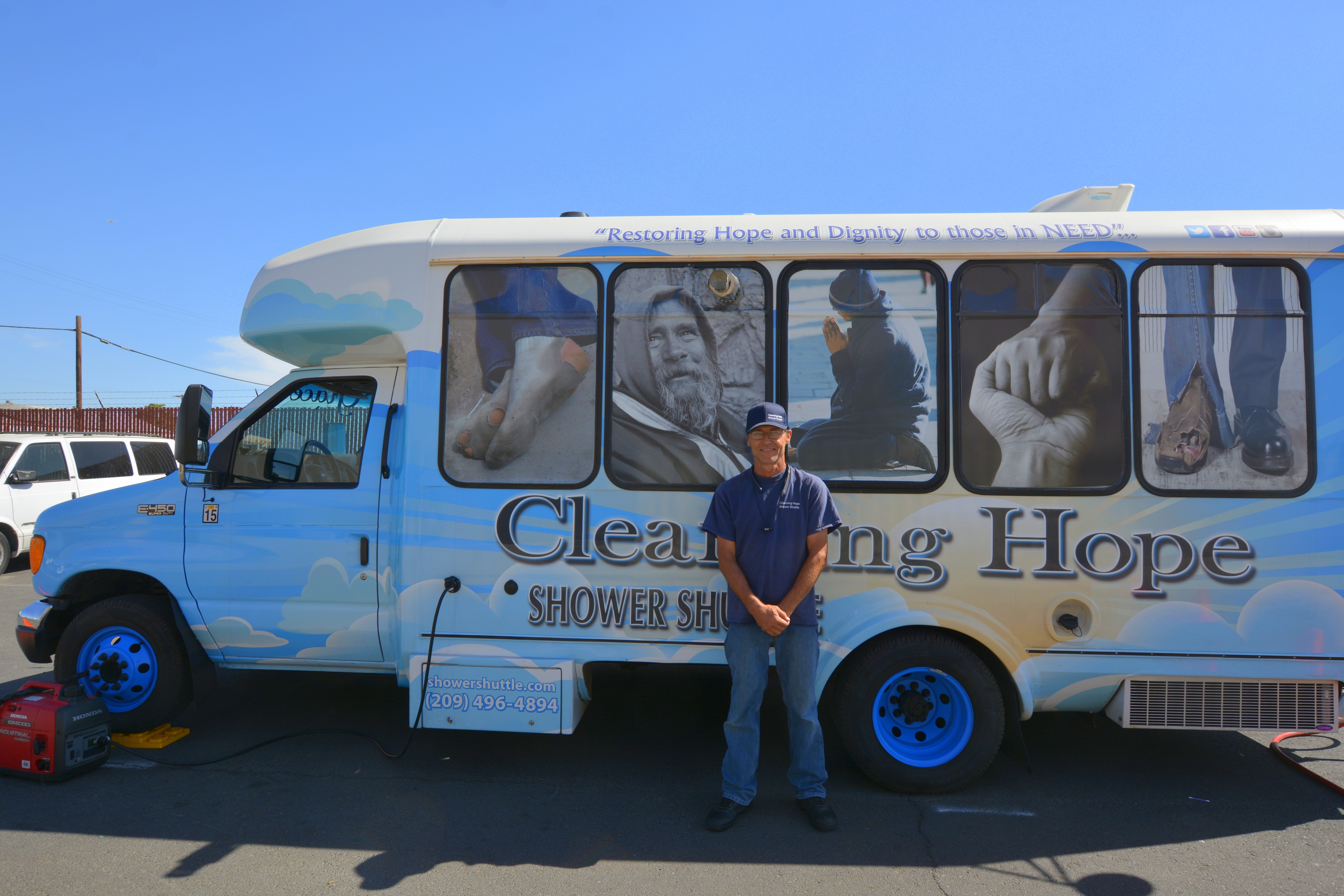 He also realized false analogies about Band-Aids disable thinking about homelessness, and are among the chief reasons there has been so little progress toward reducing or ending it. Early in 2016, shortly after "Focus on Prevention" was launched, four local leaders penned a statement published in the Modesto Bee. In part, it read,
"We will be accountable to each other. Acting together is not enough. Many of the challenges we face do not have simple or obvious solutions. As we learn together, we must also learn how to share honestly and openly. When something works, we'll explain why; when it doesn't, we'll share that too. To do this requires collecting good data and reflecting unflinchingly on what the data reveals."
The latest data on homelessness reveal it had increased even before Covid-19 put more people on the streets. Who should be held accountable if our ongoing strategies haven't worked?
Local authorities said last year that updated approaches to homelessness would include "accountability." Many people are asking, "accountability for whom?" How do we hold disabled or mentally ill homeless people accountable? To what end? Can we punish someone for poverty? Do local leaders mean they will hold themselves accountable for things that haven't worked, as written above?
It's not unusual for a homeless person to be arrested on a petty charge, held in jail for a few hours, and then released. Oftentimes, the release is in the early morning hours — 3:oo or 4:00am — when there's no public transportation. Walking back "home" is part of the punishment. Is this what our local authorities mean by "accountability"?
Today, few people will argue against evidence that poverty adversely affects the health and well-being of children. However, too few as yet understand the damaging effects of extreme poverty on the poorest of our poor adults, especially people experiencing homelessness.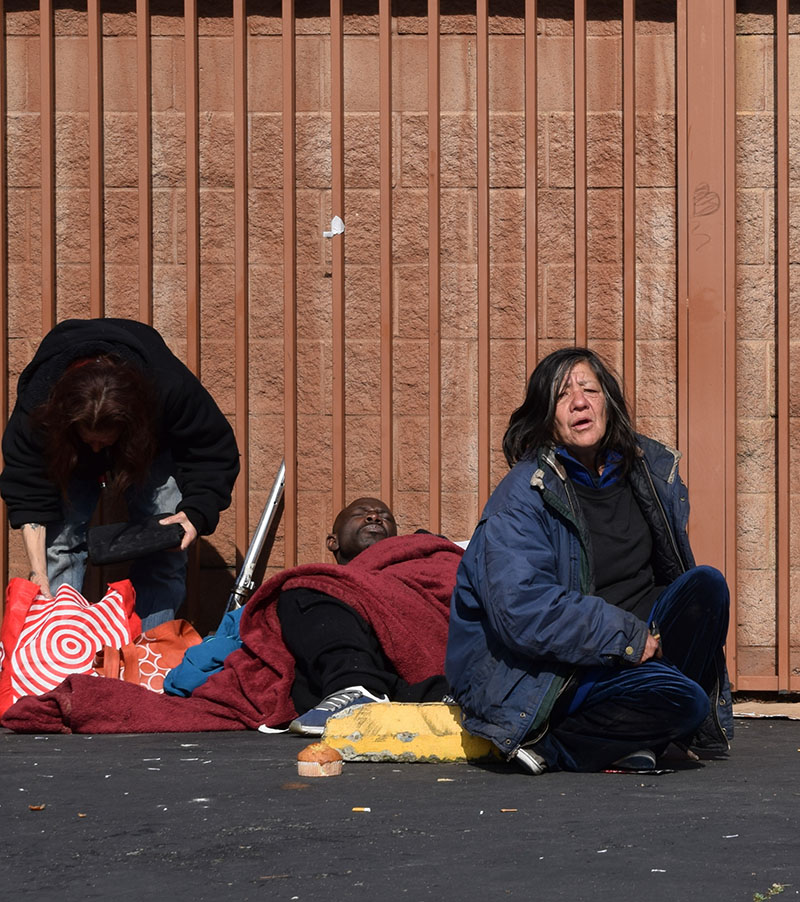 Robert Sapolsky, Stanford's MacArthur Award-winning Professor of Neurology and Neurological Sciences, has written extensively about the effects of low socioeconomic status (SES) on brain function and health in general. Among his conclusions, one of the more important is that,
"More unequal societies have worse quality of life. Across countries and among U.S. states, more inequality, independent of absolute levels of income, predicts higher rates of crime, including homicide, and higher incarceration rates…There are more psychiatric problems, alcoholism and drug abuse, lower levels of happiness and less social mobility."
Sapolsky's research has increasingly focused on the effects of SES on brain function. One of the consequences of stress resulting from low SES is an impaired prefrontal cortex, that region of the brain responsible for planning and decision-making. It's no wonder homeless people often seem to have poor judgment — their lives consist of unremitting stress, including sleep deprivation, poor nutrition and hygiene, and constant fear and anxiety.
Like Dean Dodd, Frank Ploof has had years of on-the-ground experience with homeless people as a volunteer and advocate. In a recent OP/ED article for the Modesto Bee, Ploof wrote that after years of contact with homeless people, he had changed many of his assumptions about homelessness:
"A conclusion that took a long time to realize is that we need to stop thinking about rehabilitation and start thinking about harm reduction…When we start thinking in terms of harm reduction, we realize that getting people off the streets and into bridge housing means an immediate reduction in quality-of-life crimes associated with homelessness. It means fewer hospital visits, easier access for volunteers and professionals, fewer homeless people around our small businesses, homes and parks, and easier assessment of people's needs."
Ploof added that the Modesto Outdoor Emergency Shelter (MOES), where people were permitted to camp near Modesto's 9th Street Bridge until early in 2020, demonstrated that, "even tents can serve as bridge housing, and that community is a key to progress through harm reduction."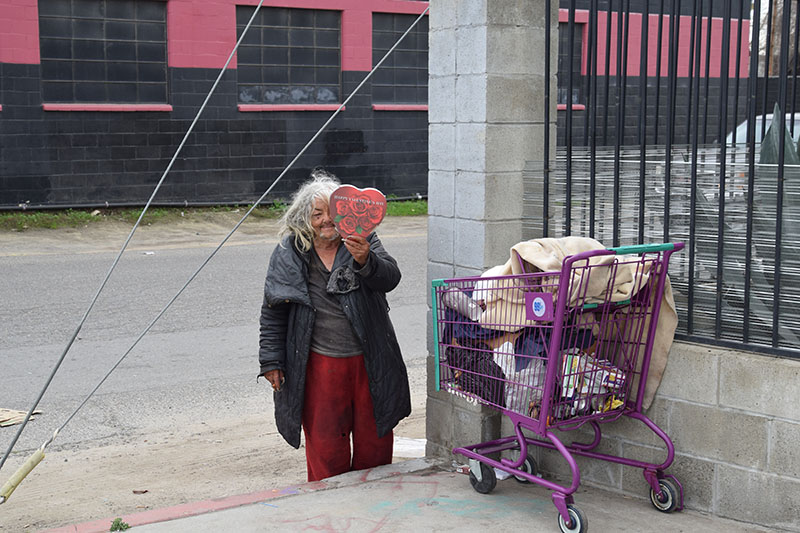 Along with food and water, shelter is among the most basic human needs. Ongoing local policies of chasing homeless people from place to place, interrupted only by a brief interim of permitted camping in Beard Brook Park and MOES, have only increased the multiple harms of homelessness.
When people lack the security of a place to lay their heads, stress increases, drug use escalates, and brain function deteriorates. Quality of life crimes associated with homelessness rise almost in tandem with policies that increase rather than reduce harm.
As evidence accumulates about the damaging effects of homelessness, the Band-Aid analogy seems more and more like a gambit to avoid addressing the immediate harms of homelessness in favor of doing nothing.  Joseph Dean Dodd wasn't deterred when people accused him of treating symptoms five years ago, and since then he's pioneered yet another way to help homeless people now.
"A while back I had an 'aha' moment," he said last Sunday. "I realized that homeless people were wearing the same clothing for a week or more. They were washing their clothes in the Shower Shuttle and holding back the line for showers. I thought, 'Clean bodies need clean clothing.' And that's when I came up with the idea for the Laundry Shuttle."
Launched late in 2019, the Laundry Shuttle is yet another ingenious application of engineering wizardry and Christian charity. It's also an example of the kind of harm reduction Frank Ploof has learned is critical for addressing the human damage resulting from extreme poverty and homelessness.
"People in dirty clothing develop an inferiority complex," said Dodd. He might have added that scientific research by neurologists like Robert Sapolsky has demonstrated that stress from sustained feelings of inferiority can damage people's health, well-being, and brain function.
That's even more reason to listen to the wisdom people like Dean Dodd and Frank Ploof have gained from their years of experience working directly with homeless people. Rather than increasing the damaging effects of homelessness, we need to reduce harm now. And we need to stop talking about Band-Aids.