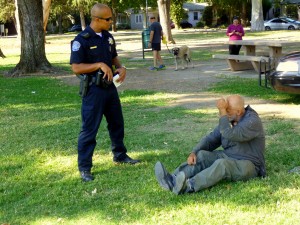 Whether by coincidence or design, homeless people in Modesto's parks have been subjected to heightened harassment and arrests ever since the new mayor and councilmembers took office. Despite the costs and lack of observable benefits, sweeps and busts are occurring more often than ever.
Years ago Modesto residents learned through bitter experience that the police department was too short-handed to respond to burglaries and other petty crimes, yet lately there seem to be more than enough officers to bust and harass homeless people on a routine basis.
Recently, four officers surrounded and arrested a homeless person involved in a ten dollar sale of methamphetamine. While there's no question we should try to reduce the harm from drug use, there's also no question such busts don't work.
Drug possession is now a misdemeanor in California, not a felony. Selling drugs rises to higher levels of punishment, but focusing on drug use among the homeless is like trying to control floods by damming mud puddles: Big-time dealers sell to customers with homes and money, not destitute homeless people.
Apologists for the arrests and sweeps of homeless people cite trash, needles, drug use, and human waste as justification for their actions, but even they will admit privately arrests and sweeps don't work. When city workers and police move people, tents, and trash out of a local park, they know the people, tents, and trash will be back within days.
Drug users who are arrested ricochet back into the homeless population within weeks or even days. Taxpayers foot the bill while petty "criminals" are incarcerated and fed, then brought to court and released, so that the cycle of sweep, bust, release, and repeat can begin all over again.
Nevertheless, any suggestion of establishing a tent city for homeless people is met with adamant resistance. Rather than concentrate problems, isolate the worst perpetrators, and identify the mentally and physically ill, our public officials prefer to move people with nowhere to go out into the streets.
Rousts don't eliminate trash, needles, drug use, and human waste. Instead, they disperse the problems over a wider area that includes private property.
While no one believes tent cities eliminate problems or offer permanent solutions to homelessness, advocates say they at least provide minimal shelter, offer a sense of community, and enable volunteers and officials to identify worst offenders and individuals who could be helped by existing programs.
Modesto's new mayor has said he will do a line-by-line budget analysis to identify unnecessary expenditures. It would benefit everyone if he were to calculate the man hours wasted on busts and sweeps that are little more than costly exercises in futility.
People familiar with the many mentally ill homeless people soon realize rousts and arrests only exacerbate their illness. After a while, the sole end seems to be punishment itself.
If busts and rousts don't work and are expensive to boot, you've got to wonder why we keep using them, especially against our helpless homeless population. But maybe that's the point: Maybe we're busting them precisely because they're helpless.