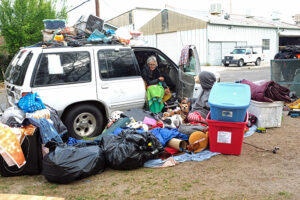 When Steve Finch and Frank Ploof founded Stanislaus Homeless Advocacy and Resource Enterprise* (SHARE) early last year, Ploof had already had almost ten years' experience working to help people experiencing homelessness. Finch was new to the task, but thought his experience with Court Appointed Special Advocates (CASA), an organization that assists abused and needy children, would provide a model he and Ploof could apply to needy homeless people.
The CASA model features volunteers who become advocates for foster children or other needy kids. It's been a successful program in large part because of the one-on-one relationships between the children and their advocates. Finch figured the model could work just as well with homeless people, with the difference that advocates for the homeless would expedite their move into housing. He still hasn't gotten used to the hard realities of homelessness.
"If there were a dog in a park living like this, it would be a public scandal," he said after visiting Cathy Heap in park in Turlock earlier this month. "We wouldn't allow it."
Heap has been living in vehicles, currently an aging SUV, off and on for at least five years. She and her late husband were among the early residents of Modesto's Beard Brook Park when it opened for camping in 2018. That's when Frank Ploof first encountered her.
"She and her husband were carnival workers before they retired," said Ploof. "For a while they paid $600 a month to live in a garage without heat or electricity."
Heap is a difficult case for several reasons, but one factor is her love for her dogs. She calls them her "fur babies" and refuses to abandon them. The number usually hovers around three or four, all of them tiny and vocal. Very few housing options for homeless people permit pets, and there's usually a limit on the number of those that do.
At 68 years old and with a dependent daughter half her age, Heap clearly needs at least the barest essentials of food and shelter, including access to running water, a toilet, heat and light. When her husband was alive — he died last fall — their combined incomes were a little over $1700 a month. It was enough to keep a vehicle running, insured, registered and repaired — as long as the repairs weren't major. Money left over went for food and other necessities. At today's prices, rentals were out of the question.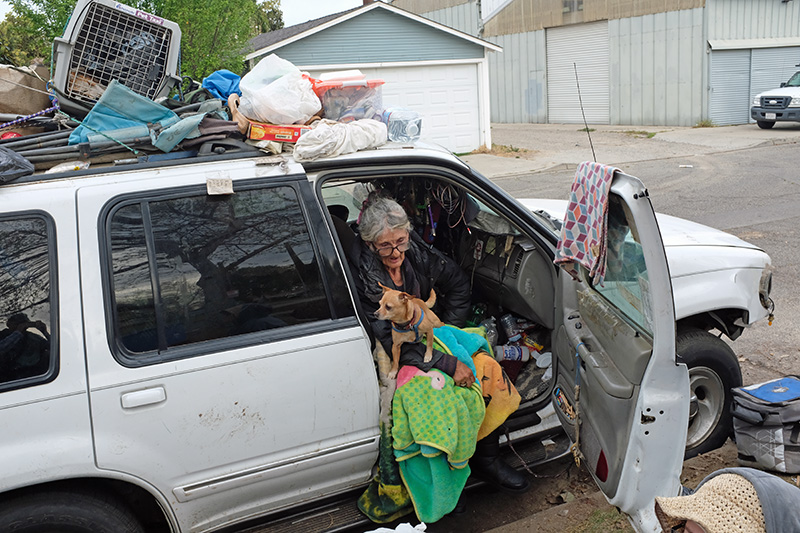 Ploof has worked to find housing for Heap off and on since he met her at Beard Brook Park. She can be obstinate and, like many homeless people, can drop out of contact when forced to move from whatever curbside she's occupied most recently. Finch picked up the case when she was found in the park in Turlock, where she's been since September of last year.
"Her clothes were badly soiled and she wouldn't get out of the car," he said. "Apparently there are some decent Turlock police, because they're at least permitting her to park instead of putting her in jail, but how can we allow this? Last time I was there, outreach workers from the county showed up, yet there's nothing that can be done? She's going to die out there."
Since founding SHARE, Finch and Ploof have had a more than a few successes with difficult cases of homelessness. Using money from donations and a small grant, they've reunited homeless people with family members, found them housing, and, in one case, put an elderly man on a plane so his daughter could take him into her Oklahoma residence. Just recently, Ploof's long experience with local nonprofits and other systems of care has enabled him to get three people off the streets and into housing; two of them had been homeless for over ten years.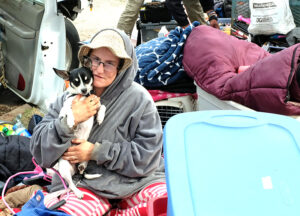 Nevertheless, both Ploof and Finch remained stunned at the sheer magnitude of the problem. While local authorities prate on about "accountability" and "family values," more people become homeless almost daily — elderly people, disabled people, sick people, and working people — even while churches, charities and volunteer organizations exhaust resources, time, and energy in a losing battle against an ever-rising tide of fellow citizens with nowhere to go other than parks, sidewalks and road side camps.
Far from atypical, Frank Ploof and Steve Finch represent the vast majority of the America public, who remain compassionate, generous and sympathetic to people in need. Unfortunately, today's growing mass of extreme poverty is bigger than ever, just one stark consequence of decades of downsized government, privatized systems of care, and disengaged leaders, growing more and more accustomed to poverty in the midst of plenty.
*SHARE will show "Benevolent Neglect," a film about homelessness, on May 26 at Modesto's State Theater.