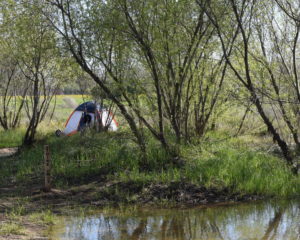 Despite concerted efforts to get people into shelters and affordable housing, homeless numbers in the west have been increasing rapidly.
In Stanislaus County, the numbers haven't worked since experiments with tent encampments ended a few weeks ago, when the Modesto Outdoor Emergency Shelter (MOES) closed down. City and county authorities decided MOES wasn't needed after expansion of the city's Salvation Army Berberian Shelter.
The expansion added 182 beds to the shelter. Residents at MOES numbered some 450 people. Authorities said the shortfall would be in part taken up by opening a repurposed motel on Modesto's Kansas Avenue early next year. The Kansas Avenue location would take in another 120 people.
When local observers pointed out that even with both new places filled to capacity, over a hundred MOES residents would have no place to go, authorities responded by saying people in the new shelter were expected to find more permanent housing soon and that would open up more places. But more permanent housing is further out of reach than anyone will admit—not just months but years away. And even when MOES was open, hundreds of homeless people remained scattered throughout the region.
In the Bay Area, Google has pledged $1 billion toward providing more housing, but no one thinks even that huge sum will alleviate homelessness any time soon. In Los Angeles, even after a $1.2 billion city bond, few expect to have enough affordable housing to stem the rising tide of homelessness. The most recent count in L.A. County recorded 59,000 homeless people.
Ever since homelessness became an increasingly visible problem, authorities everywhere have promoted the myth of services, assessments, and placement. Few have admitted the glaring truth: No one has enough services for people in need, and there aren't nearly enough places to put them.
The journey to affordable housing trips on NIMBYism, stumbles over environmental regulations, and falls flat in the face of rising costs. Meanwhile, spiraling housing costs and escalating demands on overburdened social services are pushing more and more people into the streets.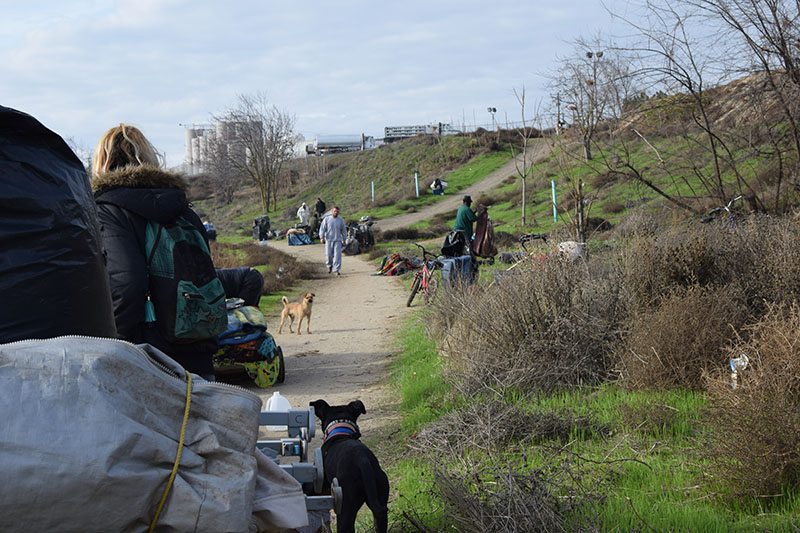 The day MOES closed, trails of people extended in all directions. Some of the displaced residents said they would return to favored locations along the Tuolumne River. One man returned to a local park he used to frequent within an hour of MOES shutting down.
Especially in winter months, most homeless people use tents or tarps for shelter. This year, encampments are everywhere.
Recently, the U.S. Supreme Court refused to hear the 9th Circuit ruling on the rights of homeless people to sleep in public places when there are no other options. Since then, local authorities have been trying to find ways around the ruling.
In Stanislaus County, where a permitted encampment was successful for over a year until shut down, authorities have added "accountability" to the list of tactics sheriffs and police officers will use to address homelessness. To veteran observers, "accountability" looks very much like a return to the catch and release tactics of the past, when rousts and sweeps of homeless people were the routine practice for a problem that won't go away.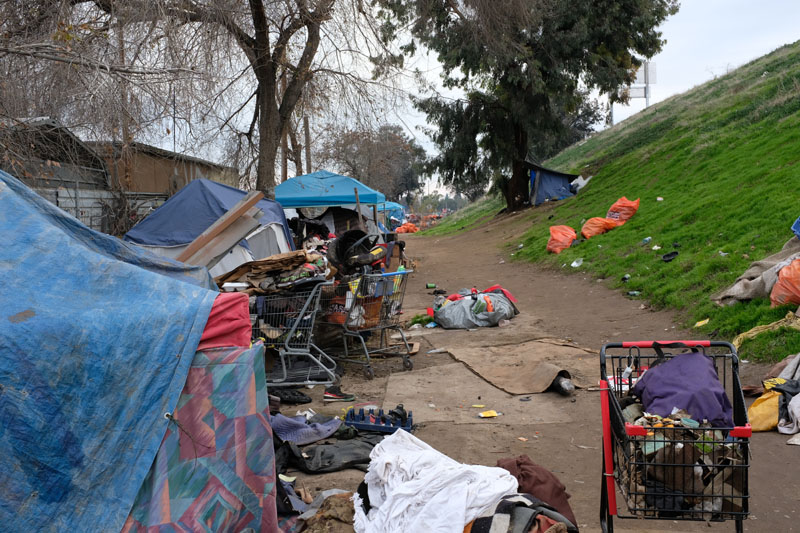 Given affordable housing is at least a few years away, permitted encampments would seem to offer a reasonable alternative to chasing people around and pushing them out of unauthorized camps into our streets and parks. Unfortunately, too many people still believe that services, assessment, and placement are just a few steps away. Instead, we're approaching ever more dire consequences for people experiencing homelessness, their housed neighbors, and local leaders who still haven't faced the inconvenient truths about a problem that has escalated beyond their control.
The fact is, whether the problem is in Los Angeles, San Francisco, Seattle or Modesto, too many people have nowhere to go, and too many leaders are operating on default positions of denial and wishful thinking.