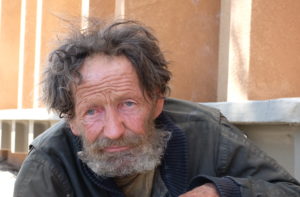 Homeless outreach worker Randy Limburg came across Alan Davis a couple of weeks ago. Davis was frequenting downtown Modesto in an area roughly from the old Modesto Bee building, at 1325 H Street, to five points at J Street and Downey Avenue, near Ralston Towers.
Davis said he was fifty-four years old and had been on the streets for a few months after waking up from surgery at Memorial Hospital. He wasn't sure why he'd had the surgery in Modesto because he was from Sacramento, where he'd been homeless, "around twenty years," in the downtown area of North Highlands.
Davis told Limburg he'd left Memorial Hospital after having his right leg and one toe on his left foot amputated with, "no place to go," so he came downtown. Like many homeless people, Davis refused help.
Worried because Davis had no money, couldn't stand or walk, and tended to stay away from people, Limburg tried to keep an eye out for the one-legged man in the wheelchair. When he encountered Davis a second time, Limburg saw that the man's left leg was horribly scabbed and bleeding. Still, Davis refused help.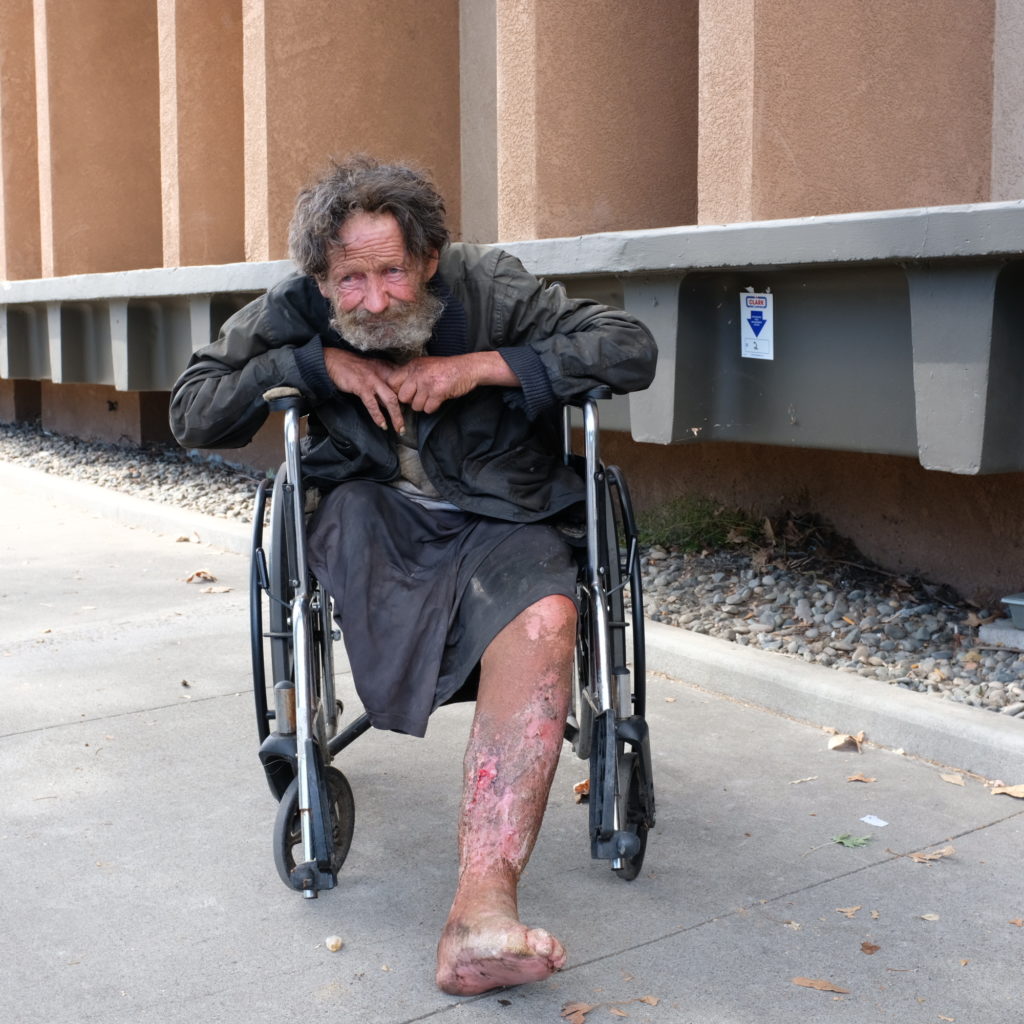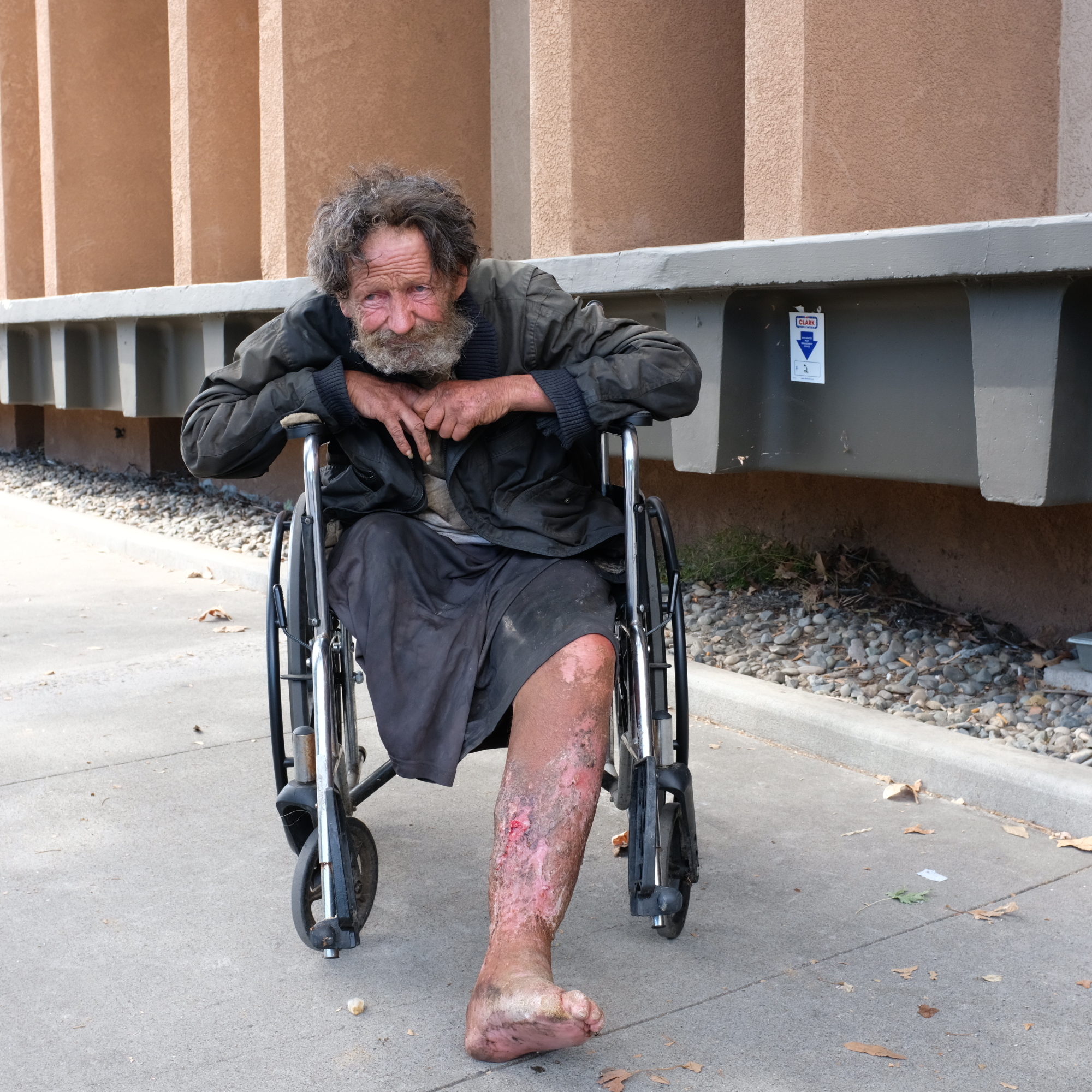 Concerned that Davis's condition could only worsen, especially since he had no money or nearby friends or family, Limburg alerted a close circle of volunteers to watch out, "for the guy in the wheelchair with one bad leg."
Despite his limited range, Davis proved hard to find, even after people started searching for him. Finally, Sunday September 22, a volunteer outreach worker found Davis on G Street, near the Central Valley Specialty Hospital on 17th Street.
The volunteer, who wished to be identified only as, "Frank," quizzed Davis about his past and learned that Davis had income, but didn't know where his "Social Security" checks were delivered. Since Davis said he's only 54 years old, Frank speculated that he was on Disability rather than Social Security, even though Davis insisted he was on the latter.
Like many homeless people, Davis had no wallet or identification. He did claim to know his Social Security number, and, if it's accurate, it will enable outreach workers to get him much-needed help.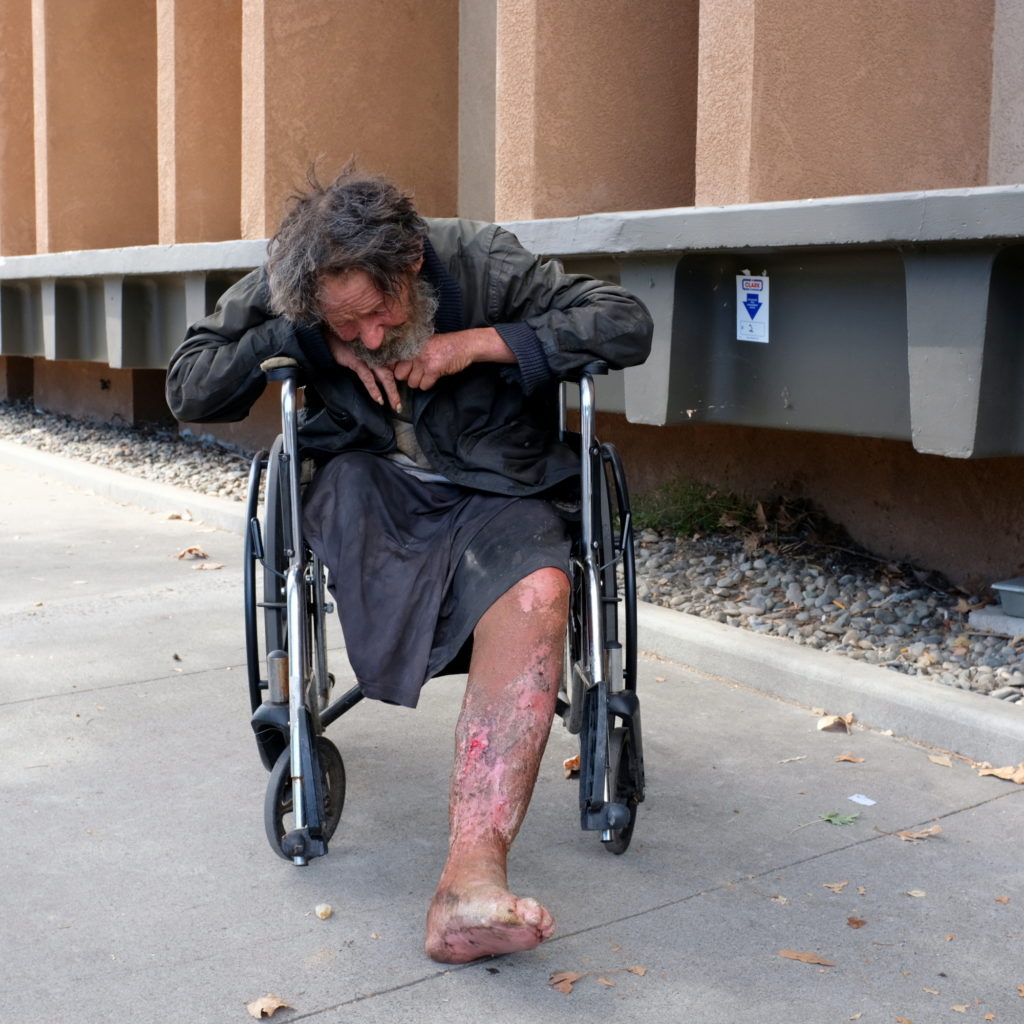 The more he chatted with Davis, the more Frank thought he should be in the hospital. His leg looked bad and Davis seemed to be having memory problems, though those could have been due to dehydration and malnutrition. When offered a bottle of water, Davis downed it almost immediately.
Wanting a second opinion, Frank called another volunteer, a registered nurse. Luckily, the nurse and her husband were nearby. They arrived only a few minutes after Frank's call.
The nurse quickly determined Alan Davis should be in the hospital, and then exercised the powers of nurse-angels everywhere:
"Look at me," she said to Davis. "You should be in the hospital where you can be taken care of. Do you understand what I'm saying?" Davis, who by this time was tending to lose focus and drift off, nodded.

"Look at me," repeated the nurse. "When the ambulance comes, you're going to go to the hospital. Understand?" Davis nodded.
Obviously worn out after answering questions and encountering more people than usual, Davis began to doze. But by then Frank had learned Davis believed his father was still alive and living in Sacramento. Davis also said he had two sons, both homeless, who also lived in Sacramento.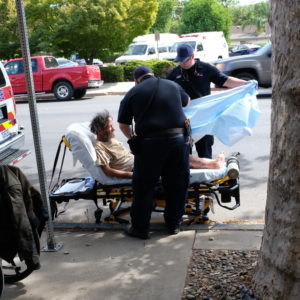 The nurse, who also wishes to remain anonymous, couldn't stay to see Alan Davis loaded onto a gurney when the ambulance arrived, but she was pleased to learn later that he'd obeyed her orders to accept help.
Both Frank and the nurse know that Davis will have nowhere to go once released by the hospital, but they're already planning to get him into better circumstances. Frank thinks Davis could at the very least get a tent at Modesto's Outdoor Emergency Shelter as a starting point toward assisted living.
And if he refuses help, Frank knows he can rely on a persuasive nurse to convince the man in the wheelchair to do the right thing.