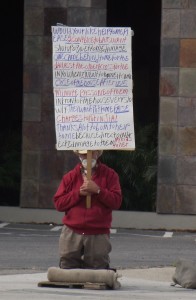 Ramon Alvarez was a fixture in downtown Modesto for years, but by the time he made Jeff Jardine's popular Modesto Bee column he was near death. Ramon was the "sign guy" or "the guy with the van" who regularly occupied various street corners near the Modesto Arch, protesting what he claimed were heinous crimes  by the court system.
While his long-term protest didn't do much in the way of addressing the imaginary crimes he advertised, it did make him a local character, usually as an object of derision. Most people didn't give a second thought to the cause of his obsessive campaign, which was severe mental illness.
Like a great many mentally ill people, Ramon thought he was ok. His resistance to treatment was so firm that his own family couldn't deal with it. When he went on a hunger strike, he stuck to it until he couldn't stand up. That's when authorities intervened and Ramon finally got treatment for his illness.
"He had to be moldering into the cement before he could get any help," said one local authority. "That's what all our silly laws have come to."
The "silly laws" he was referring to stipulate that authorities can't intervene to help mentally ill people unless they are a clear and present danger to themselves or others. "Danger" can of course be a subjective concept. When Ramon Alvarez went on a hunger strike, he was deemed in peril only when he could no longer stand and was subject to extreme summer heat.
Alvarez was a prime example of sick people who don't know they're sick. The clinical term for mentally ill people who believe they don't need help is, "anosognosia." Anosognosia is especially prevalent among schizophrenics and people with bipolar disorder, and it's a major reason why people like Ramon Alvarez refuse help.
In many respects, Alvarez was far more fortunate than most people with his problems. Because he was a public figure, his plight became widely known and he was finally able to get the help he needed.
Mentally ill homeless people aren't so fortunate. Even though most authorities estimate that between twenty-five and forty percent of homeless people are mentally ill, the general impression is that these people "choose" to be homeless because they refuse help and seem unable to accept the strictures of mainstream society.
Lumped in with drug addicts, slackers, criminals, deadbeats, and other misleading stereotypes of the homeless population, mentally ill homeless people have had nowhere to go for decades.
Californians tend to blame Ronald Reagan for shutting down institutions for the mentally ill, but Reagan was only one of many leaders nationwide who listened to the prevailing wisdom of "experts" who said advances in prescription drugs could replace institutions and care givers. The result was an ever-growing population of mentally ill homeless people with little to no hope of getting the help they need.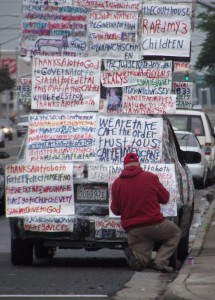 In American Psychosis, Dr. E. Fuller Torrey details the long, sad history of government destruction of a system that once featured institutions and year-round care for the severely mentally ill. Torrey argues that even today, despite ample evidence in the form of crazed killers with guns and people raving in the streets, we still lack understanding of the severity and magnitude of mental illness as a factor in poverty, crime, and homelessness.
According to Torrey, "schizophrenia, bipolar disorder, and severe depression are brain diseases, just as multiple sclerosis and Alzheimer's disease are brain diseases." Nonetheless, there is widespread public belief that such problems are character disorders and can be remedied with "family values," hard work, and religion.
Unfortunately, as was the case with Ramon Alvarez, mentally ill people are too often ignored, scorned, and ridiculed. Even with proper medication, some will never recover enough to be mainstreamed, but professional care can at least restore them to physical health and relative peace of mind. Still others can recover enough to work and care for themselves.
Meanwhile, mentally ill homeless people are easily exploited. Those with incomes are preyed upon by drug dealers, moochers, thieves, and bullies. The best they can hope for from the general public is amused tolerance, but in most cases what they get from public officials are rousts and arrests. No wonder they're unwilling to seek "treatment."
Even mildly neurotic people can degenerate rapidly when subjected to the stress and perils of homelessness. Dealing with the stigma and shame of a perceived failure is difficult enough. Add the burdens of constant insecurity, scorn, and harassment from authorities, and it's no wonder so many homeless people turn to drugs.
The failure of public officials to look at homelessness on a case-by-case basis has led to what amounts to cruel and inhumane treatment of the sick among us. It is a stain that won't be easily removed. Maybe it would help if the mentally ill started staking out street corners with signs and placards claiming persecution by the court system—at least they'd have a point.