For years, the dominant explanations for homelessness have been drugs and choice. Whenever the topic of homelessness arose, people were quick to say, "It's the drugs." And if they didn't rant about drugs and needles, the alternative was to argue that homelessness was a "choice" people made to avoid the responsibilities of self-sufficiency.
Occasionally, someone would point out that doing away with mental institutions and social services might have had something to do with the rise in homeless numbers, especially since studies show consistently that between thirty and forty percent of homeless people are mentally ill.
More recently, rising rents have been recognized as driving factors in the increase of homelessness. Almost no one, however, has really put together the intricate mosaic of pieces of the American economy that have contributed not just to a rise in homelessness but to widespread poverty in general.
Consider, for example, that as productivity of goods and services rose over the last forty years, wages for middle-income workers declined relative to inflation. The decline wasn't trivial:
According to the Economic Policy Institute, "Between 1979 and 2017, the compensation of median workers trailed economywide (net) productivity growth by roughly 43%, leading to rising inequality."
In short, even as people worked harder and produced more, their wages declined.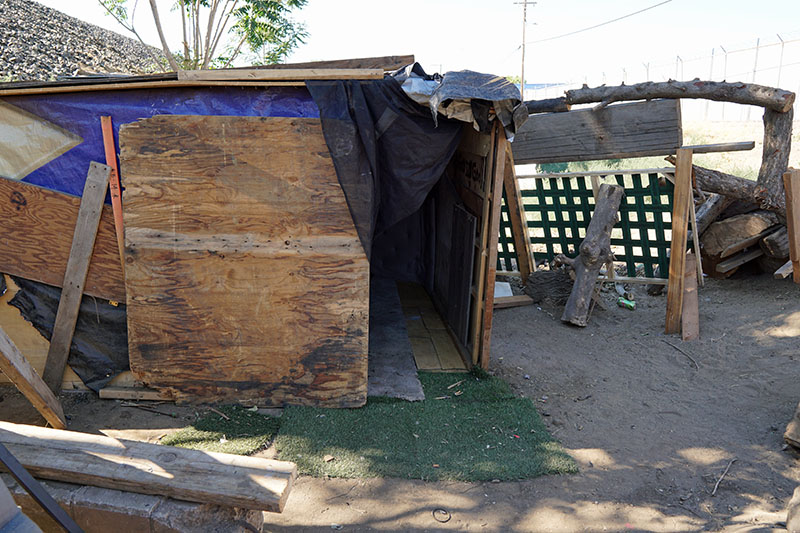 As middle-income wages declined, housing costs rose. In fact, "Median home prices increased 121 percent nationwide since 1960, but median household income only increased 29 percent."
But even as these inexorable economic forces wrought increasing hardship on America's wage earners, rising numbers of people living in poverty and experiencing homelessness were attributed to drugs, a decline in family values, and bad "choices."
Rising housing costs and rents have been especially hard on wage earners in west coast regions like the Bay Area and Los Angeles County, where income to housing-cost ratios are among the highest in the nation. One consequence has been an outflow of residents to distant cities and increased pressure on housing supplies.
Cities like Modesto and Manteca in the northern San Joaquin Valley have become "bedroom communities" for Bay Area commuters whose incomes dwarf those of typical Valley workers. The consequent upward pressure on housing costs has resulted in rising numbers of eviction notices for renters whose monthly incomes couldn't sustain even a modest rent increase.
One such former renter is Theresa Carr. At 71, Carr has custody of two great-grandchildren, aged eight and nine. She and the children are currently living in a motor home, parked on a street in Modesto. On a fixed income from Social Security, Carr's attempts to find an affordable rental keep foundering on forty- and fifty-dollar application fees.
"They take your application, charge you forty- or fifty-dollars, and then you never hear from them," says Theresa Carr. "They say they'll send you an email and they never do."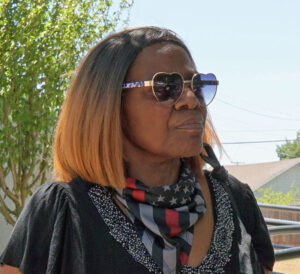 Carr has been looking for a place to live since October of last year, when rent for the apartment she'd been in for 10 years went up by $150 a month. In an increasingly common scenario, the property owner died and his heirs decided to revise agreements with renters, included retroactive increases in security deposits.
"I paid the rent every month," said Carr last week. "I never missed a payment. Then I found an eviction notice posted outside my rental for everyone to see."
"Not everyone is out here because of drugs," said Carr, gazing at homeless people in a park in west Modesto. "There are lots of different reasons people become homeless."
Not far from that same park, Irene Hopper-Gomez has a month to move from her studio rental, which was sold to new owners. Before becoming disabled and receiving disability income, Hopper-Gomez worked for Stanislaus County.
"It's outrageous," says Hopper-Gomez. "For one room with kitchen and bathroom, it's $800 to $1200 a month, if you can find one."
In fact, average rent in Modesto rose 10% over the last year and is now $1407 a month. Average apartment size is 785 square feet.
Brigett Moore, another Modesto resident who was recently served with eviction notices, considers herself fortunate to have found a rental only a couple of weeks before facing homelessness. Moore is a former drug user who was homeless and went through rehabilitation programs in Stanislaus County, returned to the workplace, then underwent surgery for carpal tunnel syndrome last fall.
"Stanislaus County was always there for me," she said last week of people in her rehabilitation programs. "They never let me down."
Once back in the workplace, Moore raised her credit score almost two-hundred points. She is frugal and thrifty and managed to save enough money to pull her through the hard times brought on by missing work because of surgery. Nevertheless, despite her recovery and hard work, she just recently came precariously close to another bout of homelessness. Though having a pet made her quest for a rental more difficult, she refused to give up her beloved dog, Coco, even when faced with another bout of homelessness. She also has a cat.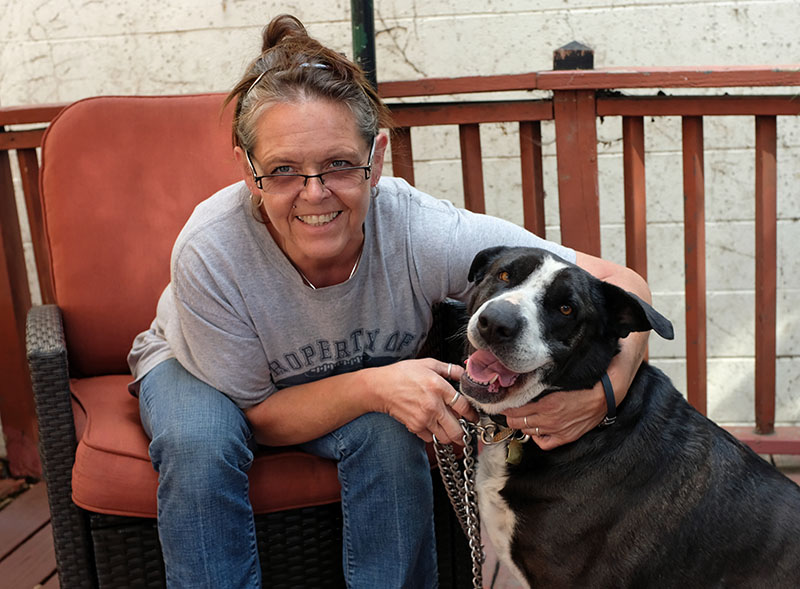 When housing costs move from merely difficult to impossible for people who have worked, obeyed the rules, and pulled themselves up from poverty and despair, it's not just wrong to blame homelessness on drugs and poor choices, it's a gross insult. It's also an affront to people like Brigett Moore, who worked the programs, got off drugs, and went to work, only to find that hard work, frugality and thrift could still leave her on the precarious edge of homelessness.
As long as homeless people continue to be lumped into abstract categories like "vagrant" or "transient," and dismissed as addicts, the human costs of punitive market forces can be ignored. But even a cursory look at the devastating effects of housing to income ratios on good people who worked hard offers a sobering reality of the human consequences of market forces.
More and more often, the homeless among us are just good citizens suffering from bad times. We need to accept those facts and begin acting humanely to address them.