The sign on J Street reads, "Cruising Prohibited." Below that,  "Loitering Prohibited, 6pm to 6am." Another warns, "This area is under video surveillance."
It's very doubtful Alan Davis, the amputee across the street, ever reads the signs, even though he'd haunted downtown Modesto for months before being taken by volunteers to the Modesto Outdoor Emergency Shelter (MOES) last fall, where he had a tent, a bed, and routine checkups of his one good leg by volunteer nurses and onsite staff. To the best of anyone's knowledge, he'd never been cited for anything. Nor had he been helped until brought to MOES.
Davis seemed to do well at MOES. During the day, he was a constant presence in front of or near his tent, kibitzing with fellow residents, bumming cigarettes, and getting his share of the available food, most of it provided by volunteer organizations and charities. He had people watching out for him, and though resistant to a mental health evaluation, seemed otherwise cooperative and at ease.
Things changed when MOES shut down and Davis was admitted to the new low-barrier shelter in the Salvation Army's Berberian Building on 9th and D Streets in south Modesto. Davis has told people he left the shelter because he didn't like the bathrooms, a strange motive given the bathrooms were handicapped accessible and far more convenient than the Porta-Potties Davis had used without complaint at MOES.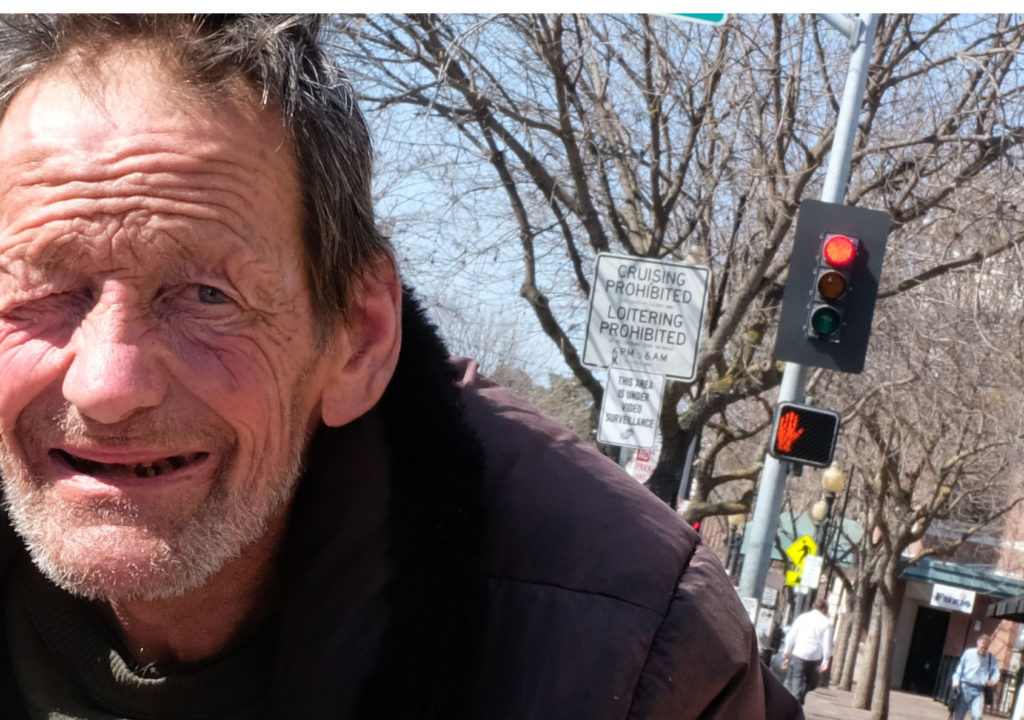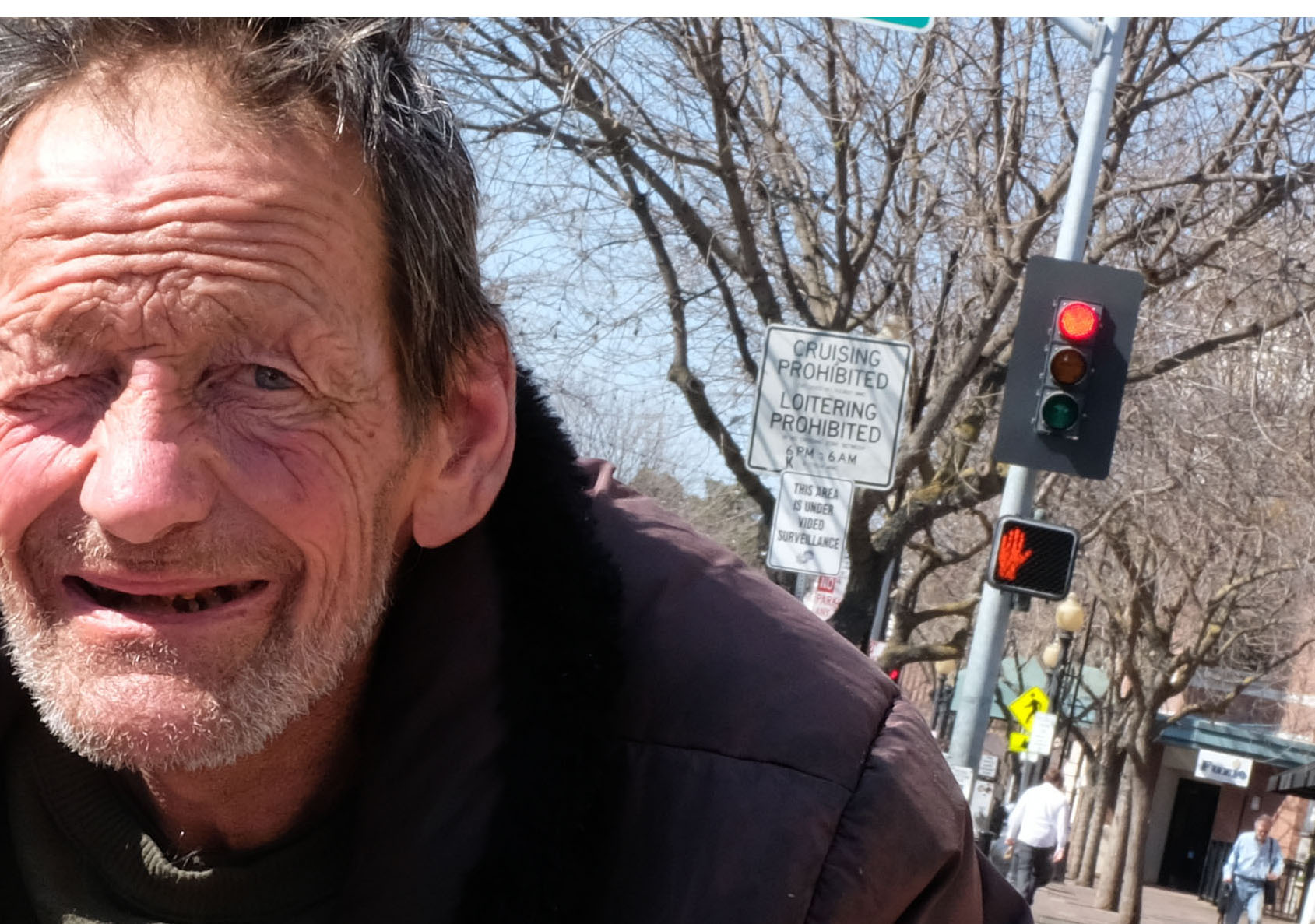 For whatever reason, Davis kept exiting the shelter, even after good Samaritans found him on the streets, called for help, and got him back to the shelter. Frank Ploof, who had coordinated outreach and assistance efforts at MOES, got Davis back inside a couple of times, but the homeless man with the mysterious past kept returning to the streets.
Then he disappeared. No one saw him anywhere. Ploof, whose work with homeless people has made him a superb sleuth, finally found Davis at a local hospital. He visited him and learned his remaining leg had become infected while on the streets and would have to be amputated. Ploof was able to visit Davis after the surgery, but shortly thereafter, Davis disappeared again and hospital staff refused to discuss his whereabouts.
Regulations about patient privacy are among the greatest impediments to helping homeless people, especially in cases like that of Alan Davis. There are strong indications Davis may be mentally ill, but no one locally has been allowed access to his medical history. And when Davis left the hospital, Ploof could find no trace of him anywhere.
Monday, March 2, Ploof received word that Davis had been seen in downtown Modesto, near 11th and J Streets. Tuesday, March 3, Ploof found Davis on the corner of 10th and J Streets. Davis said he'd been on the streets about two months before losing his remaining leg, then again about a week, "after rehab."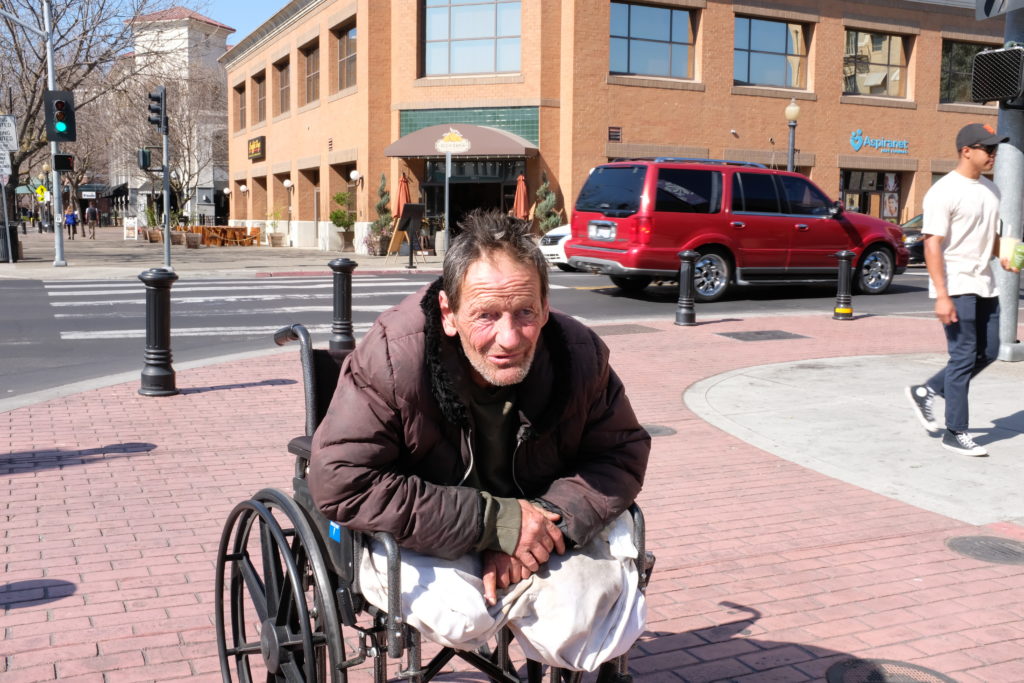 The now-legless man appeared to be in far more pain than during his time in MOES, his face carved into a deep grimace of ongoing agony. Davis agreed that he'd be better off back in the shelter, but when Ploof called, he was told there were no available beds.
Having learned through years of helping homeless people that nothing happens without stubborn persistence, Ploof was able to find Davis a temporary spot in the original Salvation Army shelter, located in the other half of the Berberian Building. But by that time, Davis had begun to vacillate about going in.
It's often said that homeless people "choose" homelessness, but in many cases it's far more likely such their decisions are driven by mental illness, and especially by anosognosia, a condition that leaves people with a virtually complete lack of self-awareness.
It should be clear to most anyone that a legless man in his right mind would not willingly choose to be on the street without access to a bathroom of any kind, especially in Modesto, where public facilities are notoriously absent. Nonetheless, Alan Davis seems to prefer the streets to more suitable accommodations.
Without access to his medical history, no one can know for sure whether Davis has been diagnosed as mentally ill. What is clear is that he's not rational and can't act in his own best interest.
And despite warnings about loitering, and the City of Modesto's new "accountability" policy for homeless people, Davis has been remarkably invisible to local authorities, whose new policy has resulted in chasing homeless people from one place to another in an ongoing loop of frustration and futility.
Maybe it's time to put the focus of accountability on people who manage to look the other way when people are in need, directing their energy only to placing obstacles in the way of those who would help their fellow citizens. Accessibility to a tent offered Alan Davis a far better alternative than the streets of Modesto, where even the work of dedicated volunteers can fall short of providing the help he obviously needs.