California Governor Gavin Newsom's pledge to dedicate $750 million of the state's 2023-2024 budget to sweeps of homeless camps is only the latest example of the extravagant waste of taxpayer dollars on futile tactics aimed at reducing homelessness. In all, the new budget will devote $15.3 billion to homelessness, even though the state has already spent billions more, only to see a continual rise in numbers of people experiencing homelessness.
Most of the state's sweeps are conducted by Caltrans along the state's highways. By now, anyone even vaguely familiar with sweeps knows two things about them: (1) The people from the swept camps move into nearby cities and towns where they are chased around by local authorities and (2) After a few days, weeks, or months, the homeless camps are back again.
Sweeps fail because authorities have yet to learn that the most fundamental — and obvious — fact about homelessness is that homeless people have nowhere to go other than another location where they're not wanted. Governor Newsom, rather than acknowledge this reality, prefers throwing good money after bad.
Gavin Newsom is not alone in choosing to waste money on futile tactics for reducing homelessness. With a few exceptions, every city and county in the state follows his example: The default strategy for homelessness most everywhere is chasing people with nowhere to go from place to place and back again.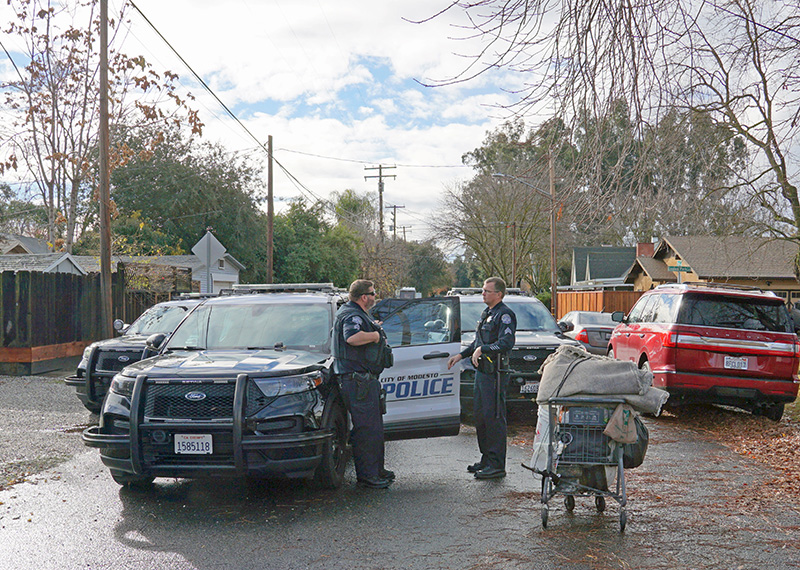 When the Stanislaus County Civil Grand Jury found in 2022 that local efforts to address homelessness failed despite the expenditure of millions of dollars, it decided not to delve into the specific tactics and deficiencies that led to failure. For anyone on the ground, one of the most obvious of those deficiencies results from using law enforcement as the preferred tool for managing homelessness.
Though authorities everywhere know homelessness is not a crime, they persist in criminalizing it because they prefer not to acknowledge that we lack sufficient housing for the destitute and disabled, we lack sufficient structure and staff for the mentally ill, we lack affordable housing for the working poor, and we lack transitional shelter for the elderly retirees whose fixed incomes aren't enough to pay for today's rental costs.
The City of Modesto offers a classic example. With a severe shortage of police officers and one of the worst records for traffic control in the state, Modesto spends a disproportionate share of its law enforcement dollars on homelessness.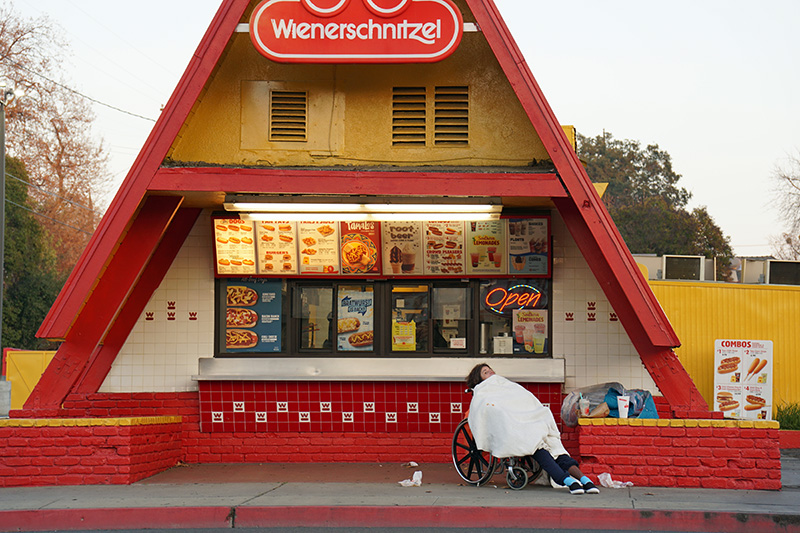 If, for example, a mentally ill homeless person tosses a rock through a storefront window, the resulting chase and apprehension might involve three squad cars and officers, as well as a Community Service Officer and pickup truck. That's a wasteful diversion of resources for a case that likely wouldn't have happened had the homeless person had a place to stay. When the city permitted camping at the Modesto Outdoor Emergency Shelter in 2019, such quality of life crimes dropped dramatically.
In mid-December, 2022, a woman in a wheelchair so severely disabled she couldn't sit up spent at least two days and three nights on a busy Modesto thoroughfare in cold weather, easily visible to passing motorists and police officers. People who inquired for help were told that the "CHAT" and "HEART" teams that deal with homeless people don't work on weekends.
The first Monday morning after being notified of the woman's plight, three squad cars, the CHAT cruiser, an ambulance, and a pickup truck showed up to remove the woman and her belongings from Modesto's mean streets, where sights of disabled homeless people have become more and more common. Sweeps and citations for loitering, vagrancy, and "refusal to leave" private property continue to be default options for getting homeless people out of sight, often even in cases of extreme mental or physical disability when such people should be in appropriate facilities for care and recovery.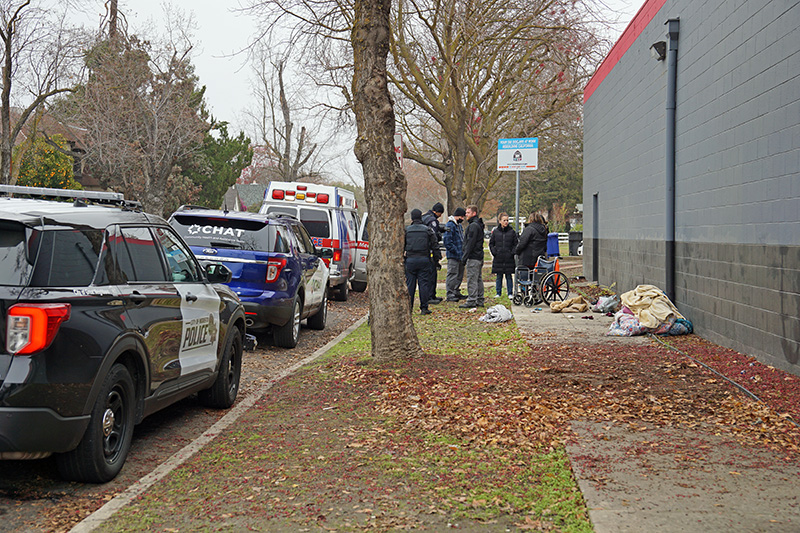 In both instances, significant portions of Modesto's meager law enforcement resources were spent on cases that never should have come under the purview of law enforcement in the first place. When Judge Marsha Berzon of the Ninth Circuit Court of Appeals ruled that denying homeless people the right to sleep in public places without other options amounted to "cruel and unusual punishment," she added:
"The distressing homelessness problem…has grown into a crisis for many reasons, among them the cost of housing, the drying up of affordable care for people with mental illness, and the failure to provide adequate treatment for drug addiction. The crisis continued to burgeon while ordinances forbidding sleeping in public were on the books and sometimes enforced."
Sweeps and law enforcement tactics do nothing to reduce the driving factors in rising homeless numbers nor do they get homeless people off the streets for any more than a few days or weeks. In fact, using police officers to fill the gaps in broken systems of care through repetitive acts of futility isn't just an extravagant waste of resources, it's demoralizing to everyone, most especially law enforcement officers who find themselves fulfilling the roles of social and health workers when they should be monitoring traffic and stopping crime. Nonetheless, state and local authorities, from the governor on down, continue to perpetuate failure after failure, year after year.