The Stanislaus County's Civil Grand Jury Report on homelessness could serve as a report card for the entire State of California. Noting that homeless numbers continue to rise despite vast expenditures of money, the Grand Jury concluded that lack of coordination and focus among myriad public and private entities has led to wasted dollars, a lack of accountability, and public distrust in government efforts to reduce homelessness.
There are many reasons behind the failure to curb rising homeless numbers. Several amount to specious distractions, beginning with caused-based arguments.
Cause-based Arguments
Proponents of caused-based arguments, whether they attribute homelessness to bad parenting, bad choices, or wealth inequality, spend all their energy and resources in the deep weeds of distraction, arguing that homelessness won't go away until we eliminate its "root causes.'
When the house is burning down, the first priority is containing the fire. Wasting time and resources arguing about what caused the fire allows it to grow and spread.
When our economy is shedding jobs, when we have a severe housing shortage, when we lack services and shelter for the mentally ill, the disabled, the traumatized and the destitute, our first order of business should be triage. Triage for fellow humans in dire need should begin with the minimum stability provided by safe ground, toilets, running water, and rudimentary protection from the elements and predatory criminals.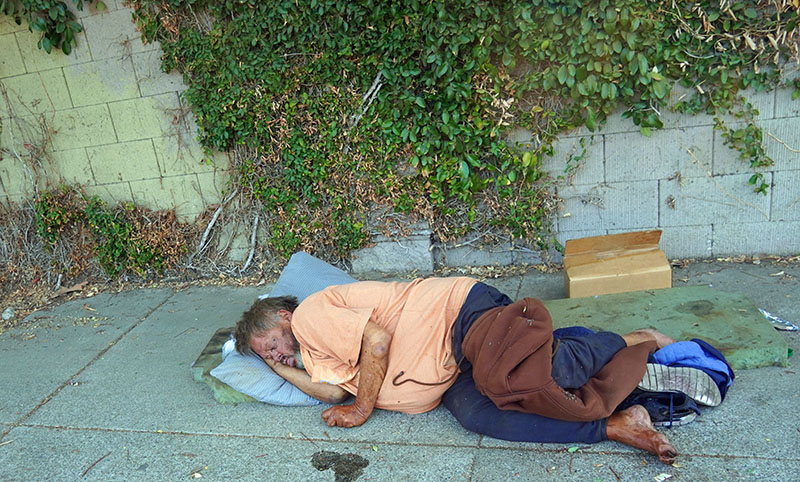 People who want to waste time arguing about causes should be encouraged to attend  meetings, write proposals, and sponsor studies, using their own time and resources.
Misleading Narratives
The rehab narrative, perhaps the single most dominant impediment to mitigating the multiple harms of homelessness, assumes that all destitute people need is a short stay in a congregate shelter where they can "get back on their feet" and get a job. The most commonly cited key element is redemptive transformation in the form of finding religion. "I was lost but now I'm found" stories are heart-warming and hopeful; unfortunately, they offer a tiny and unrepresentative sample of the hard realities of homelessness.
Some people have been in Stanislaus County's congregate shelter since it opened, over three years ago. They haven't moved on because there's nowhere for them to go. They can't work because they're too old, too disabled, or too sick to work.
In fact, growing numbers of homeless people already have jobs and religion. Their problem is that the jobs and religion don't provide enough income to afford housing, in large part because there is a huge housing shortfall throughout the state.
The reality is we don't have enough shelter, we don't have enough services, and we don't have enough housing, even for people with jobs and income. Denying the fact of California's acute housing shortage has led to interminable delays in getting people off the streets, out of the parks and alleyways and onto safe ground where they can access rudimentary "services" like toilets, running water, and whatever social services are available during a time of severe shortages of social workers, doctors, psychologists and psychiatrists.
The "Hitting Bottom" Fallacy
The "hitting bottom" fallacy insists that one can escape homelessness only after suffering enough agony and discomfort that "going straight" becomes the only option. The hitting bottom fallacy is behind the belief that helping people with food and shelter only "enables" dependencies; hence, a great many otherwise intelligent people insist on leaving homeless people in the dirt until they have finally suffered enough.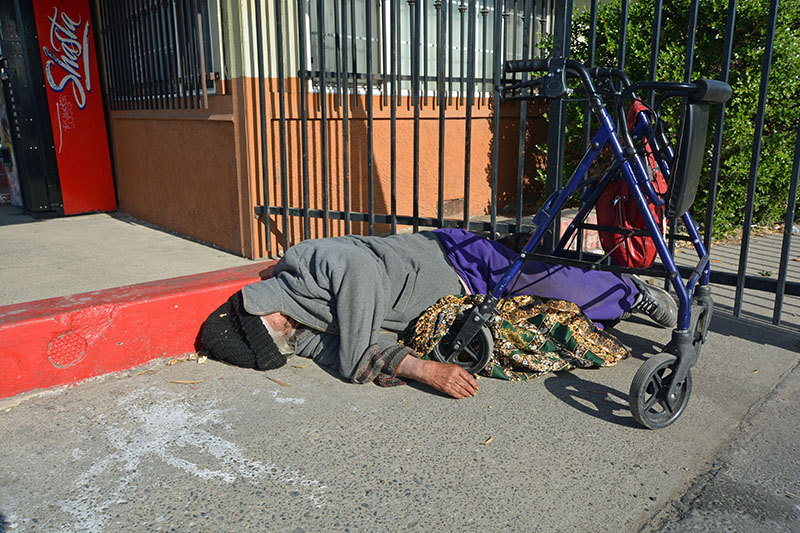 All it takes to refute this fallacy is a short drive around any town or city. It should be clear then that punishing the sick, the disabled, the elderly, the traumatized and the destitute not only doesn't reduce homelessness, it is also cruel and barbaric.
The "Housing First" Mirage
Several years ago, homeless advocates argued that the first priority for reducing homelessness should be "housing first." They were right in principle.
In fact, however, we don't have enough housing, we won't have enough housing for years, and for many homeless people, traditional housing options not only aren't feasible, they represent a cruel sentence to more years in the dirt, without even a safe place to sleep.
Rule-based Inefficiencies
Most impediments to reducing homelessness involve faulty thinking, but rule-based inefficiencies present real obstacles to providing immediate, cost-effective and humane measures to reduce homelessness. Whether it's a huge metropolis like Los Angeles, or a small San Joaquin Valley town like Turlock, cities and counties are unable to spend money earmarked for housing and shelter because of onerous rules imposed by government agencies, especially the nation's  Department of Housing and Urban Development (HUD).
In the 5-year period between 2015 and 2020, Greater Los Angeles returned 150 million dollars of housing assistance money to the federal government. In 2021, HUD offered the Stanislaus Regional Housing Authority emergency housing vouchers worth 3.17 million dollars for homeless people in dire need of housing. Today, most of the money remains unspent because there isn't enough housing, even when there's enough money.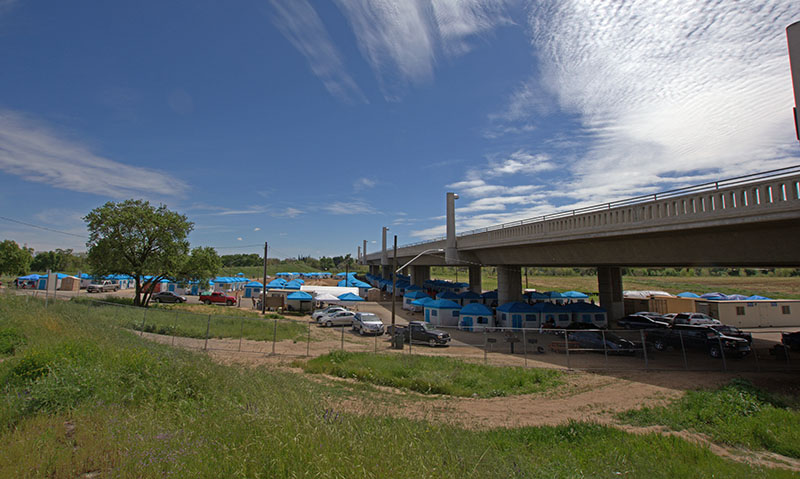 Every elected official at every level throughout California should be pushing hard to eliminate rule-based inefficiencies that place razor wire around funding for homelessness.
What to Do Now
The single biggest mistake we've made about homelessness is our failure to recognize it as a humanitarian crisis.  Almost no one today will dispute the clear fact that a large segment of the homeless population is mentally ill. Nonetheless, narratives about "bad choices" and not wanting help still dominate many views about the plight of homeless people. Mentally ill people, by definition, aren't capable of rational choices.
Another large and growing segment of the homeless population consists of the physically and mentally disabled. Disability compensation for such people often tops out at around $1,000 per month. That's not enough for a single room unit anywhere, even if one were available. We need to accept the reality that we don't have enough housing and services for people in need and we won't have enough for years.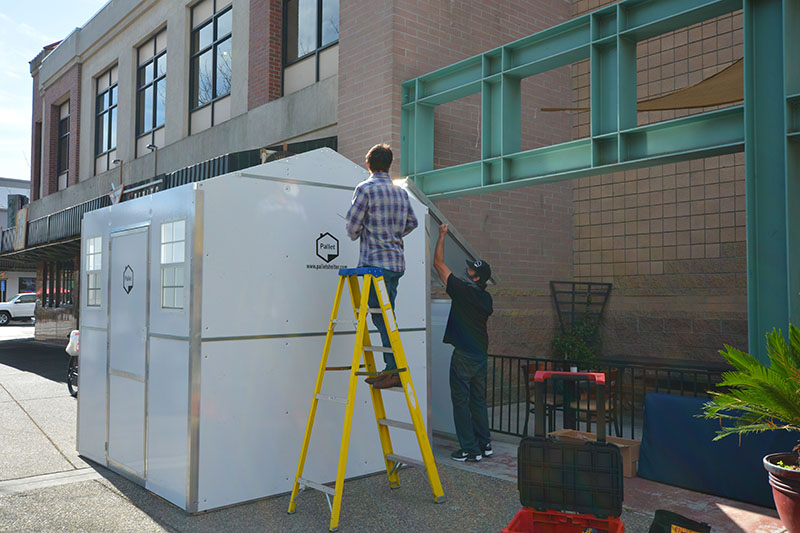 Instead of prolonging the costs and cruelties of leaving people on the streets, we need to perform triage now. Governor Newsom should declare a humanitarian crisis and work to provide funding for safe ground encampments that provide homeless people with the rudimentary necessities of minimal shelter, including tents and tarps.
The governor and California's Senators and Congressmembers should lobby for unrestricted HUD funding that provides transitional shelter options now rather than wait for housing that is years away. Authorities at the city and county level should commit staff and resources to address the cogent emergencies of homelessness now, not years from now.
Safe ground encampments should include toilets and running water. Instead of spending more money on congregate shelters, we should be directing funding to more immediate shelter options, including emergency transitional housing such  as Pallet Shelters and Conestoga Huts. Service providers and law enforcement can access permitted campsites far easier than they can chase homeless people around town.
The failure to recognize homelessness as a humanitarian crisis has crippled our ability to act pragmatically and compassionately to a growing emergency. We will do better only when we recover our capacity for quick and effective action during a rising crisis.