Despite voluminous facts to the contrary, the conventional wisdom still holds that homelessness is a choice. The popular view is that people choose homelessness to avoid the burdens of rent, car payments and honest work in favor of drugs, sloth and moral turpitude. No one has suggested that work itself might be part of the problem, but a growing list of facts about wages and homelessness suggest work may be a major factor in California's intractable homeless problems.
Imagine, for example, a California county where "Over half the county's population struggles to make ends meet" and where the majority of these people, "are struggling families with at least one adult in the family working." It's a county where "only 13% of the jobs…can be categorized as 'good jobs,' an additional 22% can be categorized as 'promising' and the remaining 65% of jobs, or approximately 124,000 positions, fail to meet standards for ensuring worker self-sufficiency."
The county in question has a population of 584,404 people. If over half that population "struggles to makes ends meet," that means nearly 300,000 people are a major medical bill or car repair away from economic crisis.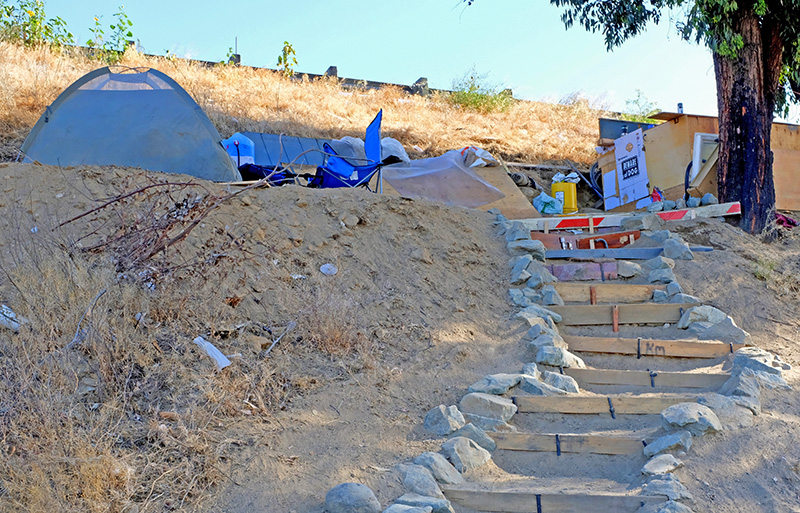 In 2020, this San Joaquin Valley county brought in nearly $3.5 billion in gross agriculture production, despite years of drought, a pandemic, and problems with shipping. County supervisors lauded farmworkers for their part in the region's economic success, but farmworkers' pay in the Valley averages $20.49 per hour, far below the $27 an hour needed for a "living wage."
The county we're referring to here is Stanislaus County, but in terms of lagging incomes it could be most any county in California, where costs of living have outstripped wages for a growing proportion of residents. In San Francisco, San Mateo and Marin counties, an annual salary of $104,000 is considered low income.
For far too many California residents, the American dream of owning one's own home has turned into a nightmare of unaffordable rents, car camping, and couch surfing, even while having a full-time job.
Marion Kaanon, Chief Executive Officer for the Stanislaus Community Foundation, said in March of 2022 that, "only one third of the county's jobs provide pathways to prosperity, showing a severe gap in good and promising jobs that are available to enable the workforce to achieve self-sufficiency."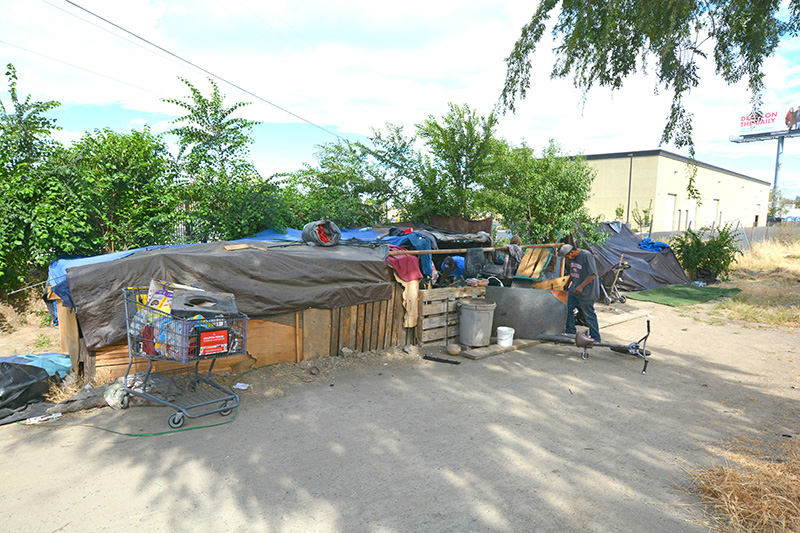 Those who believe the gap between incomes and costs isn't enough to explain homelessness should also reckon with California's housing shortage. There are plenty of glaring statistics, but the one most connected to jobs covers the ten-year span "from 2010 to 2020 when the state permitted (not built—just permitted) one home for every 2.54 jobs it added."
In short, California is an underpaid job-rich and housing-poor state, and for anyone with even a casual acquaintance with the state's hard housing facts, homelessness is a predictable outcome. As far back as the year 2000, "California's Department of Housing and Community Development estimated that the state would need to build 220,000 additional units each year for two decades to meet the needs of what was then still a growing population." That goal was clearly delusional. Last year, during a building flurry spurred on by Governor Gavin Newsom's enthusiastic support for new housing, the state fell nearly 100,000 units below that mark.
Contrary to the conventional wisdom, homelessness in California isn't a matter of bad choices, lazy citizens or immoral lifestyles. Instead, it's the inevitable result of rising costs of living and housing shortages. The real puzzle is why leaders throughout the state continue to blame the homeless victims of these hard facts for circumstances far beyond their control. Blaming the homeless for homelessness may be the most glaring failure of leadership in a state where failed leadership has become a persistent norm, from the governor on down.