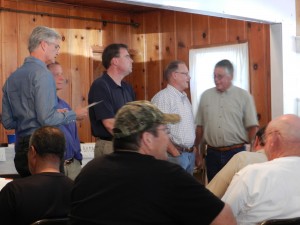 Thursday, June 25, over two hundred people met at the Community Club in Knights Ferry. Sponsored by the Stanislaus Ground Water Alliance Committee, the purpose of the meeting was to provide a forum for large farming operators, the Oakdale Irrigation District (OID), and  elected leaders to respond to questions from local residents about problems caused by thousands of acres of new orchards and the ongoing drought.
The overflow crowd packed into a room with no air conditioning and an outside temperature of 102 degrees at the start and 88 degrees at the end. Among some citizens, tempers were as hot as the weather.
Hydrologist Vance Kennedy noted at the beginning of the meeting that recently ripped soil for almond orchards could have major negative impacts should El Nino bring in huge storms this winter. Dr. Kennedy predicted large volumes of soil erosion and runoff into rivers and streams in the area. The runoff will clog those drainages and result in much more flooding than would ordinarily occur. He predicted that the level of flooding is likely to be catastrophic.
Horseshoe Road
Much of the meeting was devoted to answering questions from residents of Horseshoe Road, a residential development halfway between Oakdale and Knight's Ferry.
Residents complained about the noise coming from a large pump in the neighborhood. One person reported that his well went dry. Others were concerned that their wells will soon go dry because of the pump sucking water at a rate of 100 times that of residential wells. Given the proximity of Horseshoe Road to the Stanislaus River, a dry well in that area may be unexpected; water from the river would normally seep to the well.
The residents also complained that large trucks serving nearby orchards make a lot of noise, drive at unsafe speeds, and kick up dust. They asserted that wildlife is shot and killed by orchard employees—deer, birds and raccoons have been exterminated in the area.
One person complained of noise by orchard employees at 4:00am, with spotlights shining into her bedroom. She also complained of trucks idling during the day for long periods near her home. She said that Trinitas, a large agricultural enterprise nearby, failed to keep its promise to plant Redwood trees between her home and the road used by trucks in the orchard.  Other residents verified the complaints.
Trinitas Targeted
All of the problems were blamed on Trinitas Farms. Trinitas Partner Ryon Paton defended his business practices. He stated that the offending agricultural well was not owned by his company, that Trinitas uses electric pumps in locations too remote to adversely affect existing wells, and that Trinitas has been reducing groundwater pumping as it taps OID surface water.  He promised to pump ground water only when and where OID is unable to deliver what his trees need. He denied that his trucks generate dust; he said the road near the residences was oiled.
Mr. Paton denied killing wildlife, asserting that his employees used bleach to deter deer from entering his property and air cannons to scare off the wildlife. The only claim Mr. Paton agreed with was forgetting to keep his promise to plant Redwood trees.  He then promised to keep his previous promise.
The audience appeared skeptical of Mr. Paton's assertions. A woman in the audience claimed to be a biologist. She asked if he would hire her to do a wildlife survey of his property. To show his good faith about protecting wildlife, he told her in front of the audience that she was hired.
Mr. Joe Murray owns a farm on Willms Road near Knight's Ferry. He asked Steve Knell, General Manager of Oakdale Irrigation District, why Trinitas Farming receives any water when Murray, as a tier one customer, is shortchanged on his water allocation. Mr. Murray complained he did not have access to water in intervals sufficient to take his reduced allocation from the canal and that his full allocation had been cut. He asked Mr. Knell to address his problem. The vague answer did not satisfy him.
Then Mr. Murray asked Supervisor O'Brien whether he would have approved the Trinitas annexation to OID had O'Brien known that incumbent farmers would be subject to reduced water allocations. Supervisor O'Brien answered that he had never expected water allocations to be reduced and that he thought it a good idea to keep OID water local.
Some people thought that Trinitas was the source of all their problems. The perception was that Trinitas is receiving more favorable treatment than farming operations with seniority in the area. Mr. Paton defended his company by pointing out that his water allocations had also been cut by OID.
Post Meeting Comments
After the meeting, Mr. Paton was asked why his company has become the focal point of community anger. He handed out an open letter (Dated June 25, 2015) to the community outlining how his company has operated in a manner beneficial to the community.
The letter outlines how he hired professionals to locate water and to determine how and where to drill so that neighbors would not end up with dry wells. The letter mentions how the company sought and received permission to annex to OID. It also maintains that the company has a good environmental record.
When further prodded about why his company is a target for community dissatisfaction, Mr. Paton noted that his Trinitas has planted "only" 6400 acres and that 79,750 acres of developed ag land in  Stanislaus County are outside OID.  He stated that other large farming interests were colluding to make his operation look like the bad one and that those interests should have appeared at the meeting. Without naming the offending business, he said that the farming interest most responsible for citizen complaints did not show up at the meeting.
The Truth?
During the meeting, a woman in the audience asked Mr. Paton why his company continued to plant trees after the drought began. Mr. Paton replied that no trees have been planted for two years. He said that the company stopped planting trees when the drought began. The woman argued that the drought began 5 years ago; the conversation then devolved into a shouting match about the accuracy of assertions until the moderator of the meeting, Gail Altieri, intervened to ask for the next question.
After the meeting, Mr. Paton said that when his company realized that the drought had started, he stopped planting. He also stated that his company owns none of the property along Crabtree Road; trees have been planted within the last 6 months in that area by other large growers.
When asked whether Trinitas will be planting more trees, Mr. Paton said that all the land his company bought in Stanislaus County is fully planted; no new trees will be planted until he buys more property.
Based on Mr. Paton's assertion that the drought began only two years ago, one may note that in Mr. Paton's mind, the current four year drought began right about the time Trinitas ran out of land to plant new trees.
 Steve Knell
Steve Knell was asked a number of barbed questions about decisions made by his organization. The answers tended to be technical and sometimes referred questioners to various Internet sources. This tack angered and frustrated those in the audience, with some muttering that Mr. Knell was being deliberately evasive. The moderator had to instruct the audience to be civil and successfully restored order each time an outburst occurred.
During the meeting, Mr. Knell did make several clear statements. First, he said that each year, the government gives him a precise water allocation. When he knows what the allocation is, he has to figure out how to use the entire allocation so that future allocations are not cut.  After he allocates water locally, he tries to sell the rest.
Mr. Knell said that Trinitas was added to the OID service area because at the time of application, OID had enough annual allocation to admit the operation without cutting allocations to existing customers. When asked why those who had wanted to annex to OID prior to Trinitas were not annexed, he stated that the predecessors did not want to pay annexation fees. Now that wells are running dry, these same individuals are complaining about dry wells and pointing the blame at Trinitas.
After the meeting, Mr. Knell was asked if the residents of Horseshoe Road could annex to OID now. He replied that they could if they are farming operations and willing to pay the required fees for annexation. Given the fact that OID allocations are presently restricted, LAFCo would have to approve annexation.
Resources for Drought Victims
County Supervisor Bill O'Brien said that if a well goes dry, the owner should call Stanislaus County to ask for a free service that will deliver water temporarily until a new well can be dug.
Cindy Elliott of the U.S. Department of Agriculture told the audience that her agency has a program to lend money to drill new wells with a one percent interest rate. She did not specify what the eligibility requirements are, asking interested parties to inquire.
Government's Role Going Forward
Supervisor O'Brien attempted to deflect criticism of the county's role in fostering misery during the current drought by warning of danger on the horizon. He asserted that the State of California is looking to take surface water for urban use, fish, and the environment. He said that if the water is taken, local allocations will be reduced even further. He said that we must not be divided by local differences. This tack may have increased anger at government in general.
Earlier in the meeting, Mr. O'Brien asserted that new well drilling has virtually stopped as county rules now require new wells to demonstrate sustainability while permitting deeper drilling of existing wells.
The supervisor blamed Measure E, Stanislaus County's right to farm ordinance, as being responsible for the county's inability to stop farming from operating in a manner that inconveniences residential dwellers. He said that farm operators can make as much noise as they want and are allowed to kick up the dust if they need to because of their right to farm.
 Animosity Remains
At the end of the two hour meeting, many citizens remained disgruntled. As they left the meeting hall, they talked with each other about the grim future and the disappointing leadership. They were angry and determined that this meeting would not be the end of the discussion. The lingering fear of what may come remained in the air. What if the drought does not abate? The meeting solved little.
As long as the drought continues, the community rift will widen. As more wells go dry, anger will escalate. If rain comes, the sizzling heat of anger and frustration will cool down and memories of the current state of affairs will fade away until the next drought. Meanwhile, some citizens feel that their government has let them down.