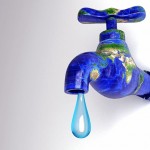 "I'm not going to give them one damned drop," said Modesto Irrigation District (MID) Director Paul Warda in October of 2010.Warda's defiant comment came in response to news that the State Water Resources Control Board had determined that in order to insure the survival of native salmon, there could be a 40 percent reduction in the amount of water farmers and urban residents take from the Merced, Tuolumne and Stanislaus Rivers. MID Manager Allen Short added that the District faced millions of dollars of expenses for legal arguments against the prospect of reduced water allotments.Short's and Warda's comments were part of a long continuum of MID arguments that the District could ill afford reduced water allotments. Throughout the years, the MID's position was consistent: There is no water to spare.
Thus, in October, 2007, when the MID responded to the City and County of San Francisco's (CCSF) plan to upgrade and retrofit water delivery infrastructure, its chief concerns were expressed in a letter about, "proposed operational changes and how those changes may impact the Tuolumne River flows or the District's water supplies."
In its letter, the MID invoked the Raker Act of 1913, which was intended to regulate CCSF access to water. The letter said in part: "It was the intent of the Raker Act that San Francisco develop and use its own water resources before exporting Tuolumne River supplies."
The MID then emphasized that the City and County of San Francisco, "must adhere to the Raker Act." The letter went on to say:
"Desalinization, advanced treatment processes, conservation options, reclamation projects, and other measures are now available which can provide significant water supplies….the Raker Act requirements supersede any project principles or objectives the CCSF may establish. As a result, the other alternatives must be fully developed before additional diversions from the Tuolumne River are considered."
That was then. Today, the MID would rather its customers forget past arguments about water shortages and the Raker Act. Instead, the MID claims it can not only deliver 2,000 acre feet of Tuolumne River water a year to San Francisco, it can very likely deliver another 25,000 acre feet per year as soon as it upgrades its facilities.
The MID would also like its customers to forget that San Francisco has to "fully develop" or even explore "other alternatives" to Tuolumne River water. In fact, today, San Francisco does not even use its full water allotment.
So what's changed? The major change is that knowledgeable players in the water game have realized far more California water has been promised than can be delivered, and they're engaged in a rush on water rights that will make land rushes of the past look like stately promenades.
Another big change is that politicians, at the urging of water barons like Stuart Resnick, have made so-called "water transfers" much easier by moving closer and closer to commodifying water. In essence, that means water will more and more often be available only to the highest bidders.
The bottom line is that the MID is still looking at the prospect of reduced water allotments because salmon and the San Joaquin Delta still need increased flows to remain viable. And, for very good reasons, knowledgeable MID customers have lost faith in MID directors' willingness to speak the truth.