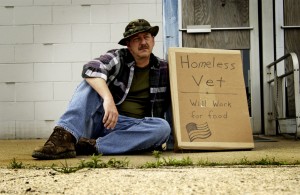 Enough resources are available to eliminate homelessness in Stanislaus County. The barriers to elimination include lack of coordination of resources, failure of the homeless to cooperate, and an ongoing influx of homeless people attracted by the very resources that are being misallocated.
County Resources
Consider all of the available resources to aid the homeless: Social programs like Welfare, Supplemental Security Income, Social Security Disability, Medicaid, Section 8 Housing, job training, and drug and alcohol treatment programs constitute significant resources. In the private sector, the Modesto Union Gospel Mission, the Salvation Army, local churches, and United Way provide many opportunities for assistance. Citizens often engage in charitable acts of giving money or food.
All these programs and resources represent an abundance of resources. However, the only coordination comes from county social workers whose caseloads and operating procedures do not enable optimum allocation of public and private resources. All aid providers need to come together and build one program.
Social workers need to find out why each person is homeless in order to assess what resources are needed and they can be best deployed. Unfortunately, if the homeless person doesn't cooperate, help is still available somewhere in the system.
Failure to Cooperate
Many homeless individuals have been without a place to live for a long time. In many cases, this is a lifestyle choice caused by addiction to drugs and alcohol. The present system enables those engaged in substance abuse to sustain the lifestyle. For example, many homeless people will refuse certain kinds of aid because they don't want to adhere to the condition that they change their lifestyle. They can refuse the aid because they know that another type of aid is available.
If all service providers to the homeless conditioned aid based on a clean and sober lifestyle and aid were denied to those who did not cooperate, those who declined would probably move out of the area. Cooperation can only be garnered is if all service providers, including those providing free food, combine resources to control delivery of assistance.
Providing needle exchanges enables addiction. Confiscation of needles and drugs encourages cooperation in treatment. Confiscation of alcohol and drugs found with homeless people in the parks would force some to go without or encourage them to move to a community that will enable their habit.
Evaluating Homeless People
Any help provided needs to be customized based on specific circumstances of the homeless person. Each homeless person has his or her own story. A number of possible reasons exist for the lack of a home and the resources required to address the problem are different for each individual. Here are a few examples.
A person may be homeless for economic reasons: he or she lost a job and lost the home. Or the family shattered due to divorce or spousal abuse. The solution has a number of possibilities that can be assessed by a social worker. Some people may be able to reunite with distant family members if he they are given a loan for travel. Maybe they can be provided temporary housing until they find jobs.
A person may be homeless for physical reasons: Perhaps he injured his back and can't work. Can an inexpensive room in a private home provide the link to self-sufficiency? The community presently has a number of empty houses. Can any of them be purchased, rehabilitated, and used to provide temporary housing for people who may qualify for Social Security Disability or Supplemental Security Income?
A person may be homeless for mental reasons. There are many different treatment and housing programs to assist people who are homeless for mental reasons. They can be channeled to treatment. If they decline, then deny them other support until they cooperate. Perhaps reunification with relatives is possible—this solution should be considered in every case as the family is the basic social unit.
A person may be homeless due to substance abuse. Tough love is the best cure for this problem. Any help other than treatment enables the addict to continue his habit. He will not seek treatment until he hits bottom. Bottom is hit when the drugs and alcohol are no longer available. Under no circumstances should resources be used to provide drugs or alcohol, yet this is a commonplace event in the world of aid to the homeless. Giving cash to a panhandler prolongs addiction.
Resource Providers Need to Work Together
Programs in the public and private sectors need to be integrated to eliminate duplication and overlap. Each homeless person needs a case manager to establish need and find solutions. The present disorganized system attracts homeless people to Stanislaus County because they know we provide numerous benefits without any requirement for self-help. We need to quit giving food out in the parks and money to panhandlers. We need to stop allowing homeless encampments that spread pestilence on the countryside.
I once asked a homeless man from Missouri why he came to Modesto. He replied that Modesto is known around the country as the most generous provider of benefits anywhere with no strings attached. Until we become better organized and make more efficient use of resources, our programs will continue to attract homeless people. Throwing money at a problem does not solve it. Using available money effectively will solve the problem.