Perhaps the best economic news for Stanislaus County in the past 20 years has been the present supply chain problems and product shortages experienced nationwide.
Given that educational levels in the county in general are well suited for manufacturing jobs, plus the realization by industrialists that the best business model may be a shorter supply chain, manufacturing might return to the San Joaquin Valley and provide new jobs.
The number of jobs will be dependent on advances in robotics. Tour the Budweiser Beer factory in Fairfield and you'll be astounded by how few employees are needed to run the huge facility. Companies returning to the United States will incorporate automation into their new manufacturing lines at every opportunity.
For the past forty years, U.S. laborers in manufacturing positions have experienced stagnant wages. Meanwhile, overseas wages have increased. Logically, this fact should make the American laborer appear more competitive. So the key to success of Stanislaus County's 2030 economic plan may be to figure out how to capitalize on the coming surge, after robotics, in manufacturing jobs.
Since the mid-2000's, Stanislaus County has seen minimal job growth. The bright spot has been the warehouses of Patterson. The Crows Landing Naval Air Station business park has not seen much news lately. It's been on the back burner for a while.
Amazon has started a new warehouse and distribution center in Turlock. Presumably, the center will not have many jobs as the company continues to focus on automation and minimizing labor costs. However, any job is appreciated in an underemployed community.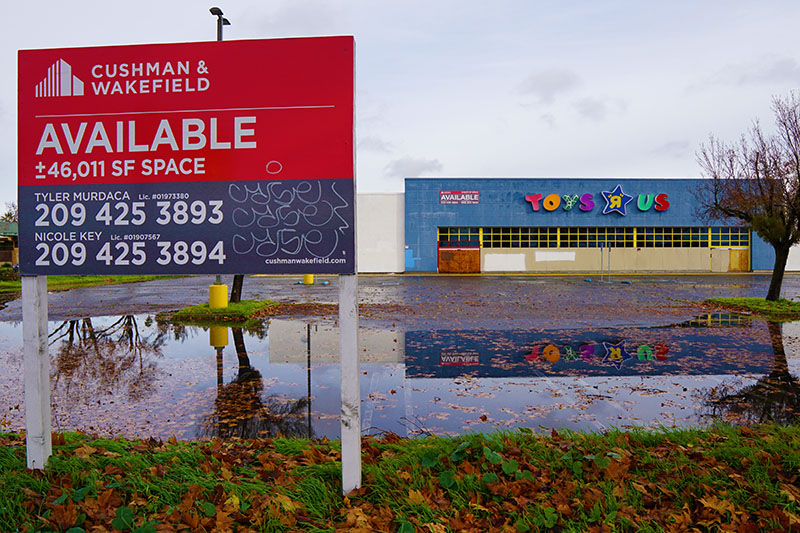 While warehouse jobs have been increasing since the early 2000's, the gains have been more than offset by losses in the retail sector.  We have lost national chains like Sears, Toys 'R Us, and regional chains like Orchard Supply Hardware and Gottschalks. The trend does not look promising in retail unless the public disposition towards internet purchases is reversed.
With a fast food outlet on every street corner, prospects for jobs in the food service industry are limited only by the rate of population growth. As the number of corporations controlling the fast food chains dwindle, the possibility of store closings increase. Those closing may be offset by the emergence of new fast food chains and small local entrepreneurs starting their own businesses.
National news sources have repeatedly reported that California has a horrible business climate caused by over regulation. If the assessment is true, the state's bad reputation could hinder local economic growth.
One aspect of economic growth that tends to be overlooked by some communities is appearance. Businesses do not locate to areas with high crime rates and ugly environments.
Our large numbers of homeless people occupying freeway right of ways and public spaces must be addressed.  Trash piles in public spaces reflect poorly on a community. Until Stanislaus County gets serious about ending homelessness and does a general cleanup, expect new business to locate elsewhere and the local economy to underperform.