Last week, during an Appropriations Committee write up, California Congressman Josh Harder proposed an amendment to stop the Delta Tunnel, a supposedly preferable alternative to the "Twin Tunnels," a project that morphed out of Jerry Brown's 1980s plan for the "Peripheral Canal." Both the Peripheral Canal and Twin Tunnels proposals perished under heavy resistance from farmers, environmentalists, businesses and other Valley residents who all agreed the projects were nothing more than taxpayer-subsidized giveaways for the enrichment of southern San Joaquin Valley Agri-Giants and perpetually thirsty residents of Los Angeles and San Diego.
Having already drained the once seemingly infinite resources of the Colorado River and  the San Joaquin Valley's precious groundwater, the Agri-Giants and their partners to the south want more. They frequently argue that more water is needed for the crops that help feed the nation, but the truth is that most of the depletion of southern San Joaquin Valley groundwater came after Agri-Giants like Stewart Resnick planted permanent nut crops like almonds and pistachios, which demand water every year, as opposed to annual crops that were formerly planted only when there was sufficient surface water to grow them. As for the "feed the nation" argument, most of the nuts grown in the southern San Joaquin Valley are exported to foreign nations.
Calling the tunnel, "a $16 billion boondoggle," Congressman Harder emphasized the threats the newly (re)named "Delta Conveyance Project" represents to taxpayers, Central Valley farmers, and the ecological welfare of the San Joaquin Delta, which supports farmers, fisheries, waterfowl and recreation for millions of California citizens.
Almost certainly because of opposition from Kevin McCarthy and other representatives heavily funded by Agri-Giants, the Metropolitan Water District of Southern California, and other political and economic behemoths, Congressman Harder's amendment to stop the Delta Tunnel failed. He's not giving up, however.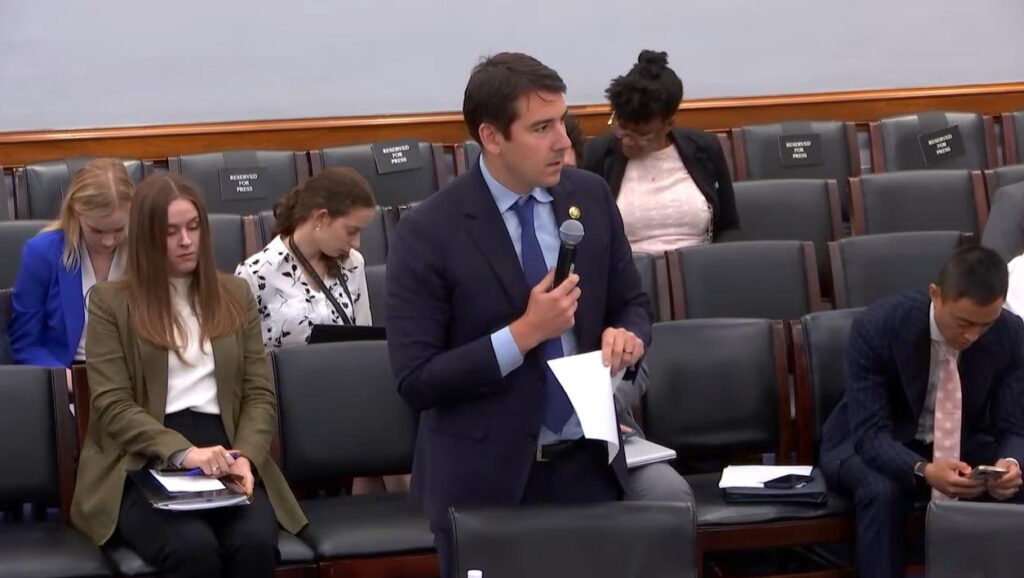 Calling it "a zombie project" that Valley citizens have been killing "time and time again for 60 years," Congressman Harder added that,
"There's been a lot of conversation over the past couple of days about taxpayer spending. I think this is a perfect example of a boondoggle project with no benefits and an awful lot of costs…. It's pegged at 16 billion… I think we've seen time and time again projects like this come way beyond budget and way beyond schedule. And it's important to make sure that we stop this project before it begins."
Already threatened by toxic algae blooms brought on by diversions of water to the south, the San Joaquin Delta is one of nature's most bountiful regions, providing food and recreation for citizens throughout the nation. Diverting more water south also means contributing to rising salinity of groundwater near the Delta, a growing threat that only maintaining adequate freshwater flows to the Delta can abate.
Showing that he's not afraid to invite the displeasure of power-playing politicians running the gamut from California Governor Gavin Newsom to Speaker of the House Kevin McCarthy, Josh Harder is doing the best he can to stop yet another southern California water grab. Given his past history of working tirelessly for his constituents in California Congressional Districts 9 and 10, Valley citizens can be assured he won't let this setback prevent him from continuing to oppose a taxpayer-funded giveaway to southern California power brokers who've repeatedly shown an insatiable thirst that exhausts every resource of their own and then comes after everyone else's.