Community advocate and Organizational and Systems Coach Kate Trompetter was ten years old when her mother gifted her with one of the more important lessons she could ever receive.
"I've shared this story many times, but it continues to inform my life," Ms. Trompetter recently recalled.
"I had read this story in the newspaper of a child who had been born HIV-positive and this child's family needed money. So I sent some of my allowance off to this family, and then I got excited when this baby had a first birthday party and I was invited to go. As an adult, I asked my mom why she had said yes to taking me to that birthday party — we didn't know this family, they didn't live in our safe neighborhood — and my mom answered by saying that all of us are only one streak of bad luck or one bad decision away from being in the same boat. That the only distance between us is the distance we impose."
Ms. Trompetter has seized upon that early lesson about empathy and awareness and made it a cornerstone of her work. For more than twenty years now, she has been finding ways to bring people in the Valley together to work toward common goals and a better community.
Ms. Trompetter readily admits that while in many ways her privilege and experience destined her to be the highly accomplished social advocate and organizer she's become, when she graduated from U.C. Davis, "I didn't have any idea of what I wanted to be when I grew up."
"I was born right here in Modesto, at Doctors Hospital," she recounted, "My dad came here from Pennsylvania. My mom's family is from Ceres, and they have deep roots in Ceres, and go a long ways back in the community. My grandpa was the Chief of Police there for a long time."
From an early age, Ms. Trompetter was trained as a classical pianist, and music continues to this day to hold a crucial place in her life.
"I was supposed to go to Downey High School," she explained, "but I'm a musician, and I was very much interested in continuing to pursue music and Johansen had a stronger program for that at the time."
She had earlier attended Fremont Elementary School's Open Plan, which she credits as being "a very formative experience for me."
"It's as if from a very young age," Ms. Trompetter shared, "everything in my environment was pointing me at healing the world and being in relationship with people and valuing diversity and differences. And it all started with my parents, grandparents, and the teachers I had at Open Plan. My dad is the public figure in our family and has had a profound impact in his community and field. I think I may have inherited that more extraverted, leadership from him, and my mom is a quieter, fierce leader – she is one of the wisest women I know.  I hope I got a part of that, too.  No matter what, it all felt so beautifully woven together, as did growing up in the synagogue. Everywhere I turned a part of myself was being nurtured that would ultimately lead me to doing the type of work that I do around community leadership and change."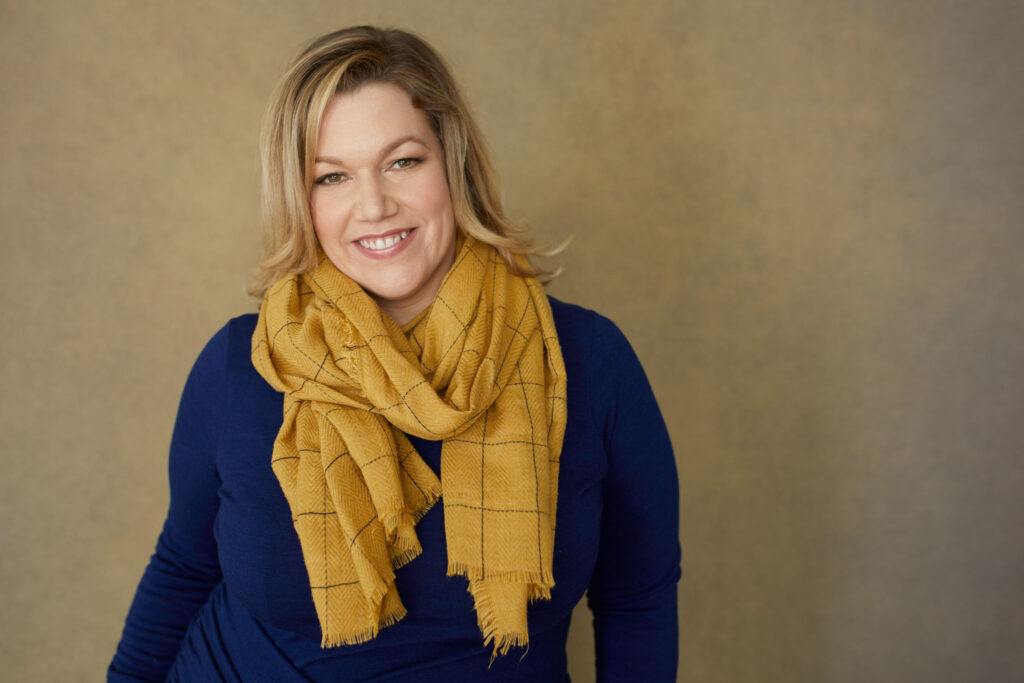 Many years later, after graduating from college, all those lessons she had learned from her parents and teachers about community and connectedness and caring for others would come back into focus for Ms. Trompetter as she searched for her first job as an adult.  Although she "had no intention of ever coming back — and I think that's true for a lot of us who grew up here in the Valley — I got very lucky and got a job right out of school in Modesto, at Therapeutic Pathways, and I worked for a couple of years with kids diagnosed with autism."
These experiences, Ms. Trompetter noted, "were very rewarding. I think that working with kids was another thing that helped me to become serious about families and people and to develop more empathy for those who have had a different life experience than I have had."   
During the early 2000s, she worked for a time as the business manager of the Modesto Symphony Orchestra, and continued to play piano professionally, often finding gigs at the Queen Bean Café, Del Rio Country Club, and more. And it's through music where she me met her husband, musician David Rogers. "Music has always threaded in a big way through everything I do," Ms. Trompetter said.  "And music remains a huge part of our lives. All of our kids play – music is happening in our house all the time. I'm really proud of David and his Drum Circle facilitation and all the music he's bringing to town."
When she was in her mid-twenties, Ms. Trompetter began working for Center for Human Services, where she worked for the next fifteen years.
"CHS was another lovely group of people, and an organization that offered me a great opportunity for growth. I wore many hats in the years that I was there. It really is a transformational organization. They raised me professionally in many ways. They allowed me to pursue my own interests, in much the same way my earlier employers had done. The fact that I could walk into the executive director's office and announce that I was leaving and she was totally supportive and continues to be totally supportive speaks volumes. I think in many ways I stand on their shoulders."
Inspired by the work of so many before her, including her parents,  Ms. Trompetter started her own business in 2017, specializing in coaching and facilitating in the non-profit, community, and public sector. A primary focus is on engaging and working with the people these sectors are intended to serve, and creating opportunities for people to learn and adapt together.  She is currently supporting several key community-wide efforts, including Project Resolve, Forward Together, Cradle to Career, Focus on Prevention, among others.
"I call myself a consultant, but I'm much more comfortable with the title of 'Coach,'" she stated.

"I don't have an expertise in many of the areas or sectors that I'm working in, but I know how to ask really good questions. I know how to help people think through things that are really complicated. I know how to really investigate circumstances or conditions against the backdrop of what our community wants to do moving forward. I think a lot of my work revolves around getting people out of arguing about their positions, and really getting them to think about what their interests are – and how those interests are so often aligned with others about what we want for this community."
Ms. Trompetter is passionate in her belief that our community can only thrive if we learn to listen to each other, if we make the effort to show up and roll up our sleeves and discuss the hard things with our neighbors.
"I don't care if people leave our community, but I don't want people running away from this place. I want my daughter and sons to feel proud of where they live. I want to live somewhere where even when we disagree about things we are still connected enough that we can still talk."

"I wish that poverty wasn't an issue — that people didn't experience homelessness in our area — and that we experienced more equitable educational outcomes. I do wish for all of those things, and more. We'll always be confronted by these issues.  I think the way we show up and the way we work with each other is what matters. We will produce all the right things if we pay attention to the quality of our interactions with each other. And I would hope that people would feel supported in that when they are with me."