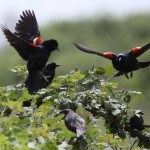 No one alive today has seen two of north America's three species of colonial nesting song birds. Both the Carolina Parakeet and the Passenger Pigeon went extinct in the wild over a hundred years ago. Today, the loss of these magnificent birds is lamented by nature lovers around the world.
Unbeknown to most Valley residents, the last of our great colonial nesters is making a stand for survival right here in the Central Valley. Like their extinct predecessors, Tri-colored Blackbirds are at risk because their nesting and flocking behavior makes them vulnerable to disasters that can wipe out tens of thousands of birds in one dire event. In the last seventy years, the population has declined by eighty percent.
Even experienced birders sometimes have trouble distinguishing Tri-colored Blackbirds from the more common Red-winged Blackbird, and most people pass by blackbird flocks without a thought of how many different species might be in one large group. Hence, it's difficult to generate concern for Tri-colored Blackbirds because to the untrained eye, there are blackbirds all around us.
Enter Keiller Kyle. Kyle is one among a new vanguard of young, highly-trained, and passionately devoted scientists who are revolutionizing wildlife conservation in the west. There was a time when threatened and endangered species fomented confrontation and conflict. Today, they serve as a basis for cooperation, in large part because Kyle and people like him have become so adept at showing others the many benefits of the natural world.
Kyle has a Master's Degree in ecology from Indiana's Purdue University and grew up on a dairy. He's thus uniquely qualified to be the point man for the effort to rescue Tri-colored Blackbirds. Loss of wetland nesting habitat has forced the birds to adapt to nesting in farmers' fields, especially grain fields. Many of these fields are near or even adjacent to dairies. When Keiller Kyle knocks on a dairy owner's door to begin to work out a way to help the birds, he has no trouble seeing things from the owner's point of view.
It also doesn't hurt that Kyle can cite facts and figures dear to any dairyman's or farmer's heart. Consider this: A 10,000 bird colony, not uncommon in the Central Valley, will eat over 20 million insects in a single breeding season. The birds especially like feasting on agricultural pests like flies, caterpillars, grasshoppers, and beetles. Given today's concern for the effects of pesticides on everything from human health to honeybees, the benefits of natural alternatives can't be overemphasized.
Kyle also has an answer for those who complain about the expense of rescuing threatened and endangered wildlife. Working through Audubon California, Kyle and his allies in conservation have established the "Five Dollars, Five Birds" campaign. Because intervening early in a species' decline is far more cost-effective than waiting until the situation is desperate, it only takes a buck a bird to reverse the decline. Kyle and Audubon have pledged that 100% of every donation will go to the blackbird recovery effort.
Long-time residents of the Central Valley remember days when flights of waterfowl darkened the skies and flocks of swans blotted out the sun. Migrating Swainson's hawks formed cyclone-like formations as they circled into the sky during spring and fall migration. Huge populations of blackbirds sang exuberantly in the spring and played their critical role in the complex ecology of nature's balance. It was one of the great spectacles in nature's vast panorama.
Today, thanks to the advancements of science and the dedication of a new generation of conservation pioneers, Keiller Kyle and his allies at Audubon California are working to ensure that our vast skies are once again filled with birds. With just a little help from Valley citizens, their goal is well within reach.