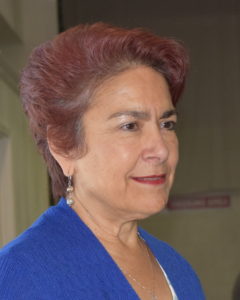 After appearances by Assemblymember Anna Caballero and congressional candidate Josh Harder, Modesto's Latino Community Roundtable (LCR) endorsed both on September 6. Balloting for Stanislaus District Attorney resulted in a tie between incumbent Birgit Fladager and challenger John R Mayne. It appears both will receive an endorsement.
Caballero is running for State Senate in California District 12 against Rob Poythress. During a speech to members of LCR, Caballero emphasized her rural roots and pragmatism as someone who, "tries to come up with solutions rather than pointing the finger."
Cabellero also emphasized her strong union ties and her gratitude for the, "union that protected me and my family members," when she was employed in copper mining.
"I have spent the last many years working for the underdog," she said, and emphasized she would work tirelessly to provide jobs and vocational training in her district.
Harder, who is running in Congressional District 10 against Republican incumbent Jeff Denham, also emphasized jobs and vocational training. Harder added that, "We have a political leadership that is pushing us backward instead of forward."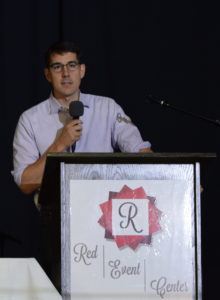 In a remark that caused laughter in Modesto's Red Center, Harder said, "Jeff Denham has taken thousands of dollars from Duncan Hunter; I promise I won't be taking any money from someone who's been indicted."
He said he also won't be taking money from out-of-district farmers who want to send northern California water south through the Delta Tunnels, and chastised Denham for "fast-tracking" the tunnels by voting to prohibit lawsuits against them.
John R Mayne said that if people were happy with the status quo at the District Attorney's Office, they should vote for the incumbent. He said there was too much turnover at District Attorney's office and growing inefficiency as a result.
Fladager said the District Attorney's Office had survived layoffs that came as a result of the Great Recession and was now adding attorneys to the staff. She said her office would soon be going paperless and was receiving strong support from Stanislaus County Supervisors.
Neither Rob Poythress nor Jeff Denham could attend; aides read statements by both men.