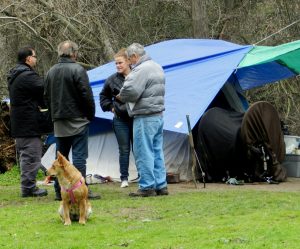 Most everyone was encouraged when the Modesto City Council approved $250,000 toward establishing a services and shelter center for our growing population of homeless people. The first stage will include temporary winter shelters (in the form of modified garden sheds) for forty people as part of Stanislaus County's Focus on Prevention project to end homelessness.
Ultimately, city and county officials intend to establish a one-stop service center where people experiencing homelessness can access help and find places to live. Meanwhile, the vast majority the county's homeless population faces the grim prospect of another winter outside.
A recent census showed at least a thousand homeless people in Modesto alone. Modesto's two homeless shelters, the Modesto Gospel Mission and the Salvation Army Haig/Berberian building, together have beds for only 235 people. And since the recent survey, sweeps along the Tuolumne River have displaced many more homeless people from their camps. Most have moved into Modesto.
Newly-elected Modesto City Councilmember Kristi Ah You fully supports current efforts to shelter homeless people but thinks we can be more pragmatic and effective by taking advantage of available space.
"There are already homeless people in places like Beard Brook Park, which isn't near people's houses and is away from downtown business," said Ah You recently. "We should suspend the ordinances against camping, at least in Beard Brook, so homeless people have a place to go. It doesn't make sense to keep jailing them and moving them from place to place."
Ah You has a point. Last winter, over thirty tents appeared in Beard Brook before police came in and forced homeless people to take them down. Those who weren't present during the sweep lost their possessions, and everyone had to move out. The net effect? Most everyone moved to another park or neighborhood, then slowly trickled back to Beard Brook. There was nowhere else to go.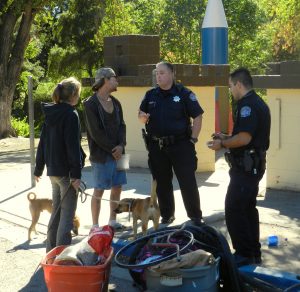 Some homeless people were arrested and jailed. As a rule, such arrests involve outstanding warrants or citations for misdemeanors. The "criminals" then go through our court system, serve a few weeks in jail, and return to the park. The arrests and subsequent incarceration cost thousands of dollars, which may as well be cut into pieces and tossed to the wind, given the futility of the expense.
Like Councilmember Ah You, many people wonder why we can't take advantage of available empty space and empty buildings to house more homeless people, at least during the winter, when the likelihood rises that many will get sick and wind up in our emergency rooms on the way to an extended stay in the hospital.
Last winter, well over fifty homeless people had found shelter in Beard Brook Park before authorities moved them out. Given the potential to shelter four or five times that many people for far less than the money it will cost to put forty people into garden sheds, city and county officials should begin giving serious thought to more cost-effective approaches to homelessness, however temporary.
As it is, those homeless people who aren't arrested and incarcerated at great public expense are forced to move off the streets and out of the parks. With no place else to go, they usually wind up in back our neighborhoods. There's got to be a better way.