Whether creating a beautiful homage to the great marine biologist and conservationist   Rachel Carson, or painting a loving, whimsical memorial to her cats, Modesto artist and arts advocate Linda Knoll's canvases are always vividly colorful and arresting.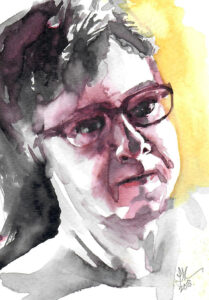 But Ms. Knoll is not only an extraordinarily talented artist; she's a gifted arts educator as well who has headed the Central California Art Association's (CCAA) arts outreach program to Valley schools for the past dozen years.
"If there's anything that can help us understand ourselves, and our world and our place in it, it's the arts — painting, poetry, music, dance, drama. If I can help children with that understanding, then every minute and every dollar invested is worth it," Ms. Knoll said recently.
"I was born here in Modesto. My folks moved here from Fresno after college, and I went to all of the local schools. I remember that we lived in a newish subdivision near Downey High School and just beyond our block there were still almond orchards. We actually had almond trees in our yard. I remember running around in the weeds, chasing butterflies. We freely rode our bicycles around the neighborhood, and didn't have any worries."
With family members who were "always artistic" Ms. Knoll was drawn at an early age into the vibrant world of colors and creativity. "I definitely get my love of arts through family," she admitted.  "When I was young, we had a pottery studio in our house, and my mom was also a painter. My grandparents were both artists, so I was always around that."
Graduating from Downey High School in the early 198os, Ms. Knoll then went to the University of the Pacific, majoring in graphic design.  All during those formative years, Ms. Knoll kept finding different creative outlets:
"Singing was a big part of my childhood, too. I started as early as possible, singing in choruses and participating in musicals all through school. I sang in all the choruses it was possible to sing in at Downey High School. I also participated in what was then Modesto Youth Theater for several summers. I went to UOP with the intention of majoring in music but wound up majoring in art."
"I still love music, and participate in the Modesto Symphony Chorus and other choruses pretty consistently since high school, but I didn't think I could make a career out of that.  I decided that graphic design was a little better option, and I had some experience there as well."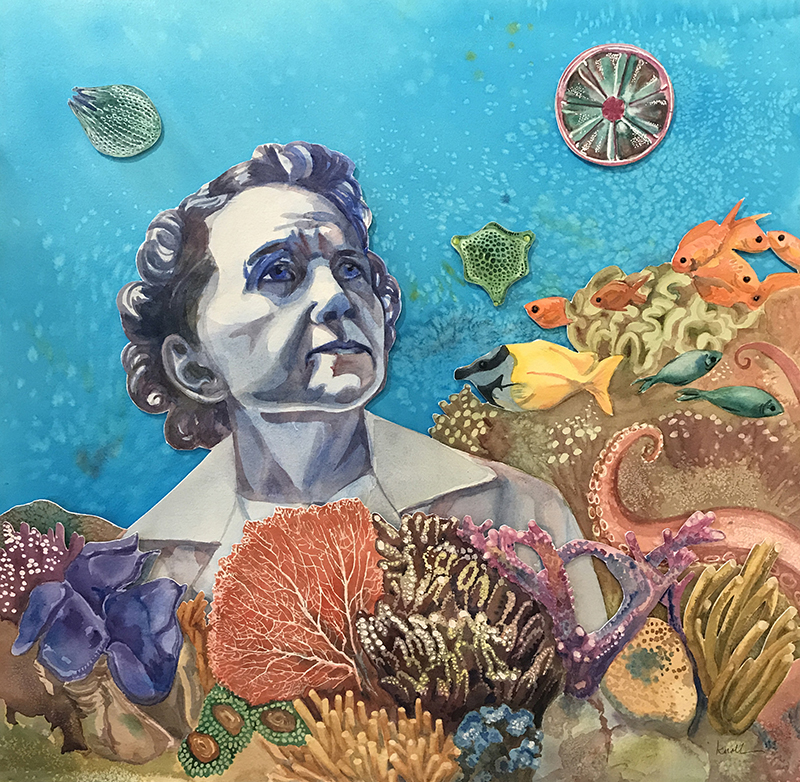 Following her graduation from UOP, Ms. Knoll went into business with her parents and opened a computer graphics shop in downtown Modesto. Computer graphics were "very new" at the time, so the work was both challenging and exciting for the seven years she was involved with the store. Ultimately, Ms. Knoll left the business to be a stay-at-home mom, which also gave her an opportunity to "get back into my own painting practice. And, at that point, I also decided to return to school and get a teaching credential."
For three years, Ms. Knoll worked as a library media teacher at Bret Harte Elementary, and then was an art teacher at Waterford Junior High School for two years. Both of these experiences "really showed me the great need" for art education that exists for many kids, particularly those attending underserved or underfinanced schools. Thus began Ms. Knoll's devotion to the cause of providing the high caliber of art education she feels all kids deserve.
When her position at Waterford Junior High was eliminated due to budget cutbacks, Ms. Knoll "took the opportunity to connect with Grace Lieberman and the Stanislaus Arts Council's STARS program. STARS was designed to have local artists go into schools to teach art classes on a contractual basis – this gave schools the chance to have a real artist come out and present the classes to their kids."
Following Grace Lieberman's retirement, though, the Arts Council folded – and STARS with it – but Ms. Knoll's concept for the program was strong and resilient, and in the early years of the Great Recession the gap in art education in schools was definitely growing, so when the CCAA "contacted me and said 'Hey, why don't we revive the STARS program in our own fashion?'  I jumped at the chance."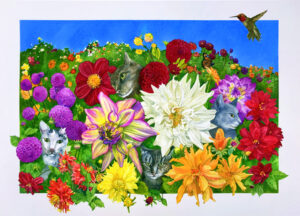 So, for the past 12 years, Ms. Knoll has been the director of CLASS – Community Liaison for Art in Stanislaus Schools, and the program has proven to be remarkably successful.
"It started very small, but it's grown to serving tens of thousands of kids every year," she noted.  "We present classes throughout several school districts, including Ceres and Salida, and some in Modesto city schools. We've been out in Riverbank and Patterson, sort of all over the County, offering art classes through this program."
"We visit all of the classrooms in Ceres at least three to five times a year. I've been heading up this program for all those years, and have a team of teaching artists – that is artists who are acting as teachers – going out to the different schools. We've had as many as 16 teachers before the pandemic shutdown.  Since then, we've reduced our numbers, losing a number of people to other employment. It was really hard for us, as an organization, not to go into classes.  During that first year, we weren't able to do much at all, except a few online classes. But I'm optimistic that in this coming school year, we'll be back up to our previous levels."
As one of the CLASS teachers, Ms. Knoll can personally attest to the importance of providing art in the classroom:
"In art, all kids get a chance to use their brain in a different way than any other kind of activity. Oftentimes, there are kids who may have a hard time with school or social skills, but in art they shine. The visual and kinesthetic aspects of art reach them in a different way. The kids relish the opportunity to do creative projects and learn new ways to express themselves. I love that they love it!"
In the fall of 2020, Ms. Knoll and a few collaborators started producing a quarterly arts magazine for kids called StArt. "I just sent our seventh issue to the printer yesterday," she noted.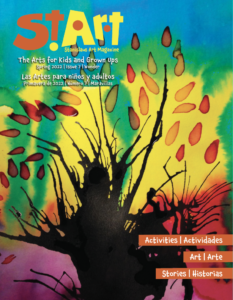 "I actually started the project as a result of being shut out of schools during the pandemic.  I sat down with our teaching team and asked 'How can we reach kids and what can we do to still put the art out there?' From that brainstorming, 'my friend and collaborator, Betty Gay and I, decided to put together this magazine."
"Our concept is to include all of the arts – music, and theatre and dance as well as the visual arts and poetry.  In our first several issues, we had interviews with students who are artists. We had a young man who is part of the Modesto Youth Symphony, a dancer from Central West Ballet; plus we include all kinds of hands-on art projects.  We try to keep our projects fairly simple, so that kids can do them at home without too many special supplies. We want to make it accessible to most people who can't go out and buy a bunch of art supplies."
Copies of StArt magazine, which is bilingual English/Spanish, are available at both Mistlin Gallery in Modesto and the Carnegie Arts Center in Turlock. They can also be purchased through Ms. Knoll's website: https://lindaknollart.com/start-magazine A buy one/give one subscription is available for those who would like to gift a subscription to a student or school library.
In addition to her painting and all of her efforts with CLASS and StArt, Ms. Knoll has illustrated and published two books.
"I feel as if I am always championing local things. Right now, my work is championing the artists and the people who work in the arts here in the County, and that's what my books do as well. One of them is all about the animals that live in the Valley. I use that in my art lessons a lot. Whenever I go to go schools, I talk about the animals that are endangered and why their habitats are different than what they once were. And I talk about the natural history of the area.  The other book is about our Farmers' Market, and the Valley's agricultural niche."
Ms. Knoll is also championing the local arts by serving on the board of directors of the Arts Council of Stanislaus County, a new effort being led by CCAA.
"We are figuring out what an arts council needs to do to promote the arts. The board of directors is very enthusiastic and includes people from all the various arts sectors as well as all areas of the County. We're also trying to make sure that we are inclusive of all the different cultures and backgrounds that are represented in the Valley. We have a pretty diverse group of people who are embarking on this project, and we hope that it's going to grow in the next couple of years and become something really meaningful."
As a lifelong resident of the Valley, Ms. Knoll is "always surprised at people who can only say negative things about our county and our area when there are really a lot of positive things happening all the time if they would just turn around and look.  I guess that's what I want to say – 'Hey, these things are happening and these things are good.' That's what we need to tell people."