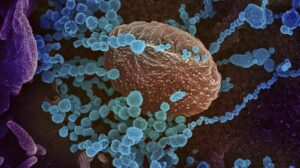 It was only a few months ago that Donald Trump thought he could ride a strong economy into a second term as President of the United States. Having avoided removal from office during an impeachment that Senator Mitch McConnell nullified before it started, Trump was confident he would cruise into the November election buoyed by a booming stock market and rising employment numbers.
When news came in January that a menacing virus had arrived in the United States from China, Trump assured the American people that, "We have it totally under control. It's one person coming in from China. We have it under control. It's going to be just fine." 
Just a few months later, following over 150,000* deaths and rising infection rates, the President's comment was, "It is what it is." He also continued to push for schools to reopen, college sports to resume, and business as usual.
Meanwhile, Covid-19 has made California's San Joaquin Valley notorious for its leaders' inability to slow the spread of the virus. Even so, many of the Valley's authorities seem intent on following Trump's example by ignoring infection rates while urging schools to reopen.
Stanislaus County Supervisor Terry Withrow has been especially determined to follow Trump's lead with his push to reopen schools, and now he's added a willingness to lose state funding in his feckless quest to accept sickness and death as mere costs of doing business. When advised the county could lose $21 million dollars in state assistance if it defies the Governor's orders to reduce infection rates before opening schools, Withrow responded by saying, "We're creative. We'll figure out something else."
 "Creative?" There's nothing creative about slavishly following the example of a president whose response to a global pandemic has been denial, magical thinking, and an ever-expanding catalogue of lies. The Coronavirus has killed over one-third as many US citizens in five months as died over the five-year term of World War II. It has killed almost three times the number of Americans as died in the war in Viet Nam.
With few exceptions, the Valley's political leaders have groped, lurched, and stumbled their way through a fog of their own making, as they've ignored science and nearby examples of how to bend the infection curve. Consider San Francisco: Through the week of August 5-12, San Francisco averaged 108 new cases and 0.7 deaths per day. Over the same period, Stanislaus County averaged 319 new cases and 5.3 deaths per day.
San Francisco, with a far larger and denser population, has applied science and bent the curve. Stanislaus County, far more rural and with far fewer people, has followed Trump and endured an accelerating spike in cases and deaths.
It took the most egocentric president in the history of the nation to politicize a lethal virus, but he couldn't have done it without the help of the local elected leaders nationwide. The President and his slavish followers have taught the American people that many of their "essential workers" aren't just among the most poorly paid, they're also expendable. Donald Trump and his enablers have made it clear they're willing to accept a death toll of wartime proportions as acceptable overhead if it helps stoke the economy enough to keep the president in office.
These aren't leaders, they're ghouls.
*Today's death rate is nearing 170,000