I was sitting out front by my apartment the other day, putting a book down as dusk began to gather when I saw my neighbor Sally turn the far corner on the other side of the pond, walking with her floppy-eared fluffy white dog, gripping her walker as she struggled for breath, a cannula attached to her nose, an oxygen container resting on the seat of her walker. We waved hello to each other, as we do every day.
Sally was on a mission, delivering the mail to another neighbor of ours, Madge, who has been battling cancer again this year. At eighty-eight, it takes Sally a good fifteen minutes to traverse the three hundred steps to the mailboxes and the maybe four hundred steps more before arriving at Madge's doorstep.
There is much for her dog Bentley to explore along the way, so this is naturally part of Sally's daily journey — the give and take, the push and pull, between the two of them, though Bentley senses and is always responsive to Sally's needs for him to slow down or not wander too far off into the bushes.
Some days are harder than others for Sally, especially when the breathing is hard to come by — even with oxygen flowing from the portable pump — but Sally perseveres, even as temperatures plummet and her lungs grow more tired with each step.  I've offered to help a few times, but Sally just smiles and gently turns me down, then continues on down the walkway. This is her job, and she's determined to see it out each and every day.  There is nobility in Sally's daily mission to her friend Madge, a generosity of spirit that could easily go unnoticed for its very selflessness.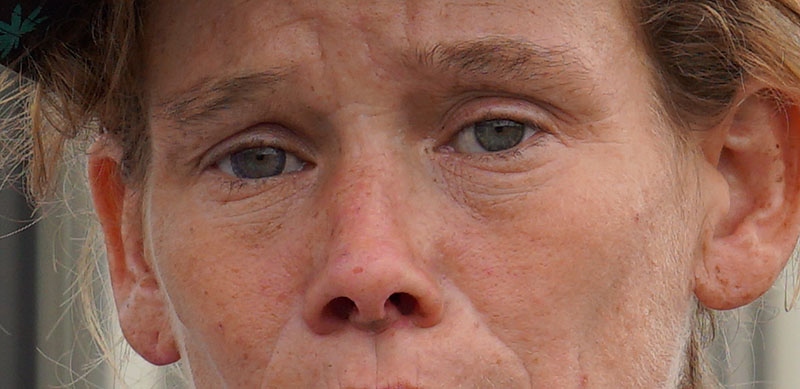 It's about the caring — as best we can, for as long as we can. That's the example that Sally is setting before us — one neighbor extending a helping hand to another, showing up for friends regardless of how poorly she may feel much of the time.
I take the bus several times a week and witness people helping each other out all the time. Usually, they are complete strangers to one another: one guy waiting for a bus may need a couple of bucks to get a ride to downtown, so another guy, waiting for the same bus, and bundled up against the cold of the day, scrounges in his pockets for the fare and wordlessly gives the first guy the money. The two men nod at each other, shake hands. Maybe they'll see each other again, maybe not. But on this occasion, they're sharing the same damp, uncomfortable metal bench by a bus stop on Modesto's McHenry Avenue and a sense of real camaraderie begins to flow between them. Pretty soon they're talking up a storm, like a couple of old buddies. Empathy – it goes a long way.
A couple of weeks back, a middle-aged woman boarded the 32 Mable Avenue bus at the corner of Floyd and Coffee, toting a Jack-in-the-Box bag in one hand. As she walked past me to a seat farther back, the pungent smell of oniony hamburgers wafted through the air.
As soon as she sat down, the woman immediately struck up a conversation with an older gentleman in the seat behind her. He was wearing threadbare clothes and he looked tired and forlorn.  A plastic bag stuffed with clothing and a jumble of misshapen objects was bulging out on the seat beside him.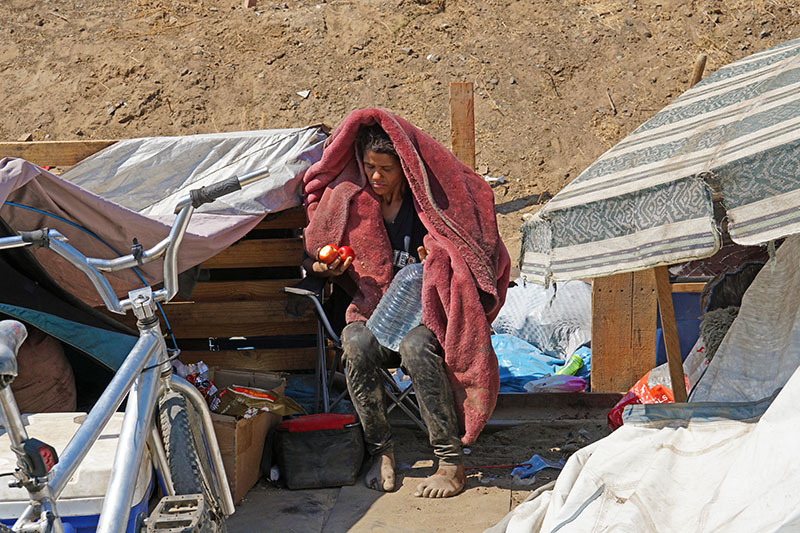 Not a minute had gone by before I heard the woman chatting brightly with the man, who seemed visibly moved that someone was talking to him. By the time we got to the corner of Coffee and Sylvan, the woman had handed the fellow one of her hamburgers.
Moments like this happen more often than you might expect. There's lot of pain and hunger on the streets, but more often than not you'll find people with empathy doing what they can to help somebody out. Sometimes it seems as if those who have the least available resources have the strongest instinct to give.
Sally's walks around the grounds of our complex will invariably take her by my own apartment, where she'll stop and rest for a few minutes while Bentley coaxes a couple of kibbles out the palm of my hand. Sally and I will visit for a few minutes. She'll often ask me if I need anything from the store the next time she goes out. Sally's led a long, full life and even now — at an age when many might begin withdrawing from the world – remains focused on helping others.
Empathy — the human spirit craves it, thirsts for it.  Love can't exist without it. We can't afford to fritter it away, or allow the purveyors of hate to hold sway.
It's up to each of us, then — as it always is.