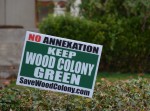 If you've been reading the Modesto Bee  lately, you might think Dave Lopez and Bill Zoslocki are guardians of the farmland Garrad Marsh and Jenny Kenoyer are trying so hard to cover with asphalt. Kenoyer and Marsh have been framed as sell-outs and there's even talk of a recall.
It's a far cry from what many hoped would be a farm-friendly government led by Marsh, whose years as a Modesto City Councilman put him firmly in the ag-preservation camp.
But when Marsh opened his term in office with a proposal to annex Salida, the blowback was immediate, intense, and self-propagating. Even now that Wood Colony has become an even bigger issue than Salida, the Salida people have fused the two issues into one loud and long, "NO WAY, NO HOW!"
It's almost as though everyone has forgotten the "Salida Now" Initiative of 2007. This was the proposal to build 5,000 houses, a business park and commercial units smack dab in the middle of the little burg everyone thinks is going to remain farm-friendly.
"Salida Now" was backed by 25,000 signatures—over 10,000 more signatures than the entire population of Salida. "Salida Now" never even went before the people: Stanislaus County Supervisors voted 3-2 to accept it as written, and, after some grumbling, the measure became a blueprint for Salida's future.
Those with vested interests in developing Salida aren't about to let an ag-loving Mayor get in the way of 5,000 houses, and the best way to stymie his efforts is through a campaign that takes advantage of people's poor memories and discredits good intentions.
That's why today's news includes an open letter from Mayor Marsh attempting to explain his position on preserving farmland. But once a politician has been put in the position of having to explain himself, he's already lost the battle. Marsh has become a lightning-rod for suspicion and recrimination, and the biggest benefactors are promoters of the Asphalt Empire.
Though his intentions regarding Wood Colony have been to preserve it for agriculture, Marsh lost the media game when Salida became his defining issue. He's also misunderstood the significance of trying to include Wood Colony in the City's General Plan, even as designated farmland. It's far better to have a General Plan with clear urban boundaries.
If he's going to have any success at all, or even a second term, Marsh needs to act fast to restore people's confidence in his dedication to farmland preservation. The best way to do that is propose firm urban boundaries—something long overdue for a city whose northern and western borders comprise the best farmland in the world.
With "Keep Wood Colony Green" signs sprouting like mushrooms after a spring rain, Marsh will find no better time to generate support for urban limits with prime farmland out of bounds. He will also force the key players for the Asphalt Empire to show their hands once and for all.
Bill Zoslocki is already on record as being against urban limits of any kind. Dave Lopez is trying to be even more pro-growth than Dick Monteith, the County Supervisor he hopes to replace. Confronted with the possibility of urban boundaries, both will show their true colors.
With firm urban boundaries protecting our best soils, farmland preservation takes a huge leap forward and Garrad Marsh leaves a proud legacy. Without such bold action, the Asphalt Empire rides the oncoming growth boom into yet another era of paved-over promises.