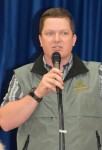 Jake Wenger probably uttered the wisest words at Saturday's town hall meeting in Wood Colony when he said, "It's much easier to have a discussion with a clean slate."
Unfortunately for Garrad Marsh, he entered the Hart-Ransom school gymnasium with plenty of history on the "slate." Many in the audience were still steaming from Marsh's attempt to annex Salida, and others were furious that he and the Modesto City Council seemed to ignore them at previous meetings.
The invocation included the advice, "Speak, but speak with love," and many took it to heart. Others did not. Nonetheless, after a rough start, Marsh seemed to win over at least a few of his former critics.
Marsh was obviously heartened by the presence of long-time farmland advocate Denny Jackman, who lent credibility to Marsh's constant reminders of his own long history of work to preserve farmland and the difficulty involved in "getting to four" votes on a City Council historically controlled by developers.
Marsh called on Jackman several times for corroboration of claims about the intentions of developers to pave over farmland and their historic dominance of local politics. Most of the audience seemed to believe the Mayor when he said one developer-favored scenario had Modesto as a "Two-River Town," with urban buildout from the Tuolumne to the Stanislaus Rivers.
But people's real concerns were about development west of Highway 99. Despite Marsh's predictions that once Highway 132 was improved, development is inevitable, no one in the audience wanted to hear about future possibilities.
Alan Cover, a Wood Colony icon whose family planted the famous Wood Colony walnut tree, told Marsh, "I think you are closer to being a hero than you know. What you need to do is meet with your colleagues and take Wood Colony out" [of the General Plan].
Marsh said several times that he was willing to remove Wood Colony altogether from the City plan, but argued that leaving it green on the map gave it more protection than leaving it out altogether. The argument never gained traction.
Jake Wenger, who clearly has a political future far beyond his current position on the Modesto Irrigation District Board of Directors, received thunderous applause when he said, "We all want Wood Colony out." He also offered a plan that makes Highway 120 the preferred thoroughfare to Modesto, with development along Kiernan Avenue rather than along Highway 132.
Wenger's ideas were hugely popular, and overshadowed Marsh's attempts to warn the crowd that developers will continue to pursue farmland while trying to avoid mitigation, fees, or urban limits.
While Marsh probably left Hart-Ransom School with a better impression than when he entered, he had little success convincing the audience he was their ally, even with Denny Jackman in a supporting role.
It was also worthy of note that City Councilpersons Jenny Kenoyer and John Gunderson attended the meeting. Both have been demonized for recent actions on the Council, and both were praised by Marsh as staunch supporters of farmland preservation. Skeptics of Marsh, Kenoyer and Gunderson should read Bruce Frohman's recent analysis of City Council actions here.
And those who think Marsh and company should be recalled should ponder two enduring truths about our region: (1) Developers have always had favorable treatment from local mainstream media, and (2) Those who favor farmland conservation always have had trouble getting the word out.
Marsh tried to drive those points home when he reminded the audience that developers of Modesto's "Tivoli" project ignored the recommendations of a review under the California Environmental Quality Act to mitigate on an acre to acre basis. It's no coincidence that those on the City Council who favor such policies were not in attendance at Saturday's meeting.
Marsh said that much of what is happening on the City Council now is part of a political strategy aimed at putting developers in control of Modesto's next elections. Veteran observers of local politics will not be surprised when the next race for mayor is flooded with candidates, including a very well-funded Bill, "Village One," Zoslocki.
As the California economy recovers, the Modesto Chamber of Commerce and its political allies couldn't be happier about the political woes of Garrad Marsh, John Gunderson, and Jenny Kenoyer. Everything's going according to plan. All they really need now is a successful road tax proposal.