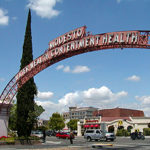 The two most consistent criticisms of Modesto's Measure X involve distrust of government and concern for the poor and middle class. Both display a willingness to ignore facts.
Distrust of government is as old as the Constitution. But when the founding fathers settled on a democratic republic, they emphasized the need for an informed citizenry. In fact, James Madison wrote that, "a popular government without popular information or the means of acquiring it, is but a prologue to a farce or a tragedy, or perhaps both."
Traditionally, newspapers have provided the information citizens need to make government work. Today, newspapers like the Modesto Bee tell readers they can't trust the very people they endorsed, including Modesto Mayor Garrad Marsh and most of the members of the current City Council.
If our distrust of government is really so indelibly scored into our minds, why vote? Why endorse anyone?
If the Bee really means it doesn't trust the people it endorsed, why should anyone trust Bee endorsements?
Many in media today have jumped down the rabbit hole with Tea Party extremists who in one instance say they hate government and in the next reach for their guns at the thought of losing social security benefits.
Measure X has a six year term limit. Even if the Bee ignored government's failure to deliver on its promises over a six year period, it's not believable that Valley citizens would fail to demand the promised services. Today's social media make it almost impossible for government or traditional media to conceal anything for very long, let alone a failure to hire police officers.
Opponents of Measure X also claim the one cent tax hurts the poor and middle class. That's one cent on one dollar, ten cents on ten dollars, one dollar per hundred dollars, and ten dollars per thousand dollars.
For people who have had their cars stolen, that's a small price for improved public safety. For people who have been burglarized, that's a bargain, and for people held hostage by gangsters in their own neighborhoods, it's a deal they can't refuse.
Critics of Measure X want to talk about trust, and revenues, and expenditures. What they don't want to talk about is crime. And they don't want to talk about crime because they have offered no solution for our nation-leading auto thefts. They have offered no solutions for the burglaries, assaults, and murders. They have offered no solutions for the rising gang memberships.
They have ignored the cuts in city services, not just of police officers but of the clerks needed to process police reports. They have dismissed the reports that place Modesto among the least livable cities in the United States.
The way forward is not to give up on government. The way forward is to give government a chance and then accept responsibility for monitoring government performance. Measure X will test Modesto's citizens' willingness to play their part in making the city a success.
Let's hope Modesto votes yes on X. Let's hope we begin anew to restore faith in government and faith in ourselves.