A Community Advocate and Paralegal, Michael Baldwin Sr. moved to Modesto in November, 2018, following a stint of almost 27 years as an inmate of the California Department of Corrections and Rehabilitation (CDCR). While in the CDCR system, he resided at Corcoran State Prison and San Quentin State Prison, among others. Mr. Baldwin readily admits he was guilty of the crimes for which he was sentenced, but his story does not end there. He found the strength of character while in prison to refocus his energies on helping others, to redeem himself through service. Upon his release, Mr. Baldwin immediately began working as a paralegal. Since then, he has become involved in numerous community activities, contributing his expertise and insight whenever he can.      
Part I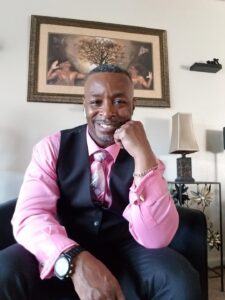 "The best words I ever heard in my life were, 'Mr. Baldwin, we don't think you pose a risk to society anymore,'" recently reflected Community Advocate and Paralegal Michael Baldwin Sr.
A Modesto resident since November 2018, Mr. Baldwin's long, courageous journey toward purpose and a commitment to helping others is a testament to the resiliency of the human spirit in the face of immeasurable pain and tragic mistakes. His is an often searing story, honestly told.  He freely admits he violently lashed out at others and inflicted harm as a youth whose life had spiraled out of control. Sentenced at the age of 20 to two life terms plus 16 years Mr. Baldwin little knew that being in prison would forever change his life. 
"I was born in the city of Chicago, on the west side," he recalled during an interview the other day.
"At that time, in the late seventies, early eighties, it was a mediocre neighborhood, with some violence starting to happen. But it was almost normalized — it was normal for me to see a prostitute, to see drugs on the streets, it was normal for me to see some violence.  My mom did a really great job at keeping me and my siblings away from most of those things. She eventually sent me away to a grammar school that was located in a suburban area – so I had to ride a yellow school bus from my neighborhood to get to this mostly all-white grammar school.  

I competed in the school and did really well. But when I got back to my neighborhood, a lot of the guys in the neighborhood had the idea that I thought I was better than them, so I had to fight when I came back home. I was really in turmoil in a lot of ways during this time," Mr. Baldwin explained.

"But I never let anyone know what was going on inside. I also experienced sexual abuse in childhood, though I didn't realize it at the time."
Although both his father and step-father were in his life, he had a hard time communicating with them and looked instead "to the hustlers in the neighborhood because they didn't work hard for money or respect, so they were people I really looked up to."
By the age of fifteen his life was rapidly collapsing around him. Desperate for affirmation, he couldn't find it anywhere.  He had become a teenage father a year earlier, and would father more children over the years.
"Then I became a heroin addict," Mr. Baldwin related. "I snorted a couple of times, never intending to become an addict , just doing whatever the guys around me were doing, but it wasn't long before I was addicted and it started to consume my life."
Dropping out of high school with only weeks left before graduation, he took to hanging out, "did a couple of odd jobs and just tried to stay high."
At this point, he made the first hesitant step at reclaiming his life, and decided to go to a detox program with the help of his parents. But after detoxing from heroin, he left his family and took, "the first chance I had to leave Chicago and come to Sacramento."
That decision proved to be ruinous, even though he never touched heroin again.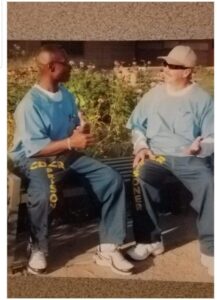 "I was still trapped by everything going on in my head and in my heart," he admitted.  One day there in Sacramento he gave a ride to a fellow and his girlfriend.
"I spent three days with this guy and his girlfriend and tried meth for the first time, which prompted me to commit a crime against some people this guy claimed owed him. I wound up assaulting some people and kidnapping and robbing others."
The law came down on Mr. Baldwin. Hard.  But his conscience would soon come down on him even harder.
Before he could fully grapple with the enormity of the harm he had done to others, he was sent to the California Department of Corrections and Rehabilitation (CDCR).
"Once inside CDCR, I was petrified. For the first two or three years, I was just numb. I was just as violent as everyone else. But I was also depressed and severely medicated. My sleep patterns were disturbed. I didn't comb my hair, or brush my teeth. I thought I was hearing voices, and that's why they gave me medication. In reality, it was my conscience waking up. It was really the first time I heard all the dialogue inside of me."
When another inmate approached him one day and asked, "Hey Michael, who hurt you?" Mr. Baldwin says that,"I cried from a place I didn't even know existed inside of me. I talked to him about the abuse I had suffered – real and imagined."
This fellow inmate helped Mr. Baldwin to reach out to his mother and rediscover the love they felt for each other. And that was a turning point, a moment and a day he will never forget.
"I began to love on her, and it cleansed me. I began to let go of resentments and forgive people. I was committed to getting back to my family. I realized that on the day I committed my crimes against those people, I had also committed a crime against my children. That directed my course and I began to have a relationship with God."
Inspired by that faith, and for the remainder of his many years in prison, Mr. Baldwin said that he,
Michael Baldwin Senior with his mother

"Began to help other men get free. I began to serve other men. I was still a man, but I wasn't filled with being a bully anymore. I didn't want to be aggressive anymore.  One day, this white kid walked up to me, called me the N-word, and spat in my face. And it didn't even upset me. I had reached a level where I could take that. When I called my mom and told her about it, she said, "I am so proud of you!'"

"I began to talk about issues other people in prison just wouldn't talk about, like sexual abuse and crimes against women. I began to talk about these things and some inmates began to respect me. And others began to come and ask for assistance from me. That was the beginning of my advocacy. I began to become a facilitator and a teacher while in prison. I went back and got my education.  I became a paralegal and a certified drug and alcohol specialist.  I became a mediator and a peacemaker. I got some college education. I put my nose to the grindstone. In prison, I got the chance to become my true self."
On October 22, 2018, Michael Baldwin Sr. walked out of Corcoran State Prison a free man, a far different one than the man who had walked into the CDCR 26 years, 7 months, and 17 days earlier.  The world outside had changed dramatically in the intervening years. Now Mr. Baldwin set himself the task of helping the people in his community as best he could, of helping this new world before him to be a better place for everyone.  His family was waiting for him.
Next: Part II, Michael Baldwin Senior: Redemption Road