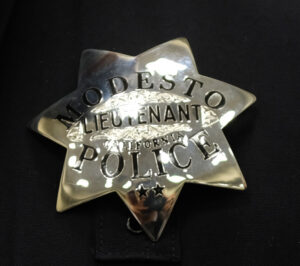 "A police officer will arrest people when they don't need to be arrested," said a homeless man living near a park on Modesto's troubled West Side, "but a cop only arrests people when they should be arrested. Mike Hammond is a cop and he's a good cop."
Hammond's name comes up a lot among homeless people and he's something of a legend on the West Side, where he once received an award for exemplary service.
"Yeah, I been busted by Hammond and every time I had it coming," is a common remark among people whose encounters with the police tend to be far more frequent than average. Among the homeless, Hammond is the rare cop who's as often as not welcomed with a smile — sometimes even with sighs of relief.
Like any other sector of society, the vast majority of homeless people don't like thieves, bullies, and sexual predators. Among their inviolable rules, "snitching" may be the most grievous sin. One result of the commandment not to tell is the need for a cop who knows them and works to achieve justice for all. Hammond has won trust because he understands the spirit of the law, and especially understands it among poor people who ordinarily settle things among themselves, not always to anyone's satisfaction.
"I try to respect everybody," he says, when explaining his success with people who dislike cops. "When I have to arrest someone I always explain it's not personal, but I also make sure they know I will do my duty to enforce the law."
March 29, almost on the twentieth anniversary of his service for the City of Modesto, Mike Hammond joined two other members of Modesto's Police Force in receiving a promotion from Sargent to Lieutenant. He was also named recipient of the Modesto Police Department's Leadership Award by Chief of Police Brandon Gillespie.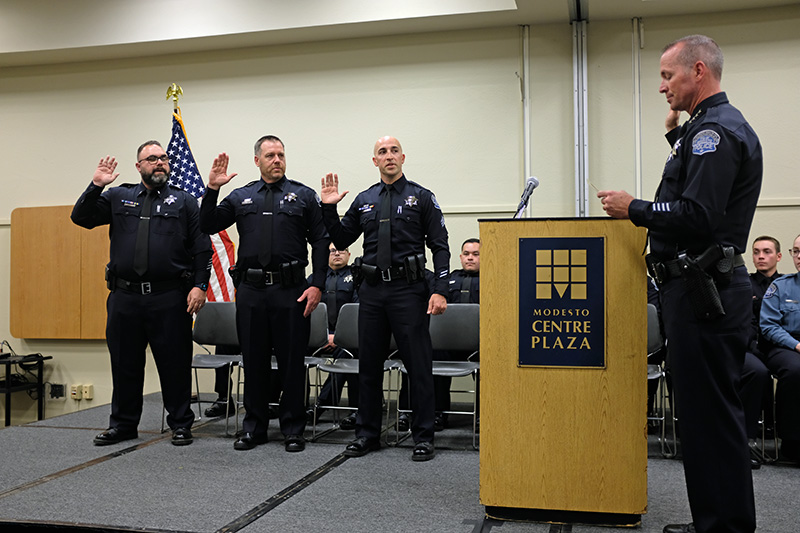 Among a crowd that included Modesto Mayor Sue Zwahlen, City Manager Joe Lopez, and City Councilmember Tony Madrigal, as well as former Chief of Police Galen Carroll, Hammond made sure to thank his doctor, his chiropractor, and a host of others who had come to help celebrate his new position.
"Twenty years ago I was mentored and taught by veterans who understood how to enforce the law," he said, in front of a large turnout for the public ceremony. "I'm proud to carry on that tradition of mentoring and teaching."
Hammond's mentoring and teaching doesn't just apply to cops. It also includes people like the late Randy Limburg, who thrived under his guidance, going from homelessness to a position on Modesto's CHAT Team, an outreach task force for assisting people experiencing homelessness. Like many who've worked with him, CHAT Team members Veda Malone and Christina Kenney were on hand to witness Hammond's promotion.
"This is part of who we are," said Hammond. "This is a promotion for the community." Based on the cheers and applause that greeted his new badge, the community agrees.