In a Thursday morning meeting with members of MOCAG, a local citizens' activist group, Modesto City Councilmember Jeremiah Williams said he favored safe sleeping sites for homeless people as long as supervision of the site was contracted out to service providers. The meeting was held on May 18 in a city council conference room in downtown Modesto.
"We (the City of Modesto) don't have the people to staff and supervise permitted campsites," said Williams. "Places like the Salvation Army and the [Modesto] Gospel Mission have the experience and staff to supervise safe camping." He added that other service providers were also an option.
The meeting grew out of frustration from Modesto residents about the city's lack of an action plan to abate growing homeless numbers throughout the city's residential and business districts.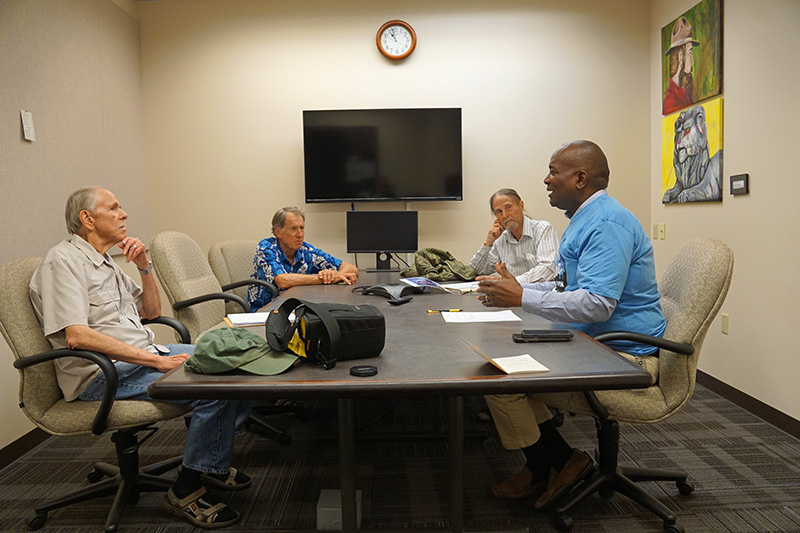 MOCAG member John Frailing said that there had been a homeless person screaming loudly in the street in front of his house that same morning. City officials have opposed permitted camping in designated areas, but Frailing, like other city residents, cited widespread camping throughout the city as a growing problem.
"I've got campers behind my house," said Frailing.
Williams said that there is a pressing need to separate the seriously mentally ill people in the homeless population from those who have the mental and physical capacity to move on from homeless into independent living.
When asked about the possibility of the City of Modesto collaborating with Stanislaus County to manage the homeless population, Williams said it was a good idea. He said that at present, behavioral health services were overwhelmed throughout the county.
"We have to offer enough services so that people who can get well have the opportunity to get help."
Williams' sister operates a homeless shelter in Los Angeles and recently told him that a homeless man with a monthly income of $300 had refused to pay $15 a month for a two-bedroom apartment because he didn't want to part with the money. A great many mentally ill homeless people are unsuited to traditional housing options even when available and need to be placed in supervised environments instead of left on the street. Too few such facilities are currently available. Safe sleeping sites are often more preferred by some homeless people than conventional living.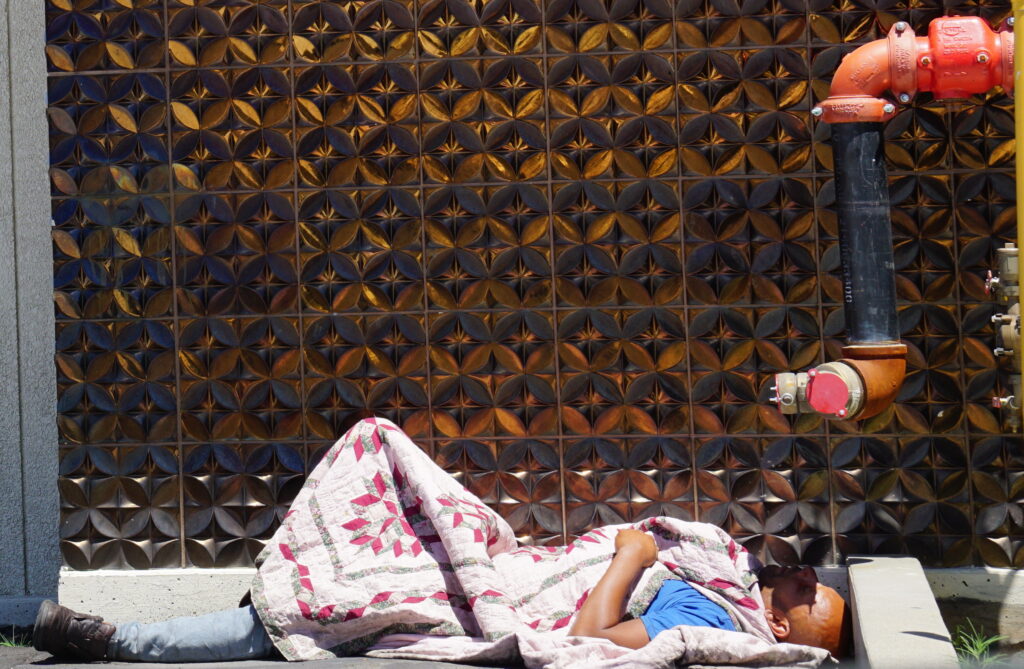 Near the end of the meeting, MOCAG member Richard Anderson showed a photograph of a homeless man that had appeared in a recent story about homelessness in the Modesto Bee. The photo showed the man slumped against a wall and in the path of an opening door, his hand in half a clench, his bare feet filthy with dirt and grime.
Near tears, Anderson said, "We can't have this kind of thing in our town." City Councilmember Williams agreed.
One block away, a homeless man lay sleeping near one of the city's main thoroughfares, oblivious to the rising heat and growing need to act on homelessness now.