California Governor Gavin Newsom has been justly criticized for his policies on homelessness, especially his reliance on sweeps as the chief tactic for managing California's growing homeless population. Many of the sweeps chase homeless people from freeway margins and underpasses into cities, with the result that Newsom has continued to blame the state's mayors for failing on homelessness — a form of blame-shifting that fails to recognize realities like housing shortages, holes in the health care safety net, and a lack of resources for the mentally ill.
Newsom does have a point, however, when it comes to many cities in the state, and the City of Modesto offers a prime example. Last June, strapped for funds and with a rising homeless population, the Modesto City Council proposed a one-cent sales tax increase for, among other things, "police patrols, gang, drug, and crime prevention; fire protection, paramedic/911 emergency response; addressing homelessness," and "keeping streets, parks, sidewalks, landscapes and infrastructure safe, clean, and well-maintained."
Prominent citizens and businesses throughout the city promoted the tax increase, which was featured on the November 8 ballot as Measure H.  Some donated as much as $10,000. In all, over $150,000 was raised by the private sector in support of the tax. Even prominent local Republicans and candidates for the city council supported the tax increase, marking a rare moment of bipartisan support for a policy generally regarded as anathema by conservatives.
After the measure won, political consultant Mike Lynch offered several reasons for the measure's success. Chief among those reasons was "public awareness." Lynch wrote that,
"It had become impossible to ignore the decline in city services. Public safety resources had been significantly reduced with emergency response times getting longer. Homelessness seemed to be increasing with the unintended quality of life challenges soaring. The public knew we had to do better, and Modesto had reached a tipping point."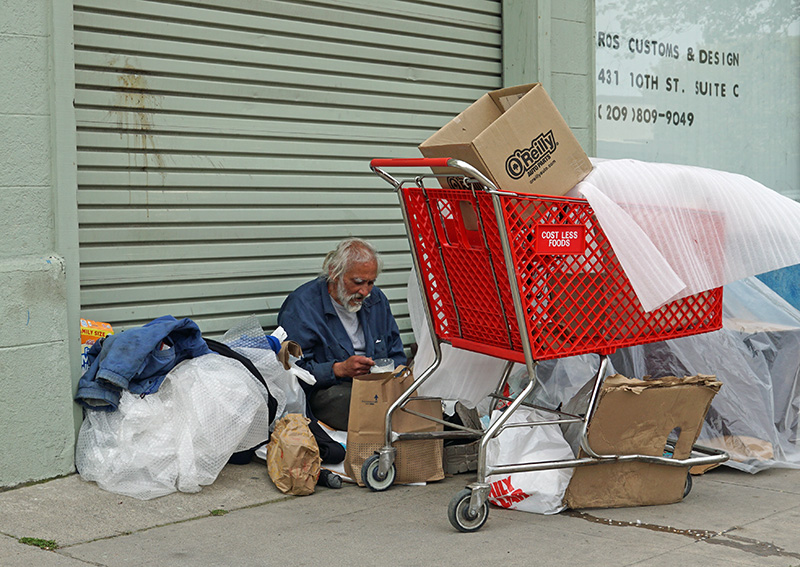 April 13, the city released an overview of how Measure H funds will be allocated. Of the $10 million it expects to receive in the last quarter of this budget year, the city expects to spend $4.5 million for "public safety, homelessness, parks, and reducing blight." However, other than authorizing more expenditures for Park Rangers, whose chief job has been to chase homeless people out of one place and into another, the city has yet to offer a specific action plan for reducing the number of homeless people in its parks and other public places.
Like most cities throughout the state, Modesto has been unimaginative and complacent about homelessness. Reliance on shelters, sweeps, and "move along" orders have proven ineffective, yet city authorities seem unable to devise alternatives.
While Modesto has continued to avoid meaningful action to reduce homelessness, there are signs that some city officials have had enough. City Councilmembers Chris Ricci and Nick Bavaro have both voiced support for safe ground camping and transitional housing options such as Dignity Moves, a small village concept that offers stand-alone shelter and privacy for people with limited or no resources. Ricci told the Modesto Bee's Garth Stapley that, "There is significantly more energy now behind trying innovations on homelessness than there was on the previous council."
As homeless numbers continue to increase throughout the state, California's and Modesto's residents have to hope their state and cities devise homeless management plans that actually get homeless people out of public places, on to safe ground, and in to transitional housing. Unless that happens, Gavin Newsom will likely be proven right about the failures of California cities to manage homelessness, even while he himself has wasted billions of dollars in futile attempts to sweep homelessness away.