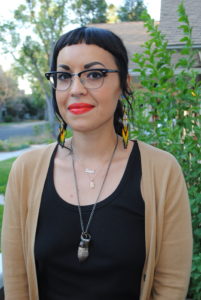 In sharp, powerful images from her poem "The Things I Stole," the fine Xicana/Boricua poet, writer, and activist Tina Curiel-Allen recalls one of the most painful but transformative experiences of her life:
It wasn't until jail that I found a place that could steal from me, /I found walls that ate time and tears like money, /And offered no form of recompense. /I felt the extent of my debt in those walls, lying on a metal cot, /reading desperate messages scraped into the bed above me./I realized I had taken more than I could ever give./All lost to that hole of insatiable need known to addicts/And thieves alike.
"I am a writer and a confessional poet, so I write about my life and experiences pretty explicitly," Mrs. Curiel-Allen said recently.  "That's the personal form of writing I share with the community. But I also use writing as a way to build community. I have co-edited or co-created a number of zines to bring representation, or counter-narratives, or different voices, to reflect the diversity in the Central Valley and the communities I come from, as a Xicana and Boricua."
As, "The Things I Stole" and other writings detail, Mrs. Curiel-Allen's life could have taken a much different path than the one that it has. But the long arc of her story reveals how courage and resiliency can heal even deep wounds when a caring community is nearby.
"I was born in the Bay Area and grew up in Ceres, which was a pretty small, conservative, agricultural town at the time," she related. "I often felt like an observer or an outsider. I was a pretty weird kid and I started doing drugs when I was about twelve. When I think of the young child that I was, I feel some pain for that child. But as a kid, I didn't know. Beginning in eighth grade I started getting in trouble at home – my parents didn't know what to do with me, so they put me on independent studies. I never went to traditional high school, which I think shaped some of my learning styles and tendencies. I didn't get the kind of socialization that comes from being in school. Then I was arrested for the first time when I was 18 years old."
Mrs. Curiel-Allen has written about that first incarceration in a moving article she penned for Teen Vogue in 2017. "I think it's important to lead with my life experiences, to have a purpose with my writing," she noted.  "My writing all hangs around representation, truth-telling, visibility,  building community, and using writing as a tool to do all that – which is what reading did that for me when I was younger. I feel it's my obligation as a writer to do that now that I am an adult."
Following several difficult years in her late teens and early twenties,
"I started going back to school in my mid-twenties, and last year got my degree from U.C. Davis. I'm 38 now, so it was a long road – ten, almost eleven years.  I hit all the non-traditional boxes, in a lot of different ways. What that gave me was a different type of appreciation for education. And it gave me an idea, once I started going back to school, of what I wanted education to do for me. And what I wanted from it was for me to be a credible voice of my experiences and my community. So I took school very seriously – I was there to learn.  It definitely shaped what I put into it, and what I got out of it."
At U.C. Davis, Mrs. Curiel-Allen became a leader, co-founding Beyond the Stats, a group for formerly-incarcerated and system-impacted students. "That was a really powerful moment of realizing how much the experience of being incarcerated had shaped our lives," she notes of that time.
While at the university, she also co-authored a syllabus and was one of the leaders of a class geared for writers of color. "We wanted to examine institutions and how they shaped us, and examine our role within them – to push for more visibility and truth-telling."
For Mrs. Curiel-Allen, being actively engaged in the community isn't just a choice she's made – it's a commitment and, one senses, a labor of love. She is currently working for Fathers and Families of San Joaquin, a non-profit agency focusing on social justice and human rights issues and programs. She is also part of a trio of Xicana women who have developed and published the zine exist(ir), which "documents the Latinx experience in the Central Valley. We are working on our fourth edition now, and planning to have a release party sometime this summer, though we may have to figure out a different way to hold the event. It honors all the Latinx in the Central Valley, from Sacramento to Bakersfield."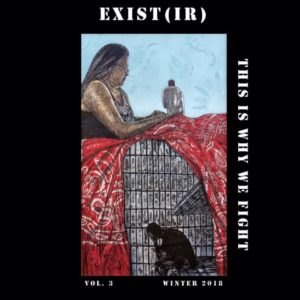 In the past, copies of exist(ir) were often sold at mercaditos. "Our intention with exist(ir) was always to be representative of our community, and to take space to make space for others. Mercaditos are a one way we did that. We would put the call out for local vendors while also keeping in mind other events we have attended locally or other Xicanx or Latinx owned vendors we might know of through social media. The mercaditos or mercados are markets where folks can bring their goods and share in commerce and community."
In March, 2018, Mrs. Curiel-Allen was asked to write a second important article for Teen Vogue, titled "What Decolonization Is, and What It Means to Me."
"Decolonization is a topic that is hard to talk about in a way that is accessible because the term is so loaded, she remarked. "I was so honored to write that piece, it was like a prayer, and I feel like you can see that when you read it. "I don't know how unique I am with the experiences I've had," reflected Mrs. Curiel-Allen. "Life often determines people's access to resources or certain possibilities. Sometimes the way to make bridges is for the other person to ask. I really want to emphasize that I am a product of the people who helped me, loved me, supported me, and were mirrors for me when I needed it the most. I am also the product of different communities where I found help. I try to pay that forward in the work I do to build community. There are all sorts of different people in the Valley from different backgrounds and it just makes the community richer."