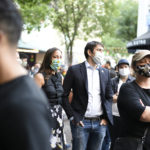 On this night, Congressman Josh Harder and his wife Pam were just (masked) faces in the crowd, standing in solidarity with their fellow citizens. Modesto Police Chief Galen Carroll somehow managed to make a big cop — in uniform and packing iron — look like your friendly next door neighbor. That was the atmosphere Friday night in downtown Modesto, as the local chapter of the NAACP held a candlelight vigil for George Floyd.
Though the occasion was deadly serious and bracketed by violence and looting around the nation, NAACP spokesman Michael Baldwin somehow managed to channel justifiable outrage into a message of hope.
Baldwin said that healing often means experiencing pain.  "When you go to the doctor," said Baldwin, "you might feel some pain. He has to hurt your broken arm before he sets it." There might have to be pain before healing, he said, "But we can endure that."
Baldwin's words had a special resonance for the several hundred people listening closely in the public square at 1010 Tenth Street in Modesto. He urged people to look around at all the different races together in one place.
Baldwin, who said he had spent twenty-six years in prison, "And I was not innocent," added that, "We are here in solidarity with people around the world. Yes, race is important — the human race."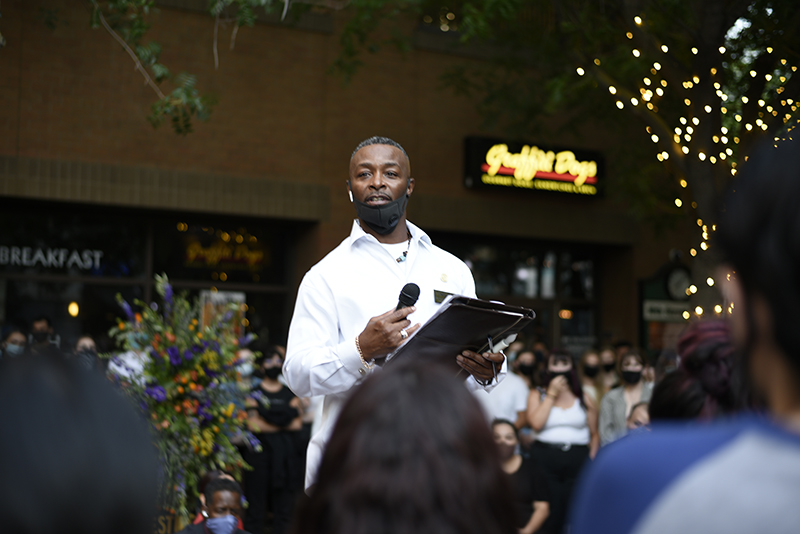 Baldwin rejected violence and said the answer to injustice was voting. "If you see someone acting crazy, get away from them," he said. "Violence silences our voices."
Baldwin emphasized that the vigil wasn't just about protesting. "We are here to hold ourselves accountable and our elected officials accountable," he said.
He urged people to educate themselves about the issues and people in their community and to learn who their supporters were, and then vote. He said that Modesto Police Chief Galen Carroll, "was one of the best police chiefs I've ever met."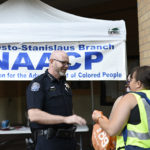 Carroll's almost casual presence in the middle of the crowd offered a strong contrast to those of our nation's leaders who have hunkered down in fear of angry demonstrators protesting racial injustice. The sad truth is that freedom and safety have always been intertwined; Chief Carroll showed a keen appreciation for this reality. Rather than looking, "to dominate the battlespace," he instead provided a safe and secure public arena for citizens intent on exercising their Constitutional rights — safe and secure enough that Modesto's Mayor and a few City Councilmembers were in attendance as well.
With concrete barricades blocking motorized access and a cordon of mounted police and sheriffs on the perimeter, it was clear that on this candlelit night, law and order were on the side of human and civil rights. And with people around the world kneeling or standing in silence for eight minutes and forty-six seconds, the fragile but enduring hope of liberty and justice for all burned bright through the darkness.