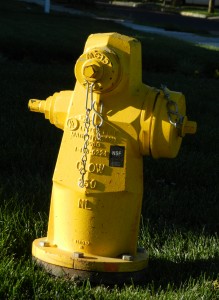 Dan enjoyed a nice two day vacation in Monterey. When he came home, he turned on his tap for a cool drink of water. To his dismay, a foul odor ruined his anticipated drink. When he called the City of Modesto water department to report the problem, someone came out the next day. Dan suspected that something was up because the City had never responded so quickly to a request for service.
The Modesto water expert knew immediately what the problem was.
He explained that in the good old days before the drought, the fire department regularly flushed the water system using fire hydrants. While checking the performance of the hydrants, the flushing would clean neighborhood pipes of debris and bacteria.
With the onset of the drought, citizens complained that the fire department was wasting a lot of water when flushing the pipes. So, the fire department was ordered to stop flushing pipes and checking hydrants. The change in policy now allows the build-up of debris and odiferous bacteria.
The reduction in water use has resulted in slower movement of water through the system to outlets around the community. As a result, the city is having increasing difficulty keeping chlorine levels high enough to keep bacterial levels low.
The City Solution
Rather than have firefighters flush the system, the water department now flushes pipes on a complaint basis. If a citizen complains about foul water odor, water in the pipes on the citizen's street is flushed into a truck, where it is hauled off to be dumped.
Water that is wasted in flushing can no longer be seen by the public. A truck hauls it to an undisclosed location to be dumped.
The city operation now appears to be politically correct even though the new system of flushing pipes could be more expensive and inefficient. Water is no longer flushed in view of the public.
Aging Pipes
According to an official in the water department, the truck hauling method of water flushing has had a beneficial side effect.
Previously, where firefighters flushed pipes using fire hydrants, when they shut off the water too quickly, the action would trigger a pipe failure elsewhere in the system and the water department would have to dispatch a crew to make repairs. Although pipes still fail, firefighters don't add to the problem.
Many of Modesto's pipes are quite old; some are over 100 years old and an unknown number could use replacement. Perhaps the new method of cleaning out the system will enable a longer life for tired pipes. Meanwhile, expect more complaints about stinky water.