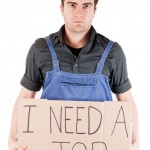 Despite the low wages in the area, jobs continue to leave Stanislaus County. With the real unemployment rate over twenty percent, not many prospects are on the horizon for future job growth.
Memorial Medical Center recently announced a reduction of about 114 jobs from skilled nursing to administrative positions. The cuts are attributed to a reduction in patient admissions, possibly due to the opening of Kaiser Hospital. Some of the administrative jobs are being moved to Sacramento, reportedly to consolidate the work load and make the hospital system more efficient. One might ask, why aren't the jobs moving here to make the hospital system more efficient?
Emanuel Medical Center is undergoing an employment downsizing. Kaiser has not announced whether it plans to make adjustments.
Other Recent Job Losses
A call last year to the Modesto Bee customer service line resulted in contact with a call center in the Philippines. The call was to report a missing newspaper. Calls previously were handled in Modesto. The Bee had already downsized a few years ago, moving printing jobs to Sacramento. Staff with other job duties was also reduced.
As businesses centralize their phone answering systems, fewer jobs remain locally. A call to most banks results in contact with an out of state call center. When one tries to call the local branch listed in the phone directory, calls are usually routed to a call center. In the long run, this trend deemphasizes the value of local bank branches and makes them vulnerable to closure.
Even Burger Flippers' Jobs Aren't Safe
Bloomberg Businessweek recently reported that a Bay Area company has invented a machine that assembles hamburgers. The goal is to replace burger flippers at fast food joints with machines that are faster and more precise. Burgers will be sold cheaper and  profit margins will likely increase.
Given Modesto's many fast food outlets, the invention may have a large negative impact on local employment. While the invention will revolutionize fast food service, quite a few unskilled workers will lose jobs. Given Modesto's 25 percent high school dropout rate, opportunities for unskilled laborers will become even fewer.
Someone in the Community Needs to Find an Answer
The future economic patterns are clear and easy to understand. Stanislaus County  leaders need to figure out how to make Modesto an employment center. If no action is taken, Modesto will continue to lose jobs to other communities. Citizens will relocate to places with jobs. The area's population may decline and may stay in a permanent state of depression.
Some Ideas to Change the Trend
To begin, some simple steps can be taken. Educators should emphasize the importance of education so that parents and their children understand the value of obtaining job skills. The schools need to develop vocational training programs that teach skills to match jobs in the future economy. Vocational training should begin before high school.
Citizens and government need to improve the eye appeal of the community so that employers can be attracted and local businesses can be more successful. The derelicts inhabiting the town need to be encouraged to clean up their act. The police need enough manpower to enforce the laws.
Land use planning should develop core areas for employment. The existing business parks need adequate transportation infrastructure to accommodate the needs of employers. Business leaders and the Chamber of Commerce need to make a direct pitch to employers to relocate here by matching job skills of the citizens with the needs of potential employers.
Modesto Centre Plaza needs to be an active convention center so that business leaders from other areas will have a reason to come here and look the community over.  Many other possibilities for spurring economic development exist. If it isn't already, it is time for the community to get serious about its future.