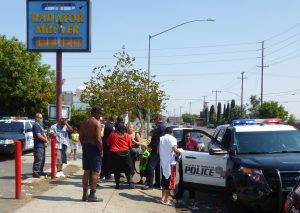 Reports of a missing child brought a mini-fleet of police cars to 624 9th Street Saturday afternoon. Supposedly taken by a young woman known as "Baby Girl," four year old Thomas (TJ) couldn't be found in or around the building when his mother notified police.
At least one resident of the condemned building thought the child had been taken away for a bath or shower.
"We can't use our showers here, they're too messed up," said the resident, who didn't want to be identified by name. "Baby Girl's been messed up ever since she was raped, but there's no way she would hurt TJ. I bet she just took him to clean him up and didn't tell TJ's mother."
The missing child was found shortly thereafter, but added yet another burden of stress for occupants of a building where visits by the police are as routine as backed-up plumbing, falling ceilings, ubiquitous vermin, and the pervasive odor of raw sewage.
Most residents have been served eviction notices as a result of the condemnation order, but have no idea where they will move next. The City of Modesto has allocated $1170 per tenant to help people move, but that amount won't go very far when the only option is renting motel rooms at a minimum of $60 a night.
Studios at 624 9th rent for $575 to $585 a month. Residents are there because they can't afford anything else. Some have custodial payees, who help them manage their money and make sure rent gets paid even ahead of food.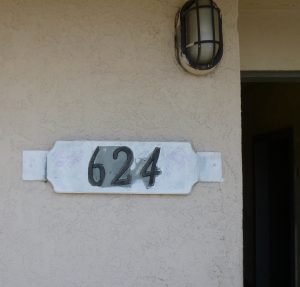 Other renters receive disability checks or social security, but in amounts far too low to afford average Modesto rent, which was $1081 a month, as of July 17. The lack of affordable housing is a state-wide crisis, but it's especially acute in the San Joaquin Valley, where job scarcity and low incomes contribute to homelessness and severe poverty.
Meanwhile, Modesto city officials and Stanislaus County staff are searching for interim housing options for people displaced by the condemnation order. Though there are only 28 rooms involved, as many as 80 people are at risk of homelessness if they can't find shelter soon.
Stanislaus County's Focus on Prevention program recently received $2.5 million in state funds, and county supervisors have allocated $1 million per year for the program, but the glaring shortfall is housing. It will be very difficult even to provide temporary transitional housing for residents of the 28 rooms, and the long-term prospects are bleaker.
Neither the Modesto Gospel Mission nor the Salvation Army Berberian Shelter accepts pets, and both places separate spouses and significant others. Additionally, guests of both shelters aren't permitted inside during the day. The restrictions amount to significant barriers for most people.
City and county officials remain adamantly opposed to tents or transitional structures such as garden sheds, but demand for housing is only growing throughout the region. If we can't find even temporary shelter for occupants of a 28 room building, how are we going to shelter the 2000 homeless people throughout the county?