Jim Gain's Reflections of the Natural World, isn't just educational, it also offers spectacular photography and natural history, with the focus on birds. We're proud to publish his series, "Learn 100 Common Valley Birds." Visit Reflections of the Natural World for more of Jim's insightful essays and superb photos. ed
European Starling (Species #47)
The following two species (plus the Bonus Bird) are non-native birds that have established ranges in the Central Valley of California. They have been added to the California Bird Records Committee's Official California Bird List and are considered Naturalized Exotics by eBird.
The European Starling (Sturnus vulgaris) is a medium-sized, stocky bird with a short tail, chunky body, and sharp, pointed bill. They have glossy black feathers with iridescent purple and green tones, and white spots on the tips of their wings. Their bill and legs are yellow in the breeding season, and turn a darker color in winter.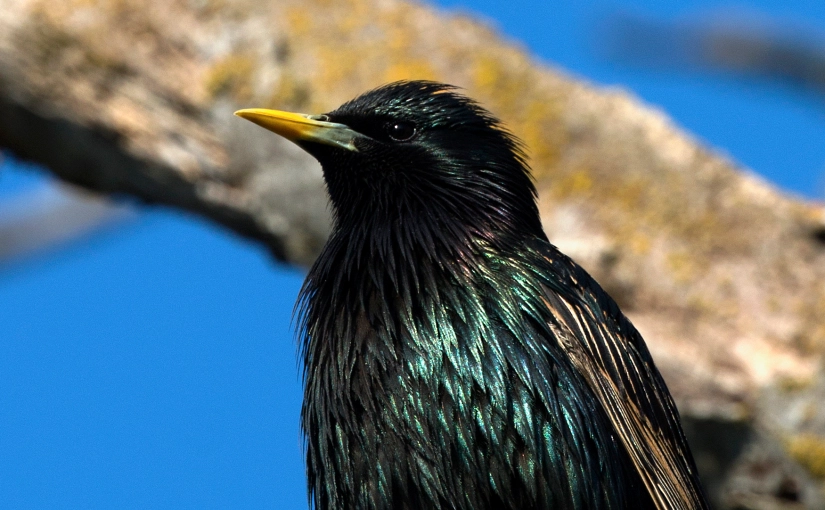 In the Central Valley of California, European Starlings are a common sight in both urban and rural areas. They were introduced to North America in the late 19th century, and have since become one of the most abundant and widespread bird species in the continent. They are highly adaptable and are able to thrive in a wide range of habitats, including agricultural fields, parks, and residential areas.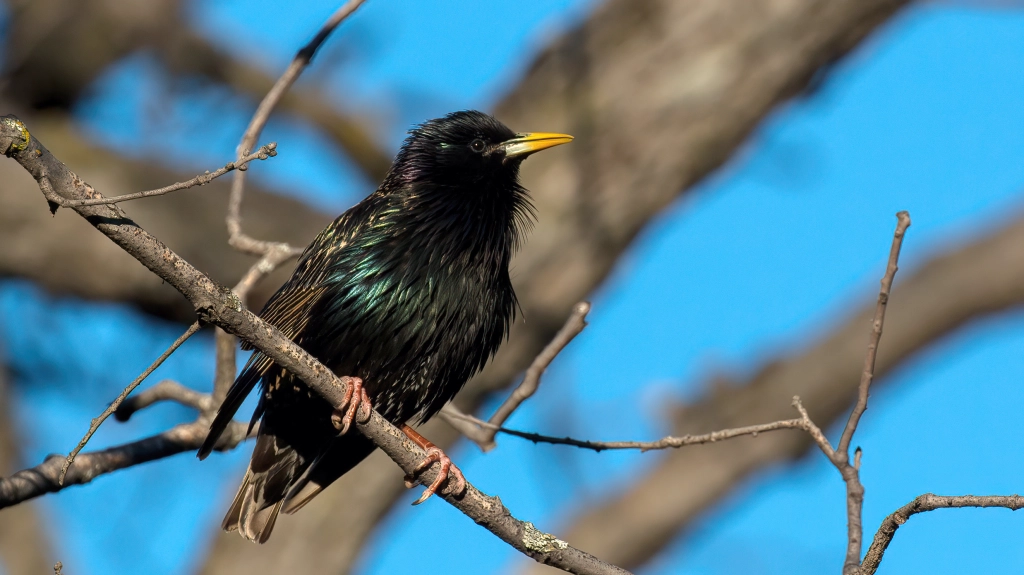 European Starlings are omnivorous and feed on a variety of foods, including insects, fruits, and seeds. They are known to form large flocks, sometimes numbering in the thousands, and can be a nuisance to farmers as they can damage crops. Despite this, they are considered an important part of the ecosystem as they play a role in controlling insect populations and dispersing seeds.
House Sparrow (Species #48)
The House Sparrow (Passer domesticus) is a small, chunky bird with a short, conical bill and a brownish-gray plumage with black and chestnut markings. Males have a distinctive black bib and white cheeks, while females are duller with a plain gray-brown breast. They have a wingspan of about 7 inches and weigh approximately 1 oz.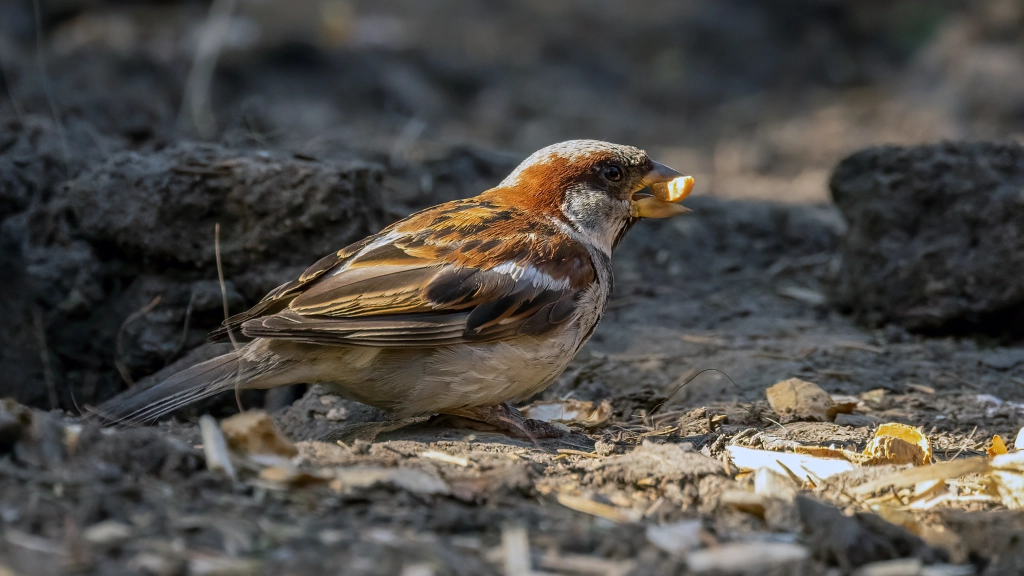 In the Central Valley of California, House Sparrows are commonly found in urban and suburban areas, as well as in agricultural fields and grasslands. They are opportunistic feeders, consuming a variety of foods such as seeds, insects, and scraps of human food. They typically breed from early spring through summer, building their nests in man-made structures such as buildings, bridges, and birdhouses. Females lay 4-6 eggs, which hatch after approximately two weeks of incubation.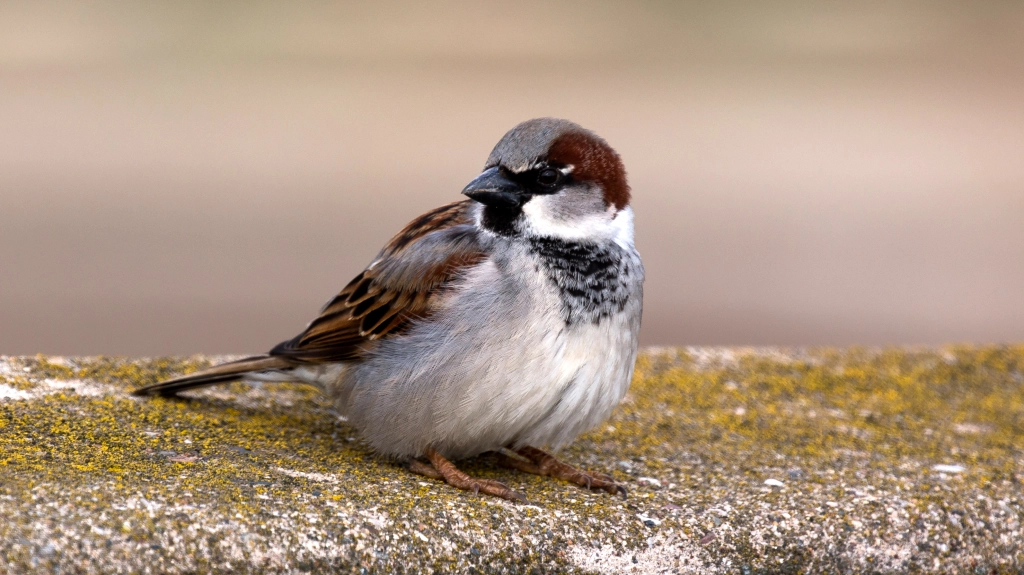 House Sparrows are known for their aggressive behavior towards other birds, often competing for resources and displacing native species. Despite their abundance and adaptability, their populations have declined in recent years due to factors such as habitat loss and changes in agricultural practices.
BONUS BIRD — Scaly-breasted Munia
The Scaly-breasted Munia (Lonchura punctulata), also known as the Nutmeg Mannikin, is native to India and Southeast Asia. It has been added to the California Bird Records Committee's Official California Bird List and has established populations in the Central Valley of California. These birds have a distinctive appearance, with a scaly pattern on their breast and a brownish-grey plumage on their back and wings. They also have a black head with a white patch behind the eye, and a short conical bill.
Scaly-breasted Munias are social birds that form large flocks and are often seen foraging on the ground for seeds and grains. They are also known to visit bird feeders and are attracted to millet and other small seeds. These birds breed throughout the year, with males performing courtship displays to attract females. They build their nests in trees and bushes, using grasses, twigs, and other plant materials.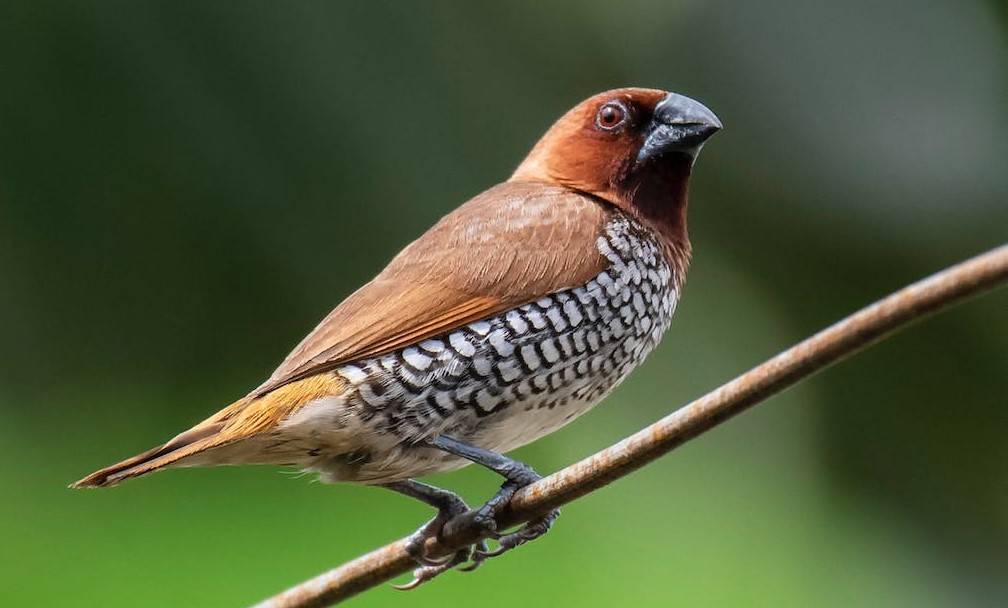 Scaly-breasted Munias are considered an invasive species and can have negative impacts on native bird populations and agricultural crops. Despite their status as an invasive species, Scaly-breasted Munias are fascinating birds to observe and can provide an interesting subject for birdwatchers and nature enthusiasts in the Central Valley of California.