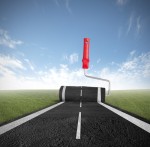 Now that the California economy is improving, urban land developers are once again pushing to enhance the available supply of land to build on. The goal is to always keep a large amount of cheap land available so that property can be acquired and highly profitable projects can be built.
In Stanislaus County, urban developers are looking for opportunities in and around every community in an endless effort to incrementally convert farm land into sprawl.
Urban developers shun land use planning in favor of building on whatever land someone is willing to sell cheap enough.
First It's Patterson
This past week, the Stanislaus County Lafco approved converting 1000+ acres of farm land along Interstate 5 near Patterson into an enormous industrial park that will deliver 10,000 jobs, according to the promises made by the developer. It doesn't matter that the land doesn't have infrastructure to serve it or that the proposed industrial park is nowhere near the County's largest population center. It doesn't matter whether enough water is available to serve it. It doesn't matter whether adequate developer infrastructure fees are in place to build a successful project. Those problems can be dealt with later.
Based on past practices, the cost of the infrastructure will be paid via government subsidies. The city will either use taxpayer funds or the city will borrow to build infrastructure and leave its citizens with a big debt to repay out of future tax collections that would have gone to provide services. Eventually, existing services to the citizens will be cut to repay the debt.
Patterson has already disbanded its police force and is using taxpayer money to subsidize urban growth. The subsidies provide direct benefit to developers by enhancing the profitability of their projects.
Now It's Modesto
Not to be outdone, Modesto is joining the stampede to acquire buildable land using prime farm land. First, the city tried to take over the Salida planning area. Rejected by the citizens of Salida, the goal of the Modesto City Council has shifted to the Wood Colony Area.
As in Patterson, approval of the proposal doesn't hinge on what citizens of the community think. It doesn't matter whether a majority of property owners in the affected area is in favor of the expansion of Modesto's development map. The only property owners who matter are the land speculators who bought when the land was cheap and who now want to sell out for top dollar when the map is changed. And of course, the urban developers matter because they fund political campaigns. Zoning for dollars has a greater priority than quality of life and the security of food production.
It doesn't matter that Modesto is so heavily in debt and with tax revenue so low that the city cannot hire even half the number of officers as other communities of comparable size. It doesn't matter that Modesto can't afford to sweep its streets more than once a month or trim trees as needed.  Modesto wants to add growth that it won't be able to serve.
As the community has grown, Modesto's problems have grown proportionally. What benefit will be derived from more sprawl?
How bad can the corruption of local government become before the state legislature takes action to curb it?