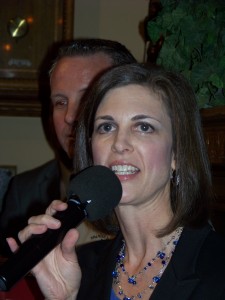 Within 30 minutes of Stanislaus County Supervisor Bill O'Brien announcing that he would not be running for re-election, State Assembly Member Kristin Olsen announced that she would be running for his seat. Obviously, the timing of the announcements was no coincidence. The question is, did these two public officials act in the best interest of the community?
Political pundits commonly assert that an incumbent usually has a twenty percentage point advantage in the polls over any potential challenger. Unless the elected official does a poor job in office, the advantage in name recognition and service is usually sufficient to overcome the desire of any potential challenger to run for office.  Incumbents often run unchallenged and are usually favorites to win any contest.
Traditionally, incumbent politicians announce months in advance of election filings that they do not intend to seek re-election so that a number of qualified candidates can decide whether to seek office and have enough time to prepare to campaign.
The manner in which Supervisor O'Brien handled his announcement of retirement amounted to denying citizens their right to choose their new supervisor. Except for Kristin Olsen, potential challengers did not have sufficient notice of the opportunity to run without an incumbent in the race.  In effect, Supervisor O'Brien picked his successor as only Ms. Olsen had time to prepare for a campaign.
Not surprisingly, Ms. Olsen will now run unopposed for the office of county supervisor. This means that the public will not get a choice for the best candidate.  There will be no discussion of local issues.  There will be no debates about how Stanislaus County should move forward after years of economic stagnation. Local officials might consider adding a recommendation or even a rule that would prohibit incumbents from gaming the system so that they can deny the public's right to choose their representatives.
Experience in public office is not the only criterion the public uses or should use in selecting elected leaders. Presidential candidates Donald Trump and Ben Carson have no experience in public office, but both sought the highest office in the nation and one of them is still in the running.
Perhaps Kristin Olsen is the most "qualified" candidate. But had Supervisor O'Brien not wanted to pick his own successor, would she have been the best candidate and selected by the public to serve?  Unfortunately, we will never know.